Taj Mahal, Charlie Hunter, & More to Play City Winery Chicago this July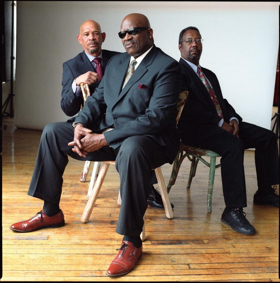 City Winery Chicago, 1200 W. Randolph Street, announces composer and multi-instrumentalist Taj Mahal, guitar virtuosoCharlie Hunter and more. The following shows go on sale to the public on Thursday, July 5 at noon. All tickets will be available at citywinery.com/chicago.
JC Brooks Band Plays '70s Protest Soul - Red Black & Blue and the music that inspired it
Saturday, September 8
$18/$22/$25/$28
JC Brooks Band (formerly JC Brooks & the Uptown Sound) is an American indie soul band from Chicago. Describing their sound as "post-punk soul," the band combines elements of funk, soul, indie rock, R&B, and punk into a unique take on the soul genre. In 2009, the band served as the backing band for the Numero Group's "Eccentric Soul Revue." The band participated in the 2011 production of the musical "Passing Strange." Also, in 2011, JC Brooks and the Uptown Sound performed at Wilco's Solid Sound Festival where they were joined on-stage by Jeff Tweedy for a performance of their single "I'm Trying to Break Your Heart," penned by Tweedy and originally recorded by Wilco on their Yankee Hotel Foxtrot album. In 2012, JC Brooks Band played Lollapalooza. JC Brooks' fourth full-length album Neon Jungle was released in 2017.
The Red Black & Blue (Vol. 1) EP is JC Brooks' follow-up to 2017's The Neon Jungle and explores political and social themes surrounding being black in America in 2018. The music featured on the EP takes influence from the politically charged soul artists of the 70s, specifically Curtis Mayfield, Marvin Gaye and Gil Scott Heron. The JC Brooks Band conceptualized the theme of the EP during an east coast tour while in the van in a heavy discussion about political disdain, social justice and racial micro-aggressions. The scars of the social and political cautionary tale on Red Black & Blue are layered on top of rich vocal harmonies, orchestrated horns and vintage keyboards, allowing Brooks to sing freely from his soul.
Story Jam
Sunday, September 16; 12:00 p.m.
GA Seated: $20 advance/$24 day of show + Brunch Buffet option
Story Jam is an exciting music-lit show that features Chicago's top storytellers, original songs written for each story, and a ten-piece band. The personal stories represent a range of cultural, racial, and individual experiences; and the band is comprised of some of Chicago's best musicians. Stephanie Rogers is producer-songwriter.
Taj Mahal Trio
Monday, September 24
$78/$85/$88/$92
Taj Mahal, the two-time Grammy winning singer, songwriter, film composer, guitarist and multi-instrumentalist, was feted with the Lifetime Achievement for Performance Award at the 13th Annual Americana Honors and Awards. Since the release of 2008's Maestro, his most recent studio recording which received a Grammy nomination for Best Contemporary Blues Album, Mahal has been touring and recording with friends and fellow musicians. In 2010, after being nominated for Entertainer of the Year by the Blues Foundation, he joined Jimmy Fallon's "Late Night" house band The Roots as a special musical guest on the Rolling Stones classic "Shine a Light." He also opened in Lake Tahoe for Bob Dylan. The following year, he performed a special opening solo set for Eric Clapton and Wynton Marsalis at Lincoln Center; Mahal also performed several songs with the two musicians. The concert was recorded and released as a CD and CD/DVD entitled Wynton Marsalis & Eric Clapton Play The Blues - Live From Jazz at Lincoln Center.
Charlie Hunter Trio
Thursday, October 4
$18/$22/$25/$28
With a career spanning 25 years and 20 albums, Charlie Hunter consistently ups his game as an innovative writer and bandleader. He has worked with the likes of Norah Jones, Mos Def, John Mayer, D'Angelo and countless others. He is widely considered the authority on the seven- and eight string guitar and continues to stun audiences with his ability to simultaneously play tasty bass parts, melodic leads, and swinging rhythms.
City Winery also announces Paul Cebar opens for Sonny Landreth on Jul. 27 and John Condron opens for Paul Brady on Sept. 10.
All City Winery Chicago events are open to all ages and start at 8 p.m., unless noted.
Tickets go on sale to the general public on July 5 at noon. Only members of City Winery Chicago's signature VinoFile™ program have access to ticket sales today in addition to receiving: a waiver of ticket service fees; free valet parking; Restaurant Loyalty Rewards, such as a free pair of VIP concert tickets for every $500 spent on food & beverage in the restaurant; exclusive membership-only events; and access to the proprietary City Winery Virtual Sommelier™, which helps make suggestions for wines one might enjoy based on past consumption at the venue.
JC Brooks Band, Taj Mahal Trio, Charlie Hunter Trio, Story Jam, John Condron and Paul Cebar join a diverse mix of the most respected names in pop, rock, jazz, blues, world music, theater, dance, spoken word and comedy presented at City Winery Chicago, including previously announced headliners and supporting acts: Miki Howard (Jul. 3); Reverend Peyton's Big Damn Band, Devil in a Woodpile & more! (July 4); Mindi Abair & the Boneshakers (Jul. 5); Corky Siegel's Chamber Blues with Lynne Jordan (Jul. 6); Carbon Leaf (Jul. 7, 6 & 9p); The James Hunter Six with Jesse Dee (Jul. 8); Howard Jones (Jul. 9); Liz Longley & Scott Mulvahill (July 10); Anthony David (Jul. 11); The Bacon Brothers (Jul. 12, 6:30 & 9:30p); We Hate Movies (Jul. 13);Mac McAnally (Jul. 14, 7pm); Wayne 'The Train' Hancock & Scott H. Biram (Jul. 15); She's Crafty (Jul. 16); Boy Named Banjo with Zach DuBois (Jul. 17); Howie Day with Nick Barilla (Jul. 18); Roger Clyne (Jul. 19); Kenny Lattimore (Jul. 20, 7 & 10p); Purple Veins (Jul. 22); Serena Ryder (Jul. 23);Marcus Johnson with Kathy Kosins (Jul. 24); Corazon de Granada (Jul. 25); Sonny Landreth (Jul. 27); God Street Wine (Jul. 29); Ian Maksin & Guitarra Azul (Jul. 30); Chris Blue (July 31); Sawyer Fredericks with Beth Bombara (Aug. 1); Frank Orrall (Aug. 2); Pat McGee (Aug. 3); Lori McKennawith Whitney Fenimore (Aug. 4); Kevin Whalum (Aug. 5, 7p); Nikka Costa (Aug. 7); Tower of Power (Aug. 8-9 & Aug. 10, 7 & 10p); Vivian Green (Aug. 11, 7 &10pm); Over the Rhine (Aug. 12); Jean-Luc Ponty (Aug. 13-14); Talisk & Doolin' (Aug. 15); Robben Ford (Aug. 16); Ari Hest (Aug. 17); Don McLean (Aug. 19); Shelby Lynne (Aug. 20); Alicia Witt (Aug. 22); Chick Corea Trio (Aug. 23); Rachelle Ferrell (Aug. 24-25, 7 & 10p); Justin Haywardwith Michael Dawes (Aug. 26, 4:30 & 8p); Louis Prima Jr. & the Witnesses (Aug. 28); Jeff Bradshaw featuring Glenn Lewis & Teedra Moses (Aug. 29, 7 & 9:30p); Pedro Capo (Aug. 30); Howard Hewett (Sept. 2, 7p); Average White Band (Sept. 5, 6:30 & 9p); Darrell Scott (Sept. 6); The Way Down Wanderers with The Mighty Pines (Sep. 9); Paul Brady (Sept. 10); Davina & the Vagabonds (Sept. 12); Jesse Colin Young (Sept. 13); Dar Williams(Sept. 16); Canned Heat (Sept. 17); John Pizzarelli Trio (Sept. 19); Lera Lynn (Sept. 21); Matthew Perryman Jones with Molly Parden (Sept. 23); Willy Porter Band with Martyn Joseph (Sept. 28); Jump, Little Children with Michael Flynn (Oct. 1); Matt Andersen (Oct. 2); Jane Monheit (Oct. 3); Trace Bundy & Sungha Jung (Oct. 7); Steven Page Trio with Wesley Stace (Oct. 18); Eliane Elias (Nov. 13); BoDeans (Nov. 24, 7 & 10p; Nov. 25, 7p) andJane Lynch (Nov. 30, 7 & 10p).
Opened in 2012, City Winery Chicago is a fully operational winery, restaurant with outdoor patio, concert hall and private event space located in the heart of the West Loop at 1200 W. Randolph, in the historic urban Fulton Market district. Once a refrigerated food distribution warehouse, the 1911 building has been transformed into a contemporary 33,000 square foot haven for those passionate about wine, music and culinary arts. The décor evokes the romance of being in wine country, from the exposed stainless steel fermenting tanks and French oak barrels, to the aroma of fermenting grapes. The West Loop's only fully operation winery has produced dozens of in-house wines sourced from vineyards in California, Oregon, Washington, Argentina and Chile, including a Wine Enthusiast 92-point 2015 Verna's Vineyard Reserve Pinot Noir. With more than 400 unique producers from around the world City Winery is recognized with 2014 and 2015 Best of Awards of Excellence "for having one of the most outstanding restaurant wine lists in the world" by Wine Spectator. The globally inspired, locally sourced, wine-focused food menu is conceived for pairing and sharing. The concert hall accommodates up to 300 guests, all seated at tables with complete beverage and dining service, ensuring a comfortable "listening room" experience enhanced by a state-of-the-art Meyer Sound system. Riedel is the official and exclusive provider of glassware, showing City Winery's commitment to enjoying quality wine in a quality vessel. American Airlines is the Official Airline and Virgin Hotels Chicago is the Official Hotel of City Winery. For more information, please visit www.citywinery.com.
Related Articles View More Music

Stories