Ringo Starr Honors John Lennon Songwriting Contest Winner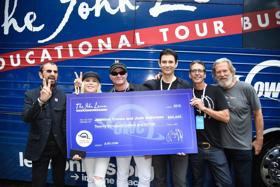 The John Lennon Songwriting Contest (JLSC), the preeminent, international songwriting contest open to amateur and professional songwriters, named Jasmine Crowe and Josh Anderson the winners of the coveted "OWC $20,000 Song of the Year", the highest honor bestowed by the contest, for their original song "Breaking Things". OWC Founder and CEO Larry O'Connor joined Ringo Starr, Jeff Bridges, and JLSC Co-Founder Brian Rothschild to present the writing duo with the $20,000 top prize.
Among thousands of entries, the song rose to the top having first been selected as a Grand Prize winner, and subsequently taking home the Lennon Award for best Pop song. Contest judges include Prince Royce, Bootsy Collins, Fergie from the Black Eyed Peas, Flea from the Red Hot Chili Peppers, George Clinton, and many others.
"OWC is dedicated to supporting the arts and creativity, and having the opportunity to be a part of this contest and to continue working with the Lennon Bus team through 2018 as we celebrate our 30th anniversary has been remarkable," said Larry O'Connor, OWC Founder and CEO. "We love seeing our technology engaged in allowing artists and tech enthusiasts to reach higher, inspiring imagination. This contest is a fulfillment of that and I congratulate Jasmine and Josh on their achievement."
"We all know it's hard to get your music heard," said JLSC Co-Founder Brian Rothschild. "The Contest was created to help draw attention to new writers, and support them in their efforts. Over the years, a win in the contest has become a way for writers to distinguish themselves by showcasing a rare achievement."
The JLSC's Session II is now open and will be accepting entries until December 15. Song entries can be submitted in any one of 12 categories: Rock, Country, Jazz, Pop, World, Rhythm & Blues, Hip Hop, Gospel/Inspirational, Latin, Electronic, Folk and Children's. Instrumental compositions are encouraged and professional recording is not required. Entries will be judged on originality, melody, composition and lyrics (when applicable). The winner will be announced in 2019.
Now in its 21st year, this year's contest features the biggest prize package yet, totaling over $300,000. Winners, based on their level of achievement, receive studio equipment from OWC, Yamaha, Audio-Technica, Konig & Meyer, Propellerhead, Neutrik, Genelec, D'Addario, Disc Makers, Focusrite and New Bay Media.
Find more entry information at jlsc.com/about.php. Entry fees from the contest help support the John Lennon Educational Tour Bus, a mobile recording studio.
Photo Courtesy of Kevin Mazur, Getty Images