National Chorale to Present Beethoven's Symphony #9 This Friday, April 13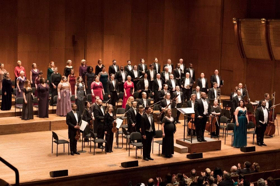 National Chorale, New York's premier professional choral company, under the Artistic Direction of Everett McCorvey, continues its 2017-2018 Season at Lincoln Center with Beethoven Symphony #9 on Friday, April 13, 2018 at 8pm at the David Geffen Hall at Lincoln Center for the Performing Arts, 10 Lincoln Center Plaza, NYC. Tickets are $30-$100 and are available at www.nationalchorale.com, or by calling (212) 333-5333.
The Symphony No. 9 is in the traditional 4-movement form, but there is nothing traditional about the work's size and complexity or the unexpected addition of a chorus to the final movement. In four movements, it is scored for solo vocal quartet, chorus, strings, flutes, piccolo, oboes, clarinets, bassoons, contrabassoon, horns, trumpets, timpani and percussion. The last movement recapitulates themes from the first three, making it a small symphony in itself, and the inspired setting of parts of Schiller's Ode to Joy make it marvelously unique in the symphonic literature.
Ludwig van Beethoven (1770-1827) began his musical studies in his native Bonn, with Christian Gottlob Neefe, who used the works of Bach as composition manuals for his uniquely gifted student. He recommended that Beethoven study with Mozart, but when he moved to Vienna in 1792, Mozart was dead and he studied, instead, with Franz Josef Haydn and Antonio Salierei, two of the most famous composers of their time. In a composing career encompassing a great variety of works, Beethoven used the complexities he had learned from Bach and the musical forms perfected in the late 18th century by Mozart and Haydn to move into a new 19th-century realm - one which ensures his place in the world's pantheon of great composers.
Beethoven's symphonic works reshape, in startlingly original ways, the traditional techniques he inherited from the 18th century, pushing compositional and performance boundaries further, and giving the orchestra a new and increasingly dramatic role. There is nothing abstract in Beethoven's music: it reflects a complex, contradictory universe and a very beautiful and personal one, and nowhere is this more evident than in his Symphony No. 9.
He began sketches for the 9th Symphony in 1815, but the final shape and content took nearly 10 years to mature. In 1823 he contacted the London Philharmonic Society to see if it would commission a new symphony: the Society offered him L50 for an "unpublished" work, allowing him to premiere it in Vienna. By early 1824 it was complete, and the Viennese premiere took place on May 8, 1824.
By 1824 he was profoundly deaf and unable to hear the performance or the thunderous ovation it received. It seems to have been a scratchy performance: the orchestra, a combination of theater orchestra professionals and amateurs, had difficulty learning the score, and, in performance, some actually stopped playing when the parts became too difficult. Vocal soloists complained of the tessitura and difficulty of the work, and apparently transposed high entrances down or did not sing them at all. The composer, immersed in his score, was unaware of this:, hearing, in his own way, the extraordinary contribution he had made to the choral-orchestral repertoire.
"The National Chorale is one of the most firmly established professional choral groups in the country."- The New Times
ABOUT THE ARTISTS
Amy Shoremount-Obra, Soprano
Soprano AMY SHOREMOUNT-OBRA made her much-anticipated Metropolitan Opera Debut in October 2014 as "First Lady" in Mozart's Die Zauberflöte, singing all nine performances of the opera, three of which were Sirius XM Satellite Broadcasts. In previous seasons at the Met, she has covered the roles of "Donna Anna" in Don Giovanni, "Anna" in Nabucco, "Clotilde" in Norma, "Aksinya" in Shostakovich's Lady Macbeth of Mtsensk and "Queen of the Night" (also in Die Zauberflöte). Ms. Shoremount-Obra's other recent operatic appearances have included "Donna Anna" in Don Giovanni with Opera Las Vegas, The Savannah Voice Festival, and NYC's new Venture Opera, "Musetta" in La Bohème with the Savannah Philharmonic, "Marchesa" in Verdi's Un Giorno di Regno with Odyssey Opera of Boston, "Fiordiligi" in Cosi fan tutte with Annapolis Opera, and most recently, "Leonore" in Beethoven's Fidelio with Grand Harmonie. During the 2016-17 season, she performed in concert at Yavapai College in Prescott, AZ, returned to the Metropolitan Opera to cover "Anna" in Nabucco, "First Lady" in Die Zauberflöte, and "Donna Anna" in Don Giovanni, performed two new operas as part of Opera America's New Opera Showcase and a recital in Lincoln Center with Tenor Cameron Schutza for the Wagner Society of New York, appeared in concert with Violinist Eric Silberger and Pianist Carlin Ma at The Old Church in Portland, OR, made a special appearance at the 2017 Sherrill Milnes Gala in NYC, and appeared as the soprano soloist in Rossini's Petite Messe Solennelle with the New Choral Society (Scarsdale, NY) under the baton of John King and in Beethoven's Ninth Symphony at SUNY Purchase under the baton of Justin Bischof. She also traveled to Mexico for an Artist-In-Residency at the Universidad Autónoma de Chihuahua in collaboration with Opera Guadalajara which culminated with a performance with Mexican Tenor Manuel Castillo. During the summer of 2017, she will cover the role of "Freia" in Wagner's "Das Rheingold" with the New York Philharmonic and travel to Hawaii for concerts as part of the Hawaii International Music Festival, a festival she co-founded with Virtuoso Violinist Eric Silberger. Her performances in Hawaii will include her first collaboration with Argentinean Bandoneon player JP Jofre at the Blue Note. The 2017-18 season sees her return to the Metropolitan Opera in the role of "First Lady" for the English version of The Magic Flute. She will also travel to Guadalajara, Mexico for concerts with Opera Guadalajara and in the spring of 2018, she will make her debut as "Sieglinde" in Wagner's Die Walküre (more information coming soon). She will also be making her Major Hollywood Motion Picture debut as Joan Sutherland in a scene from Bellini's "Norma" in the film "Untouchable" - starring Nicole Kidman, Brian Cranston, Kevin Hart and Julianna Margulies. Directed by Neil Burger, the movie is set to release in 2018.
Recent solo concert engagements include the Fauré Requiem at Carnegie Hall with MidAmerica Productions, Haydn Lord Nelson Mass and Mozart Coronation Mass with the New Choral Society, various performances at the Viennese Opera Ball of New York and the FIRE ISLAND Opera Festival (including a concert in Marfa, TX with Marfa Live Arts), appearances with the FL Keys Concert Association in two concerts of operatic favorites, and a solo recital with pianist Eunjung Lee as part of the Dame Myra Hess Concert Series at the Chicago Cultural Center. This recital aired live on WFMT, Chicago's Classical Station. During the 2015 season, Ms. Shoremount-Obra also toured with a recital program of Rachmaninoff songs with Pianist Christopher Cooley. In 2016, Ms. Shoremount-Obra made debut at David Geffen Hall in Lincoln Center as the Soprano Soloist in Verdi's Requiem with the National Chorale, appeared as the Soprano Soloist in Schubert's Mass in G at Carnegie Hall with MidAmerica Productions, and appeared in concert at the Savannah Music Festival. During the summer of 2016, she appeared in Honolulu, on The Big Island of Hawaii and in Maui with Virtuoso Violinist Eric Silberger, Louisiana Philharmonic Cellist Daniel Lelchuk and Canadian Pianist Ian Parker for the first season of the Hawaii International Music Festival. Her performance at the Blaisdell Concert Hall included a collaboration with world renowned Taiko Artist Kenny Endo.
Other notable past engagements include her European Operatic Debut as "Ifigenia" in Handel's Oreste at the Spoleto Festival Italy, and a performance of Brahms Requiem in her debut at Carnegie Hall with the Juilliard Orchestra under the baton of the late James De Preist.
A champion of new music, Ms. Shoremount-Obra has premiered/collaborated with some of today's most popular and notable composers including Tarik O'Regan, John Zorn, Paola Prestini, and Mikael Karlsson. She completed a one-year residency in 2011/12 with American Opera Projects as part of their Composers and THE VOICE Program, where she premiered music written specifically for her, by a team of six composers/librettist teams. Most recently, she has collaborated with Mikael Karlsson and designer Elle Kunnos de Voss on a one woman monodrama written for her, called The Echo Drift, which premiered in December 2014 at the House of Sweden in Washington, DC.
Ms. Shoremount-Obra is a 2004 New York Regional Winner and National Semi-Finalist in the Metropolitan Opera National Council Auditions. She has also won numerous awards from other organizations, including the Richard F. Gold Career Grant from the Shoshana Foundation, which she was awarded at her graduation from The Juilliard School and has since been supported with supplemental grants from the same foundation. Most recently she is the 2016 winner of the Ursula Springer Award from the Wagner Society of New York. She is a native of New Jersey and holds degrees from Manhattan School of Music (BM, MM) and The Juilliard School (AD).
Janara Kellerman, Mezzo-Soprano
Often referred to as "sultry," "elegant," and "compelling," mezzo-soprano Janara Kellerman is quickly making a name for herself among opera lovers and critics alike. Hailed by Opera News for her "keen dramatic instincts" and "voluptuous tone," Ms. Kellerman is delighting audiences throughout the world.
This season Ms. Kellerman joined an all-star cast in an October Gala for New Amsterdam Opera and returned to Cedar Rapids Opera as Mamma Lucia in Cavalleria Rusticana. She will make her debut with Opera Delaware in their Inside the Opera Studio/Ladies Night Concert Series, with New Amsterdam Opera in March will debut the role of Preziosilla in La Forza del Destino, a return engagement with Mineola Choral Society as the alto soloist in Mendellsohn's Elijah and upcoming with Eliano Productions she will be seen as Eboli in Don Carlos.

Most recent performances include concert performances in New York City as the Alto Soloist in Durufle' Requiem, Bach's B Minor Mass and Mendellsohn's Magnificat. She made her role début as Santuzza in Cavalleria Rusticana with Musica Viva Hong Kong; Mrs. Peachum in The Threepenny Opera with Indianapolis Opera; Dido in Dido and Aeneas with MidAtlantic Opera; the Old Lady in Candide with Fresno Grand Opera; and Little Buttercup in HMS Pinafore with Opera Saratoga and Lyric Opera San Antonio. She also made her Carnegie Hall début as the mezzo-soprano soloist in the New York première of Stephen Paulus' To Be Certain of the Dawn; and sang the alto soloist in Verdi's Requiem with New Jersey Symphony and Mississippi Orchestra. This past December the New Jersey Symphony released the recording of the Verdi Requiem performance under the baton of Maestro Jacques LaCombe and joined by soloists, Marianne Fiset, Russell Thomas and Peter Volpe.
Ms. Kellerman is gaining critical attention for her portrayal of the title role in Carmen after making her role début with Des Moines Metro Opera. "When Janara Kellerman struts on stage and launches into the famous Habanera's slinky chromatic descent, it's easy to forget everyone else. Her voice is simultaneously agile and strong... With her thick black hair, smoldering gaze and brazen swagger, Kellerman casts a spell more potent than any cloud of smoke. She deftly combines her character's dramatic sense of abandon with the score's demand for vocal control." (Des Moines Register)
On the concert stage, Ms. Kellerman reunited with Robert Aldridge and the Topeka Symphony Orchestra for a world première as the alto soloist in his grand oratorio, Parables, and was later engaged for repeat performances. Other notable concert performances have included the alto solo in Beethoven's Ninth Symphony in her Avery Fisher Hall début; Azucena in Il Trovatore in concert with the Westfield Symphony; soloist in Mahler'sSymphony No. 2 with Dubuque Symphony Orchestra; a return to Iowa for a concert of Schumann works; and the soloist in a concert with the Continuo Arts Foundation.
She has also performed the alto solos in Händel's Messiah, Beethoven's Mass in C Minor, Bach's St. John's Passion, Rossini's Petite Messe Solenelle, Pergolesi's Stabat Mater, Mozart's Requiem.
Prior engagements include a gala performance of excerpts from L'italiana in Algeri and Samson et Dalila with the New Jersey State Opera featuring Samuel Ramey and Paul Plishka; Amneris in Aïda and Fenena in Nabucco with New Jersey State Opera; and a return to New York City Opera for their production of Antony and CLEOPATRA and as the cover Carmen and Malcolm in Rossini's La Donna del Lago. Ms. Kellerman also worked with Grammy-winning composer Robert Aldridge when she stepped in at the last minute as Sharon Falconer in his opera Elmer Gantry. She was also seen as Orfeo in Orfeo ed Euridice and as Arsace in Rossini's Semiramide as part of a tour in Italy.
Roles in Ms. Kellerman's repertoire also include Charlotte in Werther, Maddalena in Rigoletto, Adalgisa in Norma, and Eboli in Don Carlos, Madame Flora (Baba) in The Medium . In addition, she is particularly noted for her comedic portrayals, such as Baba the Turk in The Rake's Progress, Katisha in The Mikado, and Mrs. Lovett in Sweeney Todd.
Ms. Kellerman completed her first recording with the Michael O'Neal Singers in ATLANTA as the alto soloist in Honegger's King David to which the ATLANTA Journal said "all the soloists were very good, especially Janara Kellerman - a creamy, rich mezzo.
She is the recipient of the Richard F. Gold Career Grand from the Shoshana Foundation and a winner in the Koussevitzky and Liederkranz Competition, as well as, a finalist in the Jensen and YPO/FGO Competition and a semi-finalist in the 2015 Joy in Singing Competition.
Issachah Savage, Tenor
Dramatic tenor Issachah Savage is garnering acclaim as a "heldentenor par excellence" with "trumpet-like, clear, open-throated, powerful" singing (San Francisco Examiner). Praised for his "impressive natural instrument" (Opera News), Mr. Savage is the winner of the 2014 Seattle International Wagner Competition earning the main prize, audience favorite prize, orchestra favorite prize, and a special honor by Speight Jenkins.
In the 2015 - 2016 season, Issachah Savage makes his role debut in the title role of Rienzi with the National Philharmonic at Strathmore Hall. He also debuts at Austin Lyric Opera as Radames in Aida and with the San Antonio Symphony as Manrico in Il trovatore under Sebastian Lang-Lessing. He will also be seen in his first performance of Verdi's Otello with the Boston Youth Symphony Orchestra in concert and will sing Verdi's Requiem with the Los Angeles Master Chorale.
Mr. Savage made his Metropolitan Opera debut as Don Riccardo in Verdi's Ernani under James Levine in the 2014 - 2015 season. He recently sang Siegmund in Die Walküre at the Canadian Opera Company under Johannes Debus to great critical acclaim and made his mainstage debut as Bacchus in Ariadne auf Naxos at Seattle Opera. He also debuted with Orchestre National de Bordeaux-Aquitaine under Paul Daniel in Beethoven's Symphony No. 9 and at the Aspen Music Festival as Radames in Aida under conductor Robert Spano, a role he sang with the Boston Symphony Orchestra at Tanglewood under Jacques Lacombe in the summer of 2014.
In the 2013 - 2014, season, Issachah Savage made his Houston Grand Opera debut as Radames in Aida opposite Liudmyla Monastyrksa and Dolora Zajick, for which Opera Warhorses declared, "The performances of Monastyrska and Savage were brilliant examples that Verdian voices continue to be produced." He was also seen in concert with the Washington Chorus at the KENNEDY Center singing Act 2 of Verdi's Aida. In the summer of 2013, Mr. Savage participated in San Francisco Opera's Merola Program for gifted young singers singing the finale to Wagner's Lohengrin at the Merola Grand Finale concert. Writing of his performances of the last act of Otello in the Schwabacher Summer Concert series, the San Francisco Chronicle stated, "From his opening notes - impeccably shaded and coiled with repressed fury - to the opera's final explosion of grief and shame, Savage sang with a combination of power and finesse that is rare to observe."
Recent performances for the dramatic tenor include the world premiere of Wynton Marsalis's All RISE with Kurt Masur and the New York Philharmonic, the world premiere of Leslie Savoy Burr's Egypt's Night with Philadelphia's Opera North, with Marin Alsop and the Baltimore Symphony in Gershwin's Blue Monday, and with the Opera Orchestra of New York alongside Elina Garanca in Massenet's La Navarraise. He also made his role debut as Radames in Aida at North Carolina Opera.
With a sound that shines in Verdi and Wagner, Mr. Savage has participated in a number of programs designed for young artists with powerful voices including Evelyn Lear and Thomas Stewart Emerging Singers Program, Dolora Zajick's Institute for Young Dramatic Voices where he performed scenes from Otello and ACMA's Wagner Theater program where he performed scenes from Die Walküre, Parsifal and Samson et Dalila.
Acclaimed for a voice with both dramatic and lyrical qualities, Mr. Savage excels on the concert stage and has performed with many notable conductors and ensembles. In addition to those mentioned above, he has performed Verdi's Messa da Requiem with the Flint Symphony Orchestra, Beethoven's Symphony No. 9 and Rossini's Petite Messe Solennelle with the New DOMINION Chorale, Mendelsohn's Elijah with One Voice Chorale and Puccini's Messa di Gloria with Morgan State University.
In addition to his 2012 grand prize with the Marcello Giordani International Competition, Issachah has received a number of prestigious awards, recognition and career grants from institutions such as Wagner Societies of New York, Washington, D. C., and Northern California, Licia Albanese International Puccini Foundation, Olga Forrai Foundation, Gerda Lissner Foundation, Jensen Vocal Competition, Opera Index, and Giulio Gari Foundation. The tenor's special talents were recognized early on by the Marian Anderson Society of Philadelphia, where he honored as its very first Scholar Artist and then again in 2009 as a prize winner in their Classical Icon competition. He has received two first places prizes in the esteemed Liederkranz Foundation competition, most recently in the 2012 Wagner Division and for General Opera in 2009.
Born into a musical and religious family in the Philadelphia area, Issachah vividly remembers his first public performance - in church at age 5. A last minute decision to audition for CAPA secured him a place at the school and it was CAPA's choral director, David King, who first introduced him to opera through a recording of Jussi Björling singing "Ingemisco" from Verdi's Requiem. Mr. King went on to serve as an important mentor, encouraging the young artist to undertake rigorous vocal study and seriously consider a career as a professional singer. He possesses a Bachelor's Degree in Vocal Performance from Morgan State University and a Master's Degree in Opera Voice Performance from The Catholic University of America.
Reginald Smith, Jr., Baritone
A Grand Finals winner of the 2015 Metropolitan Opera National Council Auditions and a recent graduate of the Houston Grand Opera Studio, baritone Reginald Smith, Jr. has been praised by the New York Times as "a passionate performer" and by Opera News for his "powerful and attractive voice." In the 2016 - 2017 season, Mr. Smith will make his company debut with Opera Memphis as Count Almaviva in Le nozze di Figaro, Dallas Opera as Bonzo in Madame Butterfly, and Opera Carolina as Giorgo Germont in La Traviata.Previous operatic highlights include La Boheme (Marcello), Die Fledermaus (Falke), Gounod's Roméo et Juliette (Capulet), Porgy and Bess (Jake/Lawyer Frazier), The Pirates of Penzance (The Pirate King), and Rigoletto (Marullo), among others. The concert stage has Mr. Smith in performances of Brahms' Ein Deutches Requiem, Mendelssohn's Elijah, Mozart's Requiem and Coronation Mass, Britten's Rejoice in the Lamb, the Fauré and Duruflé Requiems, Schubert's Mass in G, Schoenberg's Ode to Napoleon Bonaparte,Handel's Messiah, and Roméo et Juliette by Berlioz.
Mr. Smith has been seen in performances with WOLF Trap Opera, Opera Theater of St. Louis, Cincinnati Opera, Toledo Opera, and Houston Grand Opera. In concert, Mr. Smith has performed with the Indianapolis Chamber Orchestra, Cincinnati Pops, Lexington Philharmonic, Columbus Symphony Orchestra (GA), Johnson City Symphony, Boise Philharmonic, ATLANTA Symphony Orchestra, Houston Symphony Orchestra, and the Tchaikovsky Symphony Orchestra, at Tchaikovsky Hall in Moscow, Russia, among others.
In addition to receiving recognition from the Dallas Opera Guild Competition, the Mildred Miller International Vocal Competition, and the Licia Albanese-Puccini Foundation Vocal Competition, Mr. Smith has won first place in the National Opera Association Competition: Scholarship
Division, Orpheus Vocal Competition: Young Artist Division, George London Vocal Competition: Top Prize (George London Award), Gerda Lissner International Vocal Competition: Top Prize, received a 2015 Sarah Tucker Study Grant, and he has received a 2016 Career Grant from the William Matheus Sullivan Foundation.
ABOUT THE NATIONAL CHORALE
The National Chorale, New York's premier professional choral company, is celebrating its 50thLincoln Center Season at David Geffen Hall, previously Avery Fisher Hall, with its continuing series of choral orchestral masterworks and 20th century American Classics.
Founded in 1967, the National Chorale is the only professional choral company in the United States to have established and maintained an annual subscription season in the major New York City concert halls - 50 seasons in David Geffen Hall, with additional concerts at Carnegie Hall. It presents a broad repertory of choral-orchestral works; seldom-performed works from many stylistic periods; opera-in-concert; American music theatre; and contemporary works, including commissions by the Chorale for its Lincoln Center Season.
In addition to its David Geffen Hall series, the Chorale has toured nationally; presented 19 summer seasons of New York Festival of American Music Theater concerts in Lincoln Center's Damrosch Park and parks throughout the New York area; concert tours of New York State and New York City; vocal-instrumental chamber music series, and Concerts for Young People.
The National Chorale is a leader in the development of choral singing in the New York City area. The New York Times calls the National Chorale "one of the most firmly established professional choral groups in the country."
For 50 years, the Chorale has also presented vocal music education programs for NYC public schools, developing singing participation and future audiences for choral and vocal music. National Chorale's contracts with the NYC Department of Education provide year-long artist-in-residence programs for elementary, middle and high schools throughout the city. The Chorale regularly tours New York area schools, presenting concerts and choral workshops; and will present the popular 25th annual New York City High School Choral Festival, the 8th annual Elementary School Choral Festival and 5th annual Middle School Choral Festival in April and May 2018, with 36 participating high school, elementary and middle school choirs and more than 2,700 student singers from all five Boroughs of the City.
The Chorale also has a major Partnership with the NYC Professional Performing Arts High School in Manhattan, now in its 8th year, where a team of Chorale artist/teachers lead and develop the PPAS Vocal/Choral Program daily throughout the school year. The PPAS Choir will perform at Lincoln Center at each National Chorale performance during the 2017-2018 Season.
Everett McCorvey is in his fourth season as the Artistic Director of the National Chorale. Vocal Excellence is a hallmark of Dr. McCorvey's work with professional choirs and with professional singers in concerts, masterclasses and workshops throughout the world. Over a span of over 35 years, Dr. McCorvey has engaged choirs and audiences on 4 continents in moving and dynamic experiences with his unique and committed interpretation of choral music of all genres. Dr. McCorvey is also the founder and Music Director of the American Spiritual Ensemble, a group of 24 professional singers performing spirituals and other compositions of African-American composers. He is a frequent advisory panelist and on-site reviewer for the National Endowment for the Arts in Washington, D.C. and he has served on the Boards of the National Assembly of State Arts Agencies, National Opera Association and the Kentucky Arts Council. Dr. McCorvey has recently been invited to serve as a jurist on the Opera For All Voices initiative established by San Francisco Opera and Santa Fe Opera. The panel will review new operatic works for the industry with the goal of bringing new audiences to opera. On working with the National Chorale, Dr. McCorvey said "Celebrating the 50th Anniversary of great choral singing with the National Chorale is indeed an honor and a privilege. It is my fervent hope that we can continue to sing, share and experience the goodness of humanity through music and learn of each other better through sharing in the arts."

ABOUT DAVID GEFFEN HALL AT LINCOLN CENTER
In 1962, Philharmonic Hall-renamed Avery Fisher Hall in 1973 and later renamed David Geffen Hall in 2015-became one of the first buildings to be completed on the Lincoln Center site and home to one of its first resident organizations, the world-renowned New York Philharmonic, the oldest symphony orchestra in the U.S. Today, David Geffen Hall hosts notable performances by acclaimed orchestras and artists from around the globe, as well as galas, film premieres, graduations, and conferences. Located on the north side of Josie Robertson Plaza facing Lincoln Center's iconic Revson Fountain, David Geffen Hall's spacious lobby and promenade feature such eminent artwork as Rodin's bust of Gustav Mahler and Dimitri Hadzi's sculpture The Hunt, in addition to wraparound views of the Lincoln Center campus.
Photo Credit: Richard Termine