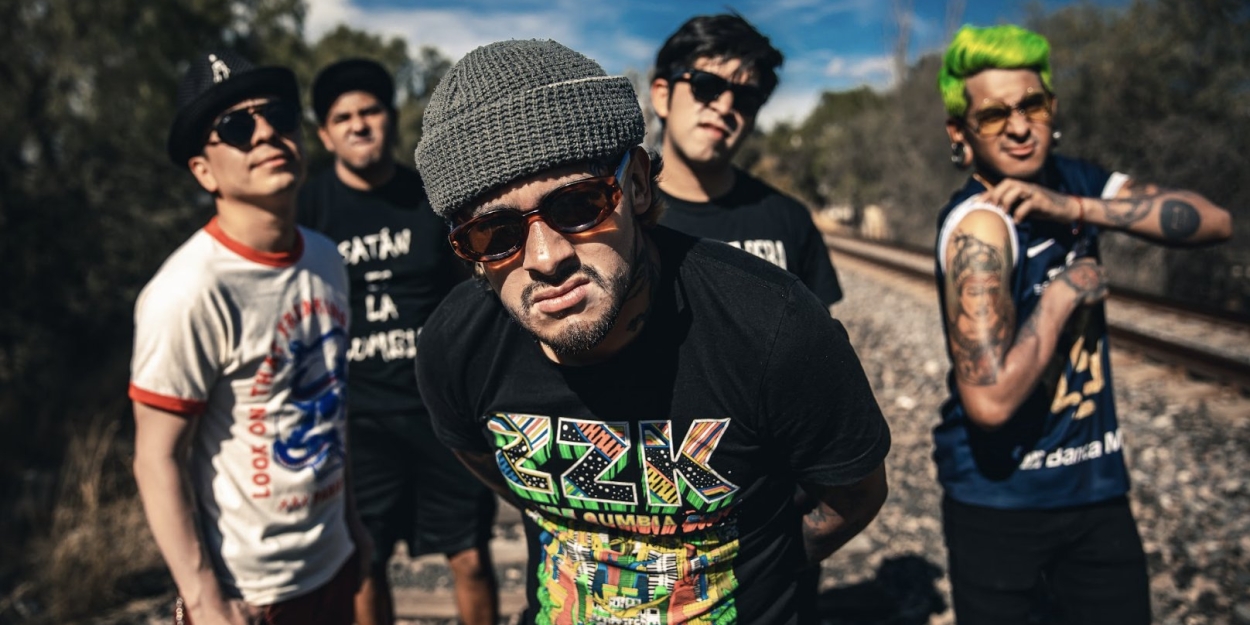 Mexico's Marimba Misfits Son Rompe Pera Release Single 'Chucha'
With this single they also announce the release of their forthcoming album Chimborazo on March 10. 
Aliens, fever dreams, false awakenings, searing electric guitars and of course the marimba are ever-present in the new single "Chucha" from Mexico's cumbia punks Son Rompe Pera, out today on AYA Records. With this single they also announce the release of their forthcoming album Chimborazo on March 10.
The track is in stark contrast to what listeners hear on their first LP Batuco (2020), a now-cult-classic marked by traditional folk and cumbia songs that they recorded, nearly by accident, on a 4-track at Perros Con Tiña Studios in Santiago, Chile. "Chucha'', and the album that contains it, reflects the vibrant, ruthless, punk spirit of their live show that they've since taken across Mexico, the US and Europe.
The band has grown considerably since the release of Batuco- touring with bands like Panteon Rococo, Fishbone, The Gimme Gimmes and beyond while watching fiery marimba mosh pits break out at every show- the lines between cumbia and punk getting increasingly blurry, and their sound becoming clearer.
"Chucha" is the group's first truly original composition. It's is based on a dream that Mongo (Allan Gama- composer, vocalist, marimbista) couldn't wake up from- "I was dreaming of playing a show with La Floripondio," he says, referring to the Chilean dub/punk band that often invites Son Rompe Pera to perform with them.
"Everyone was talking, but they just kept saying 'chucha chucha chucha' all the time. I couldn't understand anything. Then they played a song where they sang 'chuuuchaaa' and the crowd sang along, and it was then that I was startled awake by a loud noise. I laid in bed and heard sounds coming from all around me, and then saw strange lights shining into my room. Terrified and not knowing what to do, I got up, looked out the window and saw a spaceship filled with little aliens.
At that point, I was scared to death and screamed in terror- 'Chucha!'-and then I woke up again! I was in my bed, it had all been a dream within a dream and I was sweating and not even sure if I was really even awake at that point. So I hid under the covers, not knowing if the aliens were there or the Chileans or what ...".
The song took many takes to record, and ultimately the one that made the cut was the last one- 'That final take is what is on the record. It's me giving it my last possible breath, mixing desperation with stage fright, nightmares and aliens, and I think it sounds pretty spot on,' says Mongo.
"Chucha" is a statement of intent, adding another chapter to the group's against-all-odds story and unlikely rise to international fame. As kids, they spent years busing in the streets with the marimba alongside their father. As teens, they rebelled against the iconic instrument, joining punk and psychobilly bands that involved everything but playing the marimba. With Son Rompe Pera, however, Mongo and his brothers Kacho and Kilos have brought it all together, updating the marimba's place in history while bringing it to the world's biggest stages and playing the instrument like no one ever has.
The forthcoming album from Son Rompe Pera, Chimborazo, was recorded during a week-long session in early 2022 at Mambo Negro Studios in Bogotá, Colombia and produced by Mario Galeano (Frente Cumbiero, Ondatrópica, Las Pirañas).
Listen to the new single here: