Kid Koala Shares LOST AT SEA Video Feat. Trixie Whitley With Ghettoblaster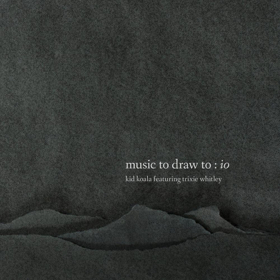 Today, visionary scratch DJ and producer Kid Koala (aka Eric San) shares new single and video for "Lost At Sea" featuring Trixie Whitley via Ghettoblaster Magazine. The track comes off their upcoming collaborative album Music To Draw To: Io slated for release on January 25th via Arts & Crafts (available for pre-order here). About the new video, San comments:

"This is a song for travellers. Karina Bleau's kinetic use of light in this video really captures that motion. She creates her effects in a real time, analog way. I think it fits the tone of the track beautifully."

The otherworldly video by director Karina Bleau was created through a unique process using chemicals, glass, and light. "Lost At Sea" follows the release of previous collaborative album singles featuring Trixie Whitley, "All For You" (including video by Bleau) and "Hera's Song," and the instrumental "Allotropic". All songs are included on the eighteen track Music To Draw To: Io, a 70 minute collection of transportive electronic and ambient creations draped with Whitley's seductive blues. Io is the second volume in the collaboration series inspired by music that allows space for the listeners' own ideas. Volume one was 2017's Music To Draw To: Satellite, which featured vocalist Emilíana Torríni, and received praise from Pitchfork, Bandcamp, VICE, and more. Music To Draw To: Io is available for pre-order in double vinyl, deluxe sketchbook CD, and all digital formats now.

To celebrate the launch of the new album, Kid Koala will be hosting 'Music To Draw To' sessions, beginning with four launch events at Montreal's SATosphere dome, featuring Whitley and visuals by chemical puppeteer Karina Bleau. San is also touring his Satellite Turntable Orchestra and Nufonia Must Fall concerts globally this year. See below for a full list of tour dates, and tickets are available here.
Watch/Share: "Lost At Sea" feat. Trixie Whitley
Kid Koala Upcoming Tour Dates
1/24: Montreal, QC @ SAT (6:30pm / 9pm)
1/25: Montreal, QC @ SAT (6:30pm / 9pm)
1/27: Los Angeles, CA @ Giant Robot Gallery (2pm // 7pm)
1/30: Ottawa, ON @ Black Squirrel Books
2/6: San Francisco, CA @ SF Jazz (Listening Party)
2/7: San Francisco, CA @ SF Jazz (Nufonia Must Fall)
2/8: San Francisco, CA @ SF Jazz (Nufonia Must Fall)
2/9: San Francisco, CA @ SF Jazz (Nufonia Must Fall)
2/10: San Francisco, CA @ SF Jazz (Nufonia Must Fall) (3pm // 7pm)
2/13: San Jose CA @ Hammer Theatre (Nufonia Must Fall)
2/14: San Jose CA @ Hammer Theatre (Nufonia Must Fall)
2/15: San Jose CA @ Hammer Theatre (Nufonia Must Fall)
2/18: St. Catherines, ON @ FirstOntario Performing Arts Centre (Satellite Turntable Orchestra - 7pm / 9:30pm)
2/19: St. Catherines, ON @ FirstOntario Performing Arts Centre (Satellite Turntable Orchestra - 7pm / 9:30pm)
2/20: St. Catherines, ON @ FirstOntario Performing Arts Centre (Satellite Turntable Orchestra - 2pm / 7pm / 9:30pm)
4/26: College Park, MD @ MilkBoy ArtHouse (Satellite Turntable Orchestra)
4/27: College Park, MD @ The Clarice Smith Performing Arts Center (Robot Dance Party)
5/2: Chapel Hill, MD @ Current ArtSpace + Studio (UNC @ Chapel Hill)
5/3: Chapel Hill, MD @ Current ArtSpace + Studio (UNC @ Chapel Hill)
5/4: Chapel Hill, MD @ Current ArtSpace + Studio (UNC @ Chapel Hill)
5/5: Chapel Hill, MD @ Current ArtSpace + Studio (UNC @ Chapel Hill)