Jeff Whalen Releases ALIEN LANES Music Video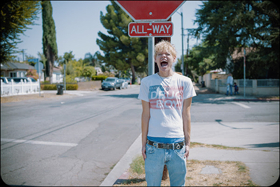 Los Angeles-based power pop rocker JEFF WHALEN has released his video for "The Alien Lanes" which premiered via Substream Magazine today. The track is off his newly released debut solo album, 10 MORE ROCK SUPER HITS, which Substream calls "a collection of crunchy chorus', 70's UK glam, new wave, and even some classic New York-style punk." It was released February 15 via SuperMegabot and can be purchased here.

Jeff enigmatically tells Substream that 'The Alien Lanes' is, "About a magic girl in her room who transforms after listening to the radio, and the illusion she shatters, freeing us from the grim tyranny of our programmed limitations and exposing the incredible miracle of our authentic selves and our true reality."
10 More Rock Super Hits is Whalen's first solo debut, but it could also be perceived as a sensational follow up to Tsar's first two albums (Tsar and Band-Girls-Money) with a more free flowing, summer power pop beachy vibe. " The album gives listeners, "a chance to rediscover the brilliance of Whalen's songs and the joy he brings to his version of power pop," AllMusic says.

Whalen had been wanting to make a solo album for awhile, although the thought didn't turn into action right away. When he felt the desire to create a solo album, he called up his pal Linus Of Hollywood (Nerf Herder, Bowling For Soup, etc) to produce and to make the bubblegum power pop record he'd been dreaming of.

Listeners took notice immediately following the release of "Jendy!" - the first track/music video that was released. It should come as no surprise as the track perfectly encapsulates the sparkly sunshine-y pop of the album. "I'll be damned if Whalen's self-described rock/glam/bubblegum/pop hybrid isn't some of the catchiest stuff I've heard this year," Goldmine raves.

The entire project was a step in a new direction for Whalen, with the sound and with the freedom. As he's doing this project as a solo musician, he misses getting to share excitement with bandmates on certain things, but knows that that sacrifice enables him freedom away from everyone's various emotions and personalities. As he continues to secure his footing as a solo musician he's starting to perform these track live; last month playing The Mercury Lounge in Goleta, California (supporting Nerf Herder).

In summary, PowerPop News says, "They don't make records like this anymore. If you want more of them, then there's only one thing to do. Buy it."

Tsar was a hybrid of glam rock, power pop, garage rock, punk rock, arena rock, and bubblegum music. In 2000, they released their self-titled debut LP on Hollywood Records produced by Grammy Producer of the Year Rob Cavallo (Green Day, Goo Goo Dolls) and mixed by Chris Lord-Alge (U2, Bruce Springsteen, Madonna). Tsar toured with the New York Dolls, Social Distortion, Eve 6, Duran Duran, and Juliette and the Licks. The album garnered critical acclaim and James Gunn (director of both Guardians Of The Galaxy films) used the album's opening track "Calling All Destroyers"in his 2010 action film Super. The band performed on the Late Late Show with Craig Kilborn in 2004 and and then again in 2005 when Craig Ferguson took over as host. as well as being placed on TV shows such as Veronica Mars and NCIS, in the films In the Land of Women and American Psycho 2.
Related Articles View More Music

Stories
More Hot Stories For You