Jackie Greene Premieres New Video For FRAGILE AND WANTING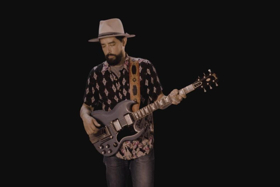 Jackie Greene's music video for "Fragile and Wanting", the heartfelt and earnest ballad from his 2018 release The Modern Lives Vol. 2, wasreleased on Friday via Relix Magazine. Directed by Anthony Simpkins of GemsOnVHS, "Fragile and Wanting" paints a picture of tender memories interspersed with some visual trickery allowing Jackie to appear as every member of the band in a live performance, as he did on the record, playing every instrument himself. Greene told Relix Magazine, "Like most romantics, I've always been a sucker for a sappy ballad. Especially the kind you listen to privately, on headphones. This is that type of song. Meant to be enjoyed alone. On headphones. But, if you end up blasting it in your car while you cruise around on the weekend, that's cool too. You might get some funny looks, though." For more about the song and to see "Fragile and Wanting", click here.
In addition to the new music video, Greene is gearing up for some special guest appearances with a few of his old friends throughout the rest of the winter and into spring. On Saturday, he took part in the 42nd Annual Ann Arbor Folk Festival with Joan Osborne's Dylanology. Dylanology, featuring Jackie Greene, is a set of music culled from Bob Dylan's remarkable catalog of songs. More about this show can be foundhere. The Oakland Press reviewed the second night of the festival commenting, "Nobody checked off the folk boxes quite like Osborne and her captivating Dylanology set." Read the full recap here.
Greene will also be part of Phil Lesh and Friends' three night run in March at the legendary Capitol Theatre in Port Chester, NY. Since 2007, he has been included in Lesh's group of "friends" on a regular basis. This particular group of shows also includes band members Benmont Tench of Tom Petty and the Heartbreakers, jazz legend John Scofield, Phil's son Grahame, and Phil & Friends staple, drummer John Molo. Jackie is currently in the studio working on a follow up to The Modern Lives Vol. 2, making these select guest appearances his only tour dates until a run of solo shows that will be announced for later in the year.
More About Jackie Greene:
Hailed as "the Prince of Americana" by The New York Times, Jackie Greene has emerged as one of his generation's most compelling songwriters and guitarists, the kind of rare and supremely versatile artist who blends virtuosity and emotional depth in equal measure. Greene's been chasing a sense of authentic human connection through art ever since his teenage years when he began self-recording and releasing his own music in central California. After a critically acclaimed independent debut, he signed his first record deal and embarked on a lifetime of recording and touring that would see him supporting the likes of BB King, Mark Knopfler, Susan Tedeschi, and Taj Mahal, in addition to gracing festival stages from Bonnaroo to Outside Lands. The New York Times praised his "spiritual balladry," Bob Weir anointed him the "cowboy poet" of Americana and blues, and the San Francisco Chronicle raved that he has "a natural and intuitive connection with... just about any musical instrument."
Catch Jackie Greene on tour:
February 2 - Petaluma, CA - Mystic Theatre
March 14 - Port Chester, NY - Capitol Theatre - as part of Phil Lesh and Friends
March 15 - Port Chester, NY - Capitol Theatre - as part of Phil Lesh and Friends
March 16 - Port Chester, NY - Capitol Theatre - as part of Phil Lesh and Friends