Gloria Gaynor, Lee Ann Womack to Perform at City Winery Chicago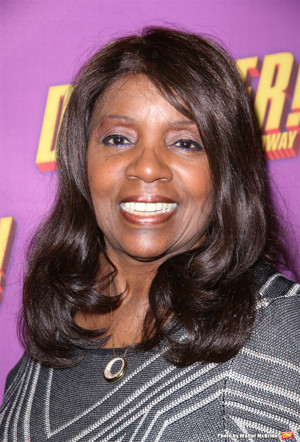 City Winery Chicago, 1200 W. Randolph Street, announces Grammy-winning country star Lee Ann Womack, legendary disco queen Gloria Gaynor, Grammy Award-winning producer and vocalist Steve Tyrell and more. The following shows go on sale to the public on Thursday, March 28 at noon. All tickets will be available at citywinery.com/chicago.
All City Winery Chicago events are open to all ages and start at 8 p.m., unless noted.
Sunday, May 26
$28/$32/$35/$38
Deacon Blues, America's premier Steely Dan tribute experience, replicates the music that defined a decade, a nation, and an entire jazz-rock genre. The 11-member collective of Chicago-area studio and stage musicians is dedicated to presenting the music of Walter Becker and Donald Fagen. This stunning collective is the personification of what "The Dan" did on record - gathering top studio musicians for their albums - but for live performances. With support from legendary Chicago FM radio station personalities such as Bob Stroud ("The Drive") and Scott Mackay ("The River"), Deacon Blues debuted their first album of original music, in a similar musical landscape as "The Dan," in 2016.
Sunday, June 9; 7:00 p.m.
$22/$25/$28/$32
Carrie Newcomer is a performer, recording artist, and educator described as a "prairie mystic" by the Boston Globe and one who "asks all the right questions" by Rolling Stone. Her song "I Should've Known Better" appeared on Nickel Creek's Grammy Award-winning gold-certified album This Side, and she earned a regional Emmy for the PBS special "An Evening with Carrie Newcomer." Newcomer has 17 nationally released albums, including The Point of Arrival, The Beautiful Not Yet, A Permeable Life, and Everything is Everywhere. Newcomer has also released two companion books of poetry and essays, A Permeable Life: Poems and Essays and The Beautiful Not Yet: Poems, Essays, & Lyrics.
Tuesday, June 18
$25/$30/$35/$40
Anne Steele is a multi-award-winning singer and songwriter from NYC. She released a brand-new EP of original music titled Made Out Of Stars in January 2019 and is currently touring. Steele released her first EP of original music, titled What's Mine, in 2015 and toured extensively throughout the U.S. and abroad. She recently performed alongside Cyndi Lauper at the Home For The Holidays concert at The Beacon Theater in NYC for the True Colors Fund. Steele's single "Love Can Take Us There" was released in 2016 with all proceeds benefitting victims of The Pulse Nightclub shooting. The single was chosen as the official Provincetown Carnival Anthem for 2016.
Levi Kreis is a southern soul recording artist featured in several film and television projects including "Sons of Anarchy," "The Vampire Diaries," and "So You Think You Can Dance" and has appeared on "The View," "David Letterman," "Jimmy Fallon," and more. His piano centric style garnered him the 2010 Tony Award for originating the role of Jerry Lee Lewis in Broadway's Million Dollar Quartet.
Wednesday, June 19
$35/$45/$55/$65
Grammy Award-winning producer and vocalist Steve Tyrell is the definition of a Renaissance man. In his nearly five decades in the music business, he has achieved success as a singer, songwriter, producer, music supervisor, and, most recently, radio host. His breakthrough performances in Father of the Bride and Father of the Bride II helped Tyrell reinvent and re-popularize classic pop standards for a modern-day audience. His hits "The Way You Look Tonight," "The Simple Life," "Crush On You," and "The Sunny Side of The Street," have launched millions of romances and been played at thousands of weddings.
Tyrell's albums have achieved top five status on Billboard's Jazz charts. His first album, A New Standard, was amongst the best-selling jazz albums for more than five years. Tyrell's latest album, That Lovin' Feeling, debuted in the top five. On it, he celebrates what he calls "The Great American Songbook 2," featuring seminal rock-era classics penned by legendary songwriters, including Carole King, Burt Bacharach, Neil Sedaka, Barry Mann and Cynthia Weil, Mike Stoller, and Jerry Leiber.
Saturday, June 29; 7:00 and 10:00 p.m.
$32/$35/$38/$45
Christian Scott, also known as Christian Scott aTunde Adjuah (born March 31, 1983, in New Orleans) is a two-time Edison Award-winning and Grammy Award nominated trumpeter, composer, and producer. He is also the nephew of jazz innovator and legendary sax man Donald Harrison, Jr. Scott's musical tutelage began under the direction of his uncle at the age of thirteen. Since 2002, Scott has released eleven critically acclaimed studio recordings, two live albums, and one greatest hits collection. According to NPR, "Christian Scott ushers in new era of jazz." He has been heralded by JazzTimes Magazine as "Jazz's young style God."
Friday, Aug 9; 7:00 and 10:00 p.m.
$55/$58/$65/$68
Gloria Gaynor's legendary career spans the past 40 years, never losing momentum. She has achieved global stardom and musical recognition with hit songs in the charts in all four decades. Gaynor has channeled her fame and recognition into support for several charities, donating not only her money but also her time and talent. Gaynor continues to tirelessly tour the world performing at concerts in the U.S.A., Europe, South America, and beyond each year. The U.S. Library of Congress honored Gaynor in 2017, inducting her recording of the global anthem "I Will Survive" to the library's collection of recordings with American historical and cultural significance. A limited number of VIP Meet & Greet tickets will be available each night for $75 each.
Friday-Saturday, October 4-5
$35/$38/$42/$45
Texas-born country star Lee Ann Womack has brought her music to the mainstream with a pop influence that set her apart and gained her wide critical acclaim. Womack is a multiple time Academy of Country Music, Country Music Association and Grammy Award winning artist. She has released nine albums over her career, with hits that secured spots on Country Music and Billboard Charts alike, including "I Hope You Dance." Womack's most recent album - The Lonely, The Lonesome, & The Gone, was released in October of 2017. A limited number of VIP Meet & Greet tickets will be available each night for $50 each.
Rhiannon Giddens with Francesco Turrisi - There Is No Other tour
Saturday-Sunday, Oct 26-27
$50/$55/$60/$65
Rhiannon Giddens' latest album there is no Other, recorded with Italian multi-instrumentalist Francesco Turrisi, is at once a condemnation of "othering" and a celebration of the spread of ideas, connectivity, and shared experience. A MacArthur "Genius" Grant recipient, Giddens has performed for the Obama family at the White House and acted in two seasons of the hit television series Nashville. Her acclaimed solo albums Tomorrow is My Turn and Freedom Highway and her EP Factory Girl received three Grammy nominations; her work with the Carolina Chocolate Drops (which she co-founded) won a Grammy in 2010.
Tickets go on sale to the general public on March 28 at noon. Only members of City Winery Chicago's signature VinoFile™ program have access to ticket sales today in addition to receiving: a waiver of ticket service fees; free valet parking; Restaurant Loyalty Rewards, such as a free pair of VIP concert tickets for every $500 spent on food & beverage in the restaurant; exclusive membership-only events; and access to the proprietary City Winery Virtual Sommelier™, which helps make suggestions for wines one might enjoy based on past consumption at the venue.
Deacon Blues , Carrie Newcomer, Anne Steele & Levi Kreis, Steve Tyrell, Christian Scott, Gloria Gaynor, Lee Ann Womack, Rhiannon Giddens and Francesco Turrisi join a diverse mix of the most respected names in pop, rock, jazz, blues, world music, theater, dance, spoken word and comedy presented at City Winery Chicago, including previously announced headliners and supporting acts: Van Hunt (Mar. 26); The Tim O'Brien Band with Danny Burns (Mar. 27); Robert Glasper Trio with DJ Jahi Sundance(Mar. 28, 7 & 9:30p); The Verve Pipe (Mar. 29); Will Downing (Mar. 30-31); Kaitlyn Bristowe (Apr. 1); David Archuleta (Apr. 2); Louis York & The Shindellas (Apr. 3); Tommy Castro & the Painkillers with Kevin Burt (Apr. 4); Cyrille Aimée (Apr. 5); WDCB Jazz Brunch (Apr. 6, 12p); Willie Nile (Apr. 6); Story Jam (Apr. 7, 12p); Tusk (Apr. 7); Miki Howard (Apr. 8-9); Victory Boyd feat. Infinity's Song (Apr. 10); Downtown Seder feat. special guests (Apr. 11, 7p); Martin Sexton with Chris Trapper (Apr. 12-13); Story Sessions Brunch (Apr. 14, 12p); Journeyman - A Tribute to Eric Clapton (Apr. 14, 7p); Glenn Jones (Apr. 15, 7:30p); Marc Broussard (Apr. 16-17); Graham Parker withAdam Ezra (Apr. 18); Carbon Leaf (Apr. 19); Brad Williams (Apr. 20, 7 & 10p); Dave Davies (Apr. 21); Maggie Speaks (Apr. 22, 7:30p); Liv Warfield (Apr. 23); Rhonda Ross & Rodney Kendrick (Apr. 24); Eric Roberson (Apr. 25-27); Chicago Philharmonic Sunday Brunch Series (Apr. 28, 12p); Kevin Eubanks Quartet (Apr. 28, 5 & 8p); BiG SUiT - Talking Heads Tribute (Apr. 29); PJ Morton (Apr. 30); The Spring Quartet (May 1, 2p); Del McCoury Band with Mile Twelve (May 2); Herb Alpert & Lani Hall (May 4-5);Nancy and Beth (May 6-7); Mariza (May 8); Griffin House (May 10); Burlesque Night Out (May 10, 10:30p); The Nils Lofgren Band (May 12-13); Lizz Wright (May 14); David Bromberg Quintet (May 15); Howie Day (May 16); Sara Evans & The Barker Family Band (May 17); Joanne Shaw Taylor (May 20, 8p); Big Bad Voodoo Daddy (May 25);Mason Jennings (May 31); Morgan James (June 2, 5 & 8p); Raheem DeVaughn (June 7 & 10p); Jon B. (June 14, 7 & 10 p); The Spill Canvas (June 16, 8p); The James Hunter Six (June 20, 8p); Al Di Meola (June 21, 7 & 10p); Penny Arcade (June 25); Mac McAnally (July 21); and Dave Mason (Aug. 13-14).
Opened in 2012, City Winery Chicago is a fully operational winery, restaurant with outdoor patio, concert hall and private event space located in the heart of the West Loop at 1200 W. Randolph, in the historic urban Fulton Market district. Once a refrigerated food distribution warehouse, the 1911 building has been transformed into a contemporary 33,000 square foot haven for those passionate about wine, music and culinary arts. The décor evokes the romance of being in wine country, from the exposed stainless steel fermenting tanks and French oak barrels, to the aroma of fermenting grapes. The West Loop's only fully operational winery has produced dozens of in-house wines sourced from vineyards in California, Oregon, Washington, Argentina and Chile, including a Wine Enthusiast 92-point 2015 Verna's Vineyard Reserve Pinot Noir. With more than 400 unique producers from around the world City Winery is recognized with 2014 and 2015 Best of Awards of Excellence "for having one of the most outstanding restaurant wine lists in the world" by Wine Spectator. The globally inspired, locally sourced, wine-focused food menu is conceived for pairing and sharing. The concert hall accommodates up to 300 guests, all seated at tables with complete beverage and dining service, ensuring a comfortable "listening room" experience enhanced by a state-of-the-art Meyer Sound system. Riedel is the official and exclusive provider of glassware, showing City Winery's commitment to enjoying quality wine in a quality vessel. American Airlines is the Official Airline and Virgin Hotels Chicago is the Official Hotel of City Winery. For more information, please visit www.citywinery.com.