Folksinger Michael Johnathon Releases New Album, DAZED & CONFUZED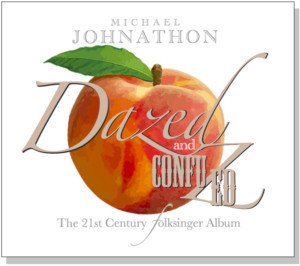 Folksinger Michael Johnathon isn't nearly as "Dazed & Confuzed" as the title of his new album from PoetMan Records suggests. He knows exactly what he thinks and is eager to share his opinion with anyone who will listen.
The album is Johnathon's effort to reintroduce the musical role of the folksinger in a modern age, setting the art form apart from what he calls the "I, Me, My" generation of songwriters.
With catchy melodies and clever lyrics, "Dazed & Confuzed" covers shares a wide range of subjects, from the ugliness of racism to the beauty of family, the acceptance of growing old, Johnathon's disgust for cigarettes, and more.
The album's hardest-hitting song, "The Statue," was inspired by the 2017 demonstration by white supremacists in Charlottesville, Virginia. Although it uses the controversy surrounding Confederate statues as a jumping-off point, Johnathon says the song is not about the statues.
"It's about the symbols of racial violence, injustice and the political divide remaining between people and races," he said. "It's a lyrical condemnation of prejudice and racism and the hurt it causes."
An accompanying music video for "The Statue" was filmed discreetly in Charlottesville, Virginia; Union, West Virginia; and Paris, Kentucky.
"Many towns refused permission for us to film," Johnathon said. "That's how controversial this issue still is."
Like "The Statue," the other songs on "Dazed & Confuzed" clearly express Johnathon's various points of view, but he does not expect listeners to always agree with him. In fact, he relishes debate, as long as it is respectful.
"The title track is about the high-speed tsunami of useless, over-hyped insistence that we all think the same," he said. "We can't, and we should not."
With ten tracks, "Dazed & Confuzed" is at times humorous and other times deadly serious, but always thought-provoking. For example, Johnathon wrote the song "Smoke" in the hope of helping others stop what he calls "this dangerous and filthy habit.
"We are free to do what we want, but when someone you love is doing something unsafe, as smoking is, we should do everything possible to encourage them to quit," he said.
"The Maple Tree" is a live concert recording on a mountain dulcimer about the unyielding political divide between communities.
Johnathon composed "Something's Wrong" while listening to a group of millennials in a coffee shop expressing their concern about the ferocity of national and world events.
Not all songs on the album deal with controversial issues. "Melissa's Song" is an old-fashioned, feel-good love song inspired by Johnathon's wife. "Log Cabin Twins" is about his children, while "Hippy Luv" is an ode to the tree-huggers of the world, of which he proudly claims to be one.
When it comes to living a simple life and respecting the environment, Johnathon is the real deal. The creator and host of the internationally syndicated television and radio music series "WoodSongs Old-Time Radio Hour" grew up next door to the late folk music legend Pete Seeger in Upstate New York, and now lives in a cabin that he built by himself, on the outskirts of Lexington, Kentucky. Johnathon's play "Walden: The Ballad of Thoreau" has been performed more than 8700 times in 42 countries. He has performed 2000 Earth Concerts at schools and colleges, as well as benefits for the homeless, farm families, and shelters helping battered women and children. Billboard Magazine once headlined him as an "UnSung Hero." He has been featured on CNN, CMT, NPR, Bravo and the BBC, among other major media.
For Johnathon, writing books and making music isn't just about making money; it is about bringing people together. To that end, he founded the WoodSongs Front Porch Association, a grassroots organization that encourages musicians throughout the country to bring roots music education into schools free of charge and enhance their communities through small musical events. Members are called "SongFarmers."
Ultimately, Johnathon's "Dazed & Confuzed" album is a tribute to SongFarmers everywhere, who can turn seemingly mundane subjects into songs that inspires others and might help change the world for the better.
"Folksingers are five-string politicians, six-string therapists, banjo barristers, acoustic lovers and penny-pinching peacemakers," he said. "People who sing together cannot fight. The world needs more of them."
"Dazed & Confuzed" is available through iTunes, Amazon and other outlets, as well as www.MichaelJohnathon.com/dazed.
Tracks
1. The Statue
2. Maple Tree
3. Log Cabin Twins
4. Melissa's Song
5. Something's Wrong
6. Hippy Luv
7. Growing Old
8. (I Hate Your) SMOKE
9. $5 Wife
10. Dazed & Confuzed
Musicians
Michael Johnathon - Martin 0000-28s, 000-28s, D28s, Vega longneck banjo
Warren May - dulcimer, piano, Franzke mandolin, tambourine, harmonica, Vietnamese bells
JP Pennington - electric guitar, vocals
Rob Ickes - dobro
Bob Bryant - bass
John Johnson - drums, tambourine, shaker
Kristy Kirsh - flutes and recorders
Melissa Deaton, Vicky Myers, Alice White - vocals
Lee Carroll - piano, Hammond B3
Isaac May - Franzke mandolin
Ruth McLain - upright bass, vocals
JR Williams - banjo
Al White - mandolin