CMA Songwriters Series Visits Chicago with Illinois Native Brett Eldredge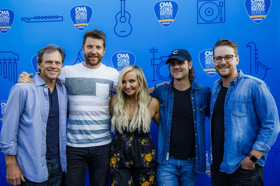 The Country Music Association visited Chicago yesterday, Tuesday, July 24, with Illinois native Brett Eldredge and fellow songwriters Ross Copperman, Tom Douglas, Heather Morgan and Jordan Reynolds, joining the CMA Foundation and U.S. Bank to visit students at Chicago's Notes for Notes studio followed by a sold-out CMA Songwriters Series Presented by U.S. Bank performance at Joe's on Weed Street.
Tuesday afternoon, Chicago's Notes for Notes studio welcomed attendees with three performances by student musicians Ifeanyi Elswith, Devon Fields and Armoni Taffe, who aspires to attend Berklee College of Music upon high school graduation. The songwriters then joined students to assemble and paint guitars and ukulele kits as well as create percussion instruments from recycled materials, participate in a songwriting session where students had the chance to ask the songwriters for tips in writing and producing songs, and finally jump into the recording/mixing room where students created a track. Copperman and Douglas also recorded a podcast episode at WN4N Radio with students during the visit.
During the songwriting session, the five songwriters spoke about their inspirations and their writing processes. Douglas shared that he writes with a special pencil, the same brand and style that author John Steinbeck wrote with. Copperman explained that connecting with THE LISTENER and writing about things they do is the best way to write a hit song. Reynolds agreed with students that establishing character and a point of view is essential in songwriting. Eldredge confessed he cried in the studio a few days prior because a line someone had written was so powerful and reminded him of his family. And Morgan said she used to sing her little sister to sleep, extending the songs she knew or making up new ones before she learned to play guitar and began writing more.
In 2017, the CMA Foundation partnered with Notes for Notes to help fund studios across the country and allow the studio spaces to operate freely each year. As part of U.S. Bank's Community Possible giving platform and its Places to Play partnership along with the CMA Foundation, both entities presented a combined $75,000 in funding to Chicago's Notes for Notes studio during the visit, which will sustain operational costs for the remainder of 2018. To date, the CMA Foundation has funded nearly $2 million with the Notes for Notes organization in 13 state-of-the-art recording studios nationwide, serving 4,400 total youth around the country.
Following the Notes for Notes studio visit, the five songwriters hit Joe's on Weed Street for a sold-out CMA Songwriters Series Presented by U.S. Bank show. Eager and excited fans lined up outside the venue early and were treated to performances of songs including "Beat of the Music," "Tequila," "Lose My Mind," "Woman, Amen," and "The House That Built Me." The night was special for Eldredge, who explained to the crowd Joe's on Weed Street was where he got his start back in 2011. After Morgan performed "Haven't Met You Yet," Eldredge gushed, calling her an angel. Douglas shared that "The House That Built Me" was a song he had tried to write for seven years, which went on to receive "Song of the Year" at the CMA Awards in 2010. All of the songwriters have written with Eldredge, as Reynolds expressed what an honor it was to write with Eldredge. See below for the full set list.
Set List:
Brett Eldredge - "Beat of the Music"
Jordan Reynolds - "Gettin' In The Way" (recorded by Keith Urban)
Heather Morgan - "Lose My Mind" (recorded by Brett Eldredge)
Ross Copperman - "Woman, Amen" (recorded by Dierks Bentley)
Tom Douglas - "Meanwhile Back At Mama's" (recorded by Tim McGraw featuring Faith Hill)
Brett Eldredge - "Mean To Me"
Jordan Reynolds - "What Keeps You Up At Night" (recorded by Dan + Shay)
Heather Morgan - "Your Hurricane"
Ross Copperman - "Get Along" (recorded by Kenny Chesney)
Tom Douglas - "Southern Voice" (recorded by Tim McGraw)
Brett Eldredge - "Drunk On Your Love"
Notes for Notes students Armoni Taffe and Ifeanyi Elswith - "Oh Well"
Brett Eldredge w/ Jordan Reynolds - "Castaway"
Heather Morgan - "Haven't Met You"
Ross Copperman - "John Cougar, John Deere, John 3:16" (recorded by Keith Urban)
Tom Douglas - "Little Rock" (recorded by Collin Raye)
Brett Eldredge w/ Tom Douglas- "One Mississippi"
Jordan Reynolds - "Tequila" (recorded by Dan + Shay)
Heather Morgan - "Stranger To Myself" (recorded by Dierks Bentley)
Tom Douglas - "The House That Built Me" (recorded by Miranda Lambert)
Brett Eldrege - "Wanna Be That Song"
CMA Songwriters Series
Currently in its 14th season, CMA Songwriters Series has presented more than 100 shows in 18 cities including Austin, Belfast, Chicago, Dublin, London, Los Angeles, New York, Paris, Park City (at Sundance), Phoenix, Toronto and Washington, D.C. at the renowned Library of Congress and John F. KENNEDY Center. Artists and songwriters who have participated in the series include Jessi Alexander, Dierks Bentley, Luke Bryan, Kenny Chesney, Eric Church, Brandy Clark, Tom Douglas, Brett Eldredge, Miranda Lambert, Hilary Lindsey, Little Big Town, Shane McAnally, Lori McKenna, Kacey Musgraves, Tim Nichols, Liz Rose, Darius Rucker, Carrie Underwood, Craig Wiseman, Chris Young, and more.
CMA Foundation
Established in 2011 as the philanthropic arm of the Country Music Association (CMA), the CMA Foundation is committed to improving and sustaining music education programs across the United States, working to ensure every child has the opportunity to participate in music education. Through strategic partnerships, professional development and grant distribution, the CMA Foundation, a nonprofit 501(c)(3), has invested more than $21 million in over 85 programs across the national public school system, after school programs, summer camps and community outreach organizations. Guided by the generosity of the Country Music community, proceeds from CMA Fest, the four-day long music festival held annually in Nashville, are used to power the CMA Foundation's social impact and unique model of giving.
About U.S. Bank
U.S. Bancorp, with 74,000 employees and $461 billion in assets as of June 30, 2018, is the parent company of U.S. Bank, the fifth-largest commercial bank in the United States. The Minneapolis-based bank blends its relationship teams, branches and ATM network with mobile and online tools that allow customers to bank how, when and where they prefer. U.S. Bank is committed to serving its millions of retail, business, wealth management, payment, commercial and corporate, and investment services customers across the country and around the world as a trusted financial partner, a commitment recognized by the Ethisphere Institute naming the bank a 2018 World's Most Ethical Company. Visit U.S. Bank at www.usbank.com or follow on social media to stay up to date with company news.
Photo Credit: James Richards IV/CMA