BWW Interview: THE DEAD SOUTH Charms North America and Europe With Bluegrass, Banjo, Guitar and Grit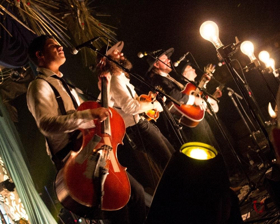 The Dead South, an acoustic quartet from Western Canada whose authentic musical and lyrical explorations of bluegrass and Americana contain the power to sweep listeners away to an era gone by, while their whiskey-soaked tragic tales -- blended with a healthy dose of humor -- and metal music influenced melodies catapult their nostalgic sound into the 21st Century. The band's current and original lineup is comprised of the gritty, growling vocals and guitar of Nate Hilts, the sensual, haunting strings of the singing and whistling cellist Danny Kenyon, the exuberant strumming of mandolin and guitar teamed with playful vocals from Scott Pringle and the speedy hellfire picking of devilishly virtoistic banjo player Colton Crawford. The Dead South's rise to success reads a bit like a modern-day music industry Cinderella story, only adding to their lore -- humble, grassroots beginnings with sincere intentions, genuine talent and small but steady growth -- then a sudden burst of global recognition when the video for their undeniably catchy, deceptively simple yet harmonically rich and utterly original "In Hell I'll Be in Good Company" went viral. This was the game-changer for the down-to-earth Canadian foursome who are still in awe and appreciation of the rapidly expanding audiences across the world. Though their the most famous tune may have come from their first album, Good Company, their latest release, Illusion & Doubt, showcases a more mature musicianship for the group that shows no signs of stopping and whose stylings may position them to be one of the most capable bands to approach and explore their potent crossover and genre-bending capability.
I caught up with The Dead South lead singer, Nate Hilts (though Pringle, Kenyon and Hilts all share lead vocals and harmonies, depending on the song) on their pitstop in NYC at Sony Music Hall for their extensive North American tour, while they look forward to their biggest U.K. and European tour yet in early 2019. Whisky in hand, we discussed their backgrounds and influences, dealing with the sudden rise to international notoriety and how in a time of tension and heightened sensitivities, it helps to have a sense of humor.
Cindy Sibilsky, interviewer: So how did four guys from Saskatchewan, Canada, fall in love with the style of bluegrass/Americana music and decide to form a band that does it so authentically with such humor and fun?
Nate Hilts, the lead singer of The Dead South: That's a good question. Well, just to start: Saskatchewan is filled with a lot of influences in the style of bluegrass and a lot of old country music comes from there because a lot of people immigrated there, even from the U.S. so that music is not super foreign to us though probably not as heavily driven as it is in the Appalachians. How we fell in love with it kind of came about with that second coming of Travel By Turtles and Devil Makes Three, bands like that really caught my attention at the time and I started playing with Colton Crawford (banjo player for The Dead South) just days after we met because we had the same interests and were really into bluegrass but we weren't so good enough at bluegrass, so we just kind of did what we do naturally and that became The Dead South. And when it comes to the stories -- telling tragedies and having humor with it all that's just who we are.
CS: What are your musical backgrounds and experiences?
NH: Danny Kenyon is classically trained, he was in the youth orchestra playing cello his whole life; Scott played piano growing up along with trumpet, then fell into guitar during high school and started to get into the metal side of things and also the singer-songwriters; Colton, I can't really say when he started but he's just one of those gifted people who honed in on an instrument and will play it until he's the best at it and he's really heavily into metal, that's a big influence there and that translated well for the banjo. As for myself, I'm kind of a scatter -- I started in piano young, I sucked at it so I quit, then I started playing saxophone, it was fine but the band teacher was mean so I quit and then I got into guitar later on. The variety of influences we all listen to is kind of all over the place, you'll get everything from Meatloaf to death metal to Classical to old honky tonk country music.
CS: On that note, who are your musical influences in this genre and who do you admire or are excited by in the current music scene?
NH: It was definitely Travel By Turtles, Old Crow Medicine Show and Devil Makes Three that kind of got us going -- listening to bands like those really inspired us -- but then coming from that, listening to Steve Martin with his banjo style, Béla Fleck and Earl Scruggs and all of the originals who created bluegrass of course, they've all been a huge influence but then so have old honky tonk country songs with all those stories where they're talking about broken hearts or something terrible that happened.
CS: You're known for being equally as compelling onstage and on the recording - how do you take that live energy into the studio and what's the secret to the success of your stage show?
NH: I would say that we are way less compelling on the recordings than on stage, not because we are not good at what we do but it would be impossible to capture what we try to do live. You're not being fed the energy of the people in front of you who want to be there and listen to your music and celebrate it with you in a recording booth. So you're trying to get this energy going in a studio and with each other and it feels like you're playing heavily and going through all of the steps to be energetic, but oh no, it just can't properly translate -- though I'm glad to hear that people think it did!
CS: The Dead South really took off after that brilliant video for "In Hell I'll Be In Good Company" went viral (all of The Dead South videos on YouTube total over 100 million views but this particular video claims over 87 million of those views). First of all, let's talk about the video: how complicated was it to shoot? What was it like as a band before, during and after that sudden burst of success and international attention?
NH: The video was not complicated to shoot -- it was more of a hassle (laughs). We would just find random spots wherever we were and do that dance over and over and over again in interesting locations or almost get hit by trucks while doing it or just out in the fields. That part was just a lot of trial and error but we kind of got tired doing that same thing so many times. As far as the changes before, during and after: before, we were seeing a nice, steady growth faster than we were even expecting, but when we released that video, it's kind of interesting because we'd just released Illusion & Doubt which is the album right after Good Company but that video kind of brought the other album over the top of it right when we released the next one, so it was an interesting time when everyone is asking for the first album yet you are touring and trying to promote the new album but everyone wants to hear the first album still so you're kind of caught in a weird bind, however we are still happy to be playing it, progressing and getting more and more opportunities. As to where we are now, I think it's opened opportunities around the world for us to be able to have such nice turnouts of people who don't only know that song, but they may have started with that song and then moved on to the whole catalogue.
CS: I'm going to throw you a little curveball if you're willing to take it?
NH: Chuck it!
CS: In light of all the tension from the #MeToo movement, people are being a lot more careful and P.C. But your lyrics are anything but safe - they're delightfully edgy and refreshingly playful in a satirical way. Can you speak to how the sometimes overly P.C., cautious nature of today has or has not affected your lyrical content or personas, especially with songs such as "Banjo Odyssey" about an amorous relationship with one's cousin and "That Bastard Son" (lyrics: "I just want liquor and dirty whores").
NH: Well, do cousins stop loving each other around the world? You know? Or do people just not give up anymore and not make bad decisions? All these songs are stories that are fun, we're not burning books here. For me, to tell a story whether it's fabricated or true or didn't happen at all, why should that be censored or shut down? I mean it can be a touchy thing for some people but we see nothing wrong with it, I mean we aren't promoting going after liquor and dirty whores, it's the story of a guy who just can't do it anymore and he just gives up and that's his thought process at the moment. "Banjo Odyssey" -- about two cousins loving each other -- is tongue-in-cheek, it was us having fun, there's nothing wrong with it, I personally wouldn't do it.
CS: Doesn't hurt anybody, stuff happens. They're human stories, flawed human stories.
NH: Yeah, s happens and we're not here to judge, just to have a good time. As long as you're not harming people.
CS: I think that's really important because people are pretty fearful and conservative about everything they say or do because it might be shocking, or are in contrast trying to shock for the sake of it, so it's unique to have a band that expresses and celebrates some old fashioned values of the human condition even if they're stereotyped.
NH: Yeah, it's different when everyone is trying to be all 'hush hush.' It's also a thing where you have to let humor in sometimes or you're just going to become a prude. Without humor, everything sucks and is too serious and it's going to hurt so if we can just find that moment to find some fun with it, that can make it all easier.
CS: Speaking of having fun with stereotypes, "Manly Way" is such a playful, terrific exploration on what it means to be a macho guy. What inspired that?
NH: Actually, not a man at all -- I wrote that for my mom! (Laughs). Not the chewing tobacco part, but she takes her coffee black and her liquor straight. So it's a little tribute to her.
CS: How's the tour of North America going so far? What's the difference between Canadian and U.S. fans?
NH: The touring in North America has gone incredibly well, way bigger and better than we ever expected. For this tour, when I saw the size of the venues we were booking, I was nervous just because of the capacities -- we've never played rooms of these sizes consistently in a row -- but it's been just fantastic. The turnouts in the U.S. and Canada have been way better than we even imagined. The difference between the two? There's not really much. Canadians and Americans are essentially the same kind of audiences. Now, Europeans and North Americans are totally different.
CS: You're already leading me into my next question: You have an extensive tour of the UK and Europe coming up. Have you toured there yet? Where? How are fans responding to you in those regions? Any differently from North American audiences? What are you looking for to for that tour?
NH: So yes, multiple times, actually we started touring in Europe. We played in Saskatchewan, obviously and Western Canada, but within a year or year and a half of us touring we got the chance to play in Europe, mostly Western Europe: Germany, France, Belgium, Switzerland, Czech Republic, the U.K. We've been there over a dozen times now but it's still getting bigger and bigger. We are doing a major tour of all of the U.K. and Ireland when we do our tour in February 2019 which is really nice and exciting. Then we tour Western Europe for end of March and April and those rooms are continuing to grow as well. How they're different is that when we first started going to Europe is basically the way it works is people are just super attentive, whether you're rowdy or not they just stand and watch then politely clap especially if they don't know you so well, so we assumed that they hated us and it was a big failure, but then we'd go to our merch table and we'd sold out of every single article of merch we had. Now they're getting more accustomed to us so they're getting into it, really bouncing around and having a good time but all that but it took some learning for sure. We can't wait to go back. It gets better every time.

Lead singer Nathaniel Hilts from The Dead South at Sony Hall in NYC. Photo by William Welles.

The Dead South at Sony Hall in NYC. Photo by William Welles.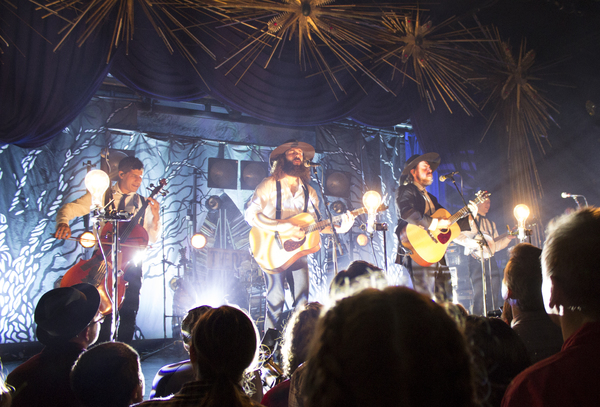 The Dead South at Sony Hall in NYC. Photo by William Welles.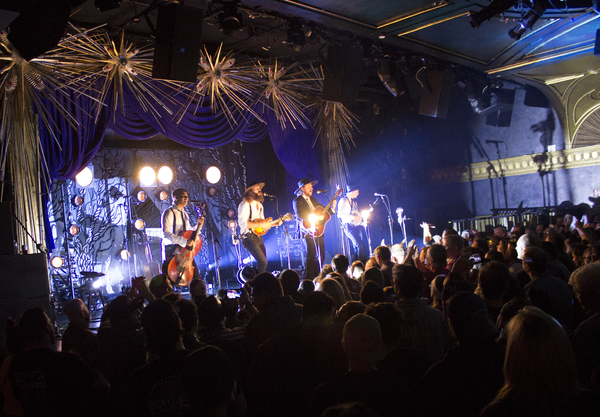 The Dead South at Sony Hall in NYC. Photo by William Welles.

The Dead South at Sony Hall in NYC. Photo by William Welles.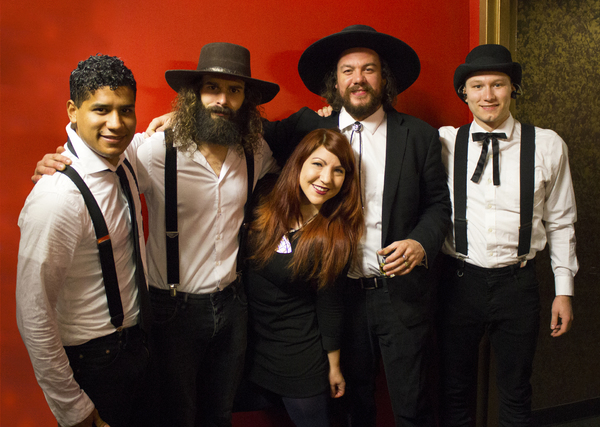 The Dead South with BWW journalist Cindy Sibilsky backstage at Sony Hall in NYC. Photo by William Welles.

The Hooten Hollers at Sony Hall in NYC. Photo by William Welles.

The Hooten Hollers at Sony Hall in NYC. Photo by William Welles.