BWW Interview: Lori & Don Chaffer of Nashville-Based Duo Waterdeep Discuss New Musical 'The Unusual Tale of Mary & Joseph'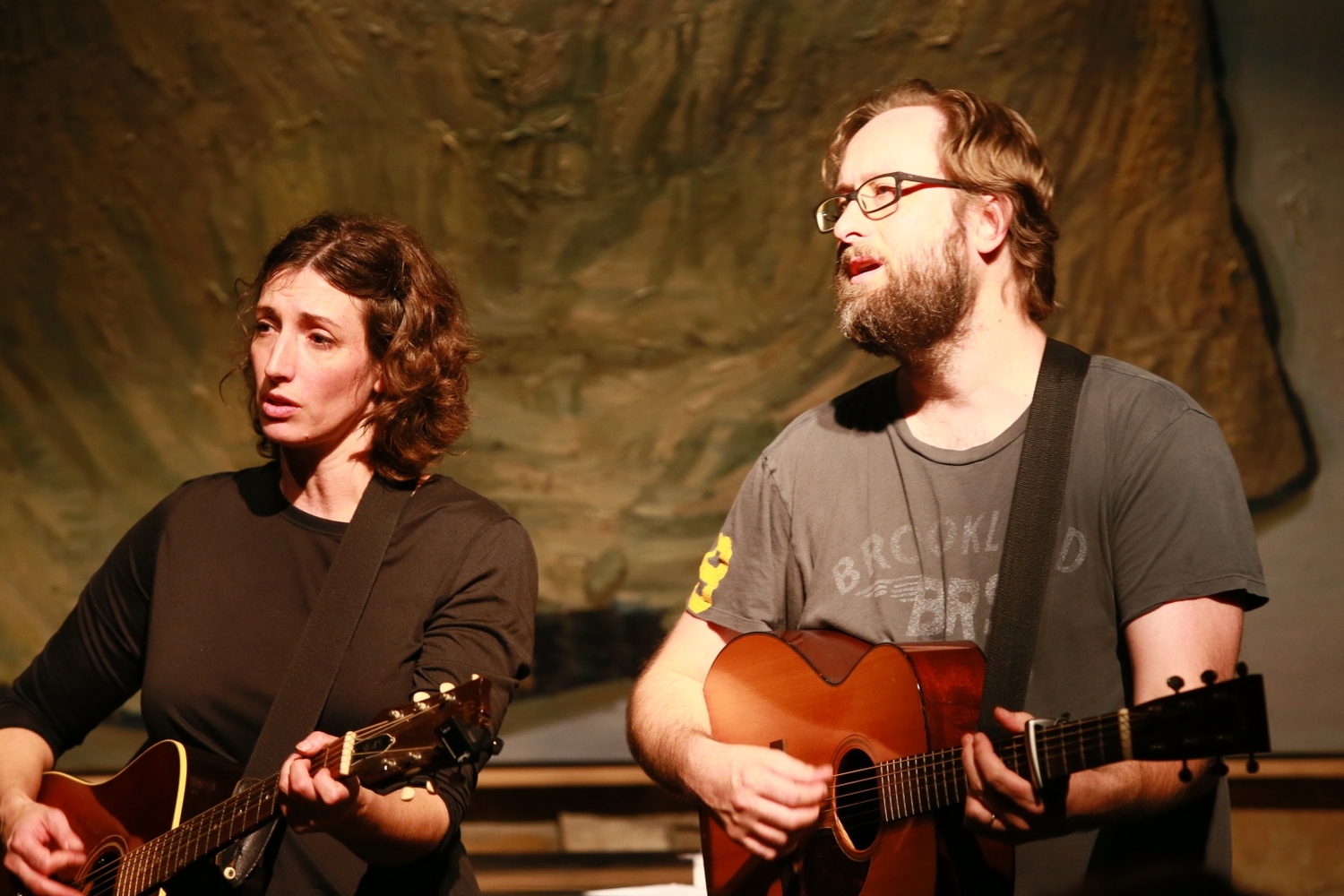 Nashville based duo, Don & Lori Chaffer have been making music together for a long time. With over 15 full-length albums under their belt, they continue to write and record music and, as of the last 10 years, musicals. Yep musicals.
Waterdeep spent their early years as a renowned mid-western jam band, but became nationally known upon signing to Squint Entertainment (Sixpence None the Richer, Chevelle) in 1999, after selling over 150,000 albums independently. They relocated to Nashville 10 years ago, and honed their songwriting skills, finding that writing unforgettable hooks was their undeniable strength. Some of their songs, as well as collaborations with Katie Herzig, Matthew Perryman Jones, Trent Dabbs, and others have had multiple placements.
Don, a record producer in Nashville, is also a jack-of-all-trades, dabbling in lino-printing, poetry, videography, musical theatre writing/arranging/ directing, songwriting, and making a spreadsheet faster than you can say "excel." Lori's unique voice, as well as her ability to use her voice as multiple instruments, find her increasingly in demand in Nashville studios, as both a writer and singer.
They will release the soundtrack from the musical "The Unusual Tale of Mary & Joseph's Baby" on November 28th. The musical comedy - written by Chris Cragin-Day and Don Chaffer - premiered in New York City at The Fringe Festival in 2016 and is just finished runs in Oklahoma City and Knoxville, TN.
BWW's Kevin Pollack sat down with them both to discuss the new show.
BWW: Don, what made you want to write musicals after being in the music biz for so long?
Don: In 2003, I was processing my dad having passed away, a new a baby, new house, and a new career. The songs I wrote were different. I wasn't the narrator. Characters were appearing in them. That concept-album, The Khrusty Brothers, was released in 2007. Enter Chris Cragin-Day and her husband, Steve, who said "This could be a musical." I'd always loved storytelling, especially TV & Film. I love music. Maybe rock and roll and TV could be a... thing. Turns out music and narrative have hanging out together for 150 years in a "thing" called the "American musical." Who knew? Once in the theater, I discovered a new home. My collaborators-co-writers, directors, designers, and actors-cared about all the things I cared about: story, meaning, mood, choice, the human condition. I know. A proper theatre nerd should experience this in high school or even earlier, but it took me a mid-life crisis to get there. Mind you, I was no stranger to theater. My childhood friend's mom was a theater buff who had us singing Annie, Oliver, and Music Man in the car. I played cello in the pit for several musicals in high school and college. I saw Chess on the West End in high school, and wore out the cast album cassette. And I had a brief fling with acting as Baker #2 in Flowers for Algernon junior year So, maybe my concept album just awakened the sleeping theater nerd within. Whatever the case, ten years and ten shows later, I feel very lucky to have found something I adore so much.
BWW: On each of your albums, you seem to try different styles. Why is that?
Lori: We've always listened to a wide variety of music, and we both like to try things just out of reach. We enjoy experimenting, and seeing what comes from just playing around with things. Also, as a band, when we were on the road, we were a sometimes-jam band, and that kind of collaboration encourages an all-hands-on-deck eclecticism.
BWW: How did you two meet?
Lori: We met at the University of Kansas when we were both in acoustic trios, believe it or not. We developed a friendship, and started a band together when I was a senior, and Don was a junior. We went our separate ways for a year or so. When we re-connected, Don had already started Waterdeep, so I joined in. Also, we got married in there somewhere. (laughs)
BWW: How did The Unusual Tale of Mary & Joseph come about?
Don: Ron Reed, of Vancouver's Pacific Theatre commissioned us, actually. After seeing Son of a Gun in NYC, he wanted a show about Jesus, referencing Guirgis' Jesus Hopped the A Train. But Chris and I kept thinking about Jesus' parents, the pregnant virgin mother and the day-laborer stepdad, and about their everyday life including poopy diapers, and Jesus not going down for his nap, but also including, breaking the news to your fiancée that you're pregnant with, um, God's child, or deciding to marry your "unfaithful" fiancée because an angel tells you, in a dream, that she's got God's baby inside her. What was that marriage like? Then, our research found that these two were probably dirt poor, and what we would now call refugees, people whose homeland was overrun by occupying forces, and who fled a bloodthirsty dictator seeking to kill their son, due to prophesies of this "baby king of the Jews." Also, we wanted it to be a comedy, which is crazy, but... you know. Sometimes you go with the crazy idea.
BWW: What makes this Christmas story different than others out there?
Don: Well, I think the comedy's a big part of it. People don't expect to laugh so much. Also, the cast is interracial. Knoxville's production has a Persian Mary and an African-American Joseph. This story's been encrusted with a lot of cultural limitations over the years. The interracial casting breaks some of that sediment loose.
Lori: And it's earthier than other tellings I've seen. It's messier. I think we forget how scandalous the story actually is. Even though the audience already knows the story like the back of their hands, they lean in like they don't know what happens next, because they've never thought about it this way.
BWW: Your show currently played in Tennessee, but it premiered at The Fringe Festival in 2016 in New York City. Any plans to bring this show Off-Broadway?
Don: Well, Off-Broadway would be great, but we have investors focused on the Midwest and South both because that's where the Waterdeep fan-base is strongest. Long-term, I hope the show can become a kind of theatrical Christmas tradition, and so far, so good. By opening night this year, River & Rail had sold 5-10 times last year's opening night mark. Watch out, Charles Dickens.
BWW: How did you and River & Rail Theatre Co-founder Amelia Peterson meet?
Don: I met both Amelia and Josh Peterson (the other co-founder, and Amelia's husband) when the two of them produced Son of a Gun in NYC. They were running Firebone Theatre in NYC at the time, and I not only loved working with them, we became good friends. We were involved in their launching River & Rail, and, of course Amelia directed this show in both NYC and Knoxville. She's a deep well, that one; extremely kind and calm, but with a truly incisive mind. Also, there's Josh. For last year's Knoxville production, he pitched in on directing when Amelia, who was quite pregnant at the Fringe, gave birth before the Knoxville production. That's intense. I don't know how they've managed it all, honestly.
BWW: What's up next for you both?
Don: Lori's helping Chris and I with another musical. In fact, we just finished our first draft of The Zombie Family Musical. Can't wait to do readings, etc. There's some fun stuff in the works for that show too, but we're not quite ready to share the news publically.
Lori: I'm also working on some solo recordings, which I'm hoping to release this coming year.
For more info on Waterdeep (Don & Lori Chaffer) visit www.waterdeep.com
Images courtesy of Waterdeep
Related Articles View More Music

Stories
Kevin Pollack is a singer/actor/songwriter from Chicago. Other than working for BroadwayWorld, Kevin is a booking agent and started his own publication called Rock Chicago (read more...)