BWW Interview: David Archuleta Talks New Christmas Album, Broadway, and Life After 'Idol'
I was all of two minutes into my phone conversation with David Archuleta yesterday when I remembered why he got a hundred million votes on "American Idol."
There's the singing voice, sure. I hadn't forgotten that part. It's incredible - the kind of voice that makes you mad at pop radio for not playing it more often (though "Crush" was a huge hit ten years ago). There's not a note outside his reach, always pitch-perfect with the thick timbre of a woodwind.
But there's his speaking voice too - bashful, grounded, real. You get the sense he went on "American Idol" because he was just too talented not to, not because he had even the slightest appetite for fame. In our time together, he's friendly, unaffected, and sincere. He laughs a lot.
I like him right away.
He listens to my questions and gives them some thought before he answers. It's the same thoughtfulness I've noticed in interviews over the years when he talks about music, the songs he likes, or the faith he follows.
He's called to talk about his brand-new Christmas album, WINTER IN THE AIR, and its accompanying national tour - David's first time on the road in quite a while.
Maybe you've already heard about WINTER IN THE AIR. It's on just about every list of the "Best New Christmas Albums of 2018," thanks in large part to its Mariah Carey/Kelly Clarkson-inspired lead single, "Christmas Every Day."
It's a jam.
The whole album is a jam, for that matter, except those quiet moments when David stops to flex his fledgling songwriter's muscles and reflect on "the reason for the season."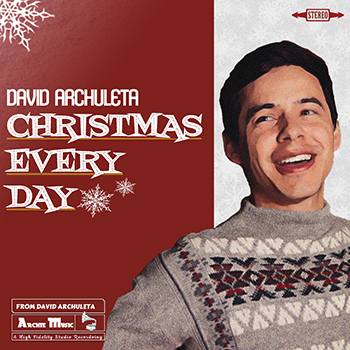 We talk about that, as well as "American Idol," his Broadway aspirations, and why, exactly, he loves Les Mis so much (pronouncing it perfectly as "Les Miserables" each time)...
---
AW: So your new album, WINTER IN THE AIR, marks your second official holiday record (third, I guess, if we're counting the live concert album with the Mormon Tabernacle Choir)...
DA: Yeah!
But it also represents the ten-year anniversary of your time on "American Idol." So, ten years in now, are you used to being famous yet? (Laughs)
You know, I was thinkin' long and hard about that last night. (Laughs.) I was like, "Gah, have I gotten the hang of this?"
I don't know if you ever really get the hang of it, or get used to it. But I guess after all is said and done, I feel like I have gotten the hang of my career... being a musician, an entertainer, a singer that's in front of people.
I do feel like I've gained confidence. I've learned how to be myself in front of whoever, ya know? In that way, I do I feel I have.
But I will say: I haven't gotten comfortable with, like, live TV cameras. I'm still working on that. Because I'm still camera shy. [It's like a] phobia sometimes, because if I mess up, I can't do anything about it. But still, it's all okay.
A friend asked me the other day, how is WINTER IN THE AIR different from your first Christmas album, 2009's Christmas from the Heart. I had a lot of thoughts on that, but I'm curious how you would answer that question - how is the new album different?
Well, that's a good question. I would say the first album, Christmas from the Heart, I definitely tried to keep all of it pretty reverent - more of a sacred, just chill Christmas album.
For WINTER IN THE AIR, I wanted to have more of a balance between that and the side of having more fun - just kind of bouncy Christmas songs. So I added a few more of those, and I even tried writing a little bit more on this Christmas album.
So, I guess [the new album has] more of the classic-sounding '40s, '50s kind of Christmas songs, like "White Christmas," "Holly Jolly Christmas." But there's also "O Come O Come Emmanuel," more traditional... like really, really... I don't even know what that word is. Not ancient, I guess, but like 1800s-and-before songs, mixed with 20th century songs.
You mentioned your writing. It's been cool to see you branch out as a songwriter in recent years. That really comes through on WINTER IN THE AIR, which seems like an even more personal Christmas album.
Obviously, going back to the "American Idol" days, you wanted to be a singer. Was being a songwriter part of that vision too?
Not really. I had written some songs in high school, but I didn't think I was going to be a songwriter the way I've become.
It's been something I've had to work at a lot. It's not something that comes naturally, like, "Oh, songs are just rolling through me."
I've had to put a lot of practice and effort. A lot of times I'm like UGH, I kind of feel like a little kid that's whining about doing his homework. "I don't want to do it, I'd rather go out and play."
(Laughs)
You know? But I just kind of have to exercise discipline. (Laughs) A lot of self-discipline when it comes to writing. It's like, "Stay focused. Focus. And let's get this done."
I've been happy with it, you know? I wanted to write three originals on this WINTER IN THE AIR album, and I wanted three different kinds:
I wanted a more fun, bouncy one, like "Christmas Every Day." I just wanted to try to write a classic-sounding Christmas song that makes people happy.
And then I wanted a spiritual one, "He Is Born." That was like my testimony to the meaning of Christmas and the Savior's birth.
And then I wanted a third one that was just a winter wonderland-describing song, which was "Winter in the Air," and I named the album after that.
Touching on "He Is Born," which is such a beautiful song, not only as a Christmas song but even as a worship song...
Aw, thank you.
You know, I got to sit down with Amy Grant recently to talk about her Christmas music...
Oh wow!
...One thing she has said before is that holiday music opens up a natural forum to talk with audiences about faith. I'm curious how you see that as someone who is not "a Christian singer," but as a singer who has been candid and passionate in talking publicly about your own faith...
Yeah, I feel like people are more open to spirituality during Christmastime. It's like "the spirit of Christmas" is spiritual. I mean, Christmas - it's about the Savior's birth.
So many of these songs that everyone knows and sings along to, whether they're religious or not, it's about that. It's about faith, and a miracle, and following Him, whether it's following the star, or following Christ - [there's] so much symbolism about our Savior.
It's kind of cool. You just sing these songs. And people don't feel pushed and pressured, like, "Oh man, this person is shoving religion down my throat." It's just kind of like, "You know what? I'm just here to enjoy these songs that bring back memories - and feel that spirit of Christmas."
And, yeah, I love how you can just talk about a song, and it's basically your testimony about Christ. But people don't feel that pressure they would in a normal circumstance. I think that's why my favorite shows are Christmas shows, because it brings people from everywhere, all connecting to that spirit of Christmas.
You went on an LDS mission a few years back. That lasted two years, right?
Yeah.
So did that mean spending Christmas away from your family both those years? What was that like?
You know, even when "American Idol" was crazy and stuff, I've been able to spend every Christmas back home with my family in Utah other than those two years, those two Christmases when I was in Chile. So when I was over there, I just spent it with the Chileans. And it was kind of funny, because over there it's the southern hemisphere, so Christmas is very hot. (Laughs.) Not a cold Christmas.
So I got to experience it the way everyone in Australia, South America, and the southern hemisphere gets to experience it. Not a "White Christmas," you know?

But regardless, people still have the Christmas lights up, they have the Christmas trees. (Laughs) It's kind of funny... no matter where you are, even if there isn't snow, even if it's very hot, they're "dreaming of a white Christmas." And singing the same songs.
Something I really loved is: I still got to sing Christmas songs over there. Even as a missionary, I was asked to do a couple of Christmas events.
That's what kind of opened the door for me doing this Christmas Spanish EP. 'Cause I did four of the songs [that I recorded in English on WINTER IN THE AIR] in Spanish and put them on an EP called NAVIDAD.
I had already memorized "Mary Did You Know?" and "O Come O Come Emmanuel" in Spanish from singing them in Chile. So it was like, "You know what? Let's just put a few songs together. Something for the Latin audience as well."
You know, over the course of ten years, I think I've heard you sing in English, Spanish, Latin, French, Tagalog... I mean, that's got to be some kind of a world record for a ten-year recording career.
(Laughs.) I don't know. I do try, whenever I go somewhere new - I guess I didn't do it before because I went to Vietnam and didn't sing in Vietnamese - but that's my goal: to sing in their language. Because music has such a way of connecting to people.
[Music is] a language, [so] you don't have to say the same words in the same language or dialect for them to feel and connect to what you're doing. But it's just so cool when you get to sing in their language... they get so excited and sing along.
I mean, they can sing along in English too... but there's something about it when you can sing in their language, whether it's Tagalog in the Philippines, Mandarin in China or Taiwan... I love it.
It's one of my favorite little challenges to give myself.
Since this is BroadwayWorld.com, I want to know: do you have a favorite musical?
Well, I will say Les Miserables, overall.
I have to give it a lot of credit because that's what started me singing. When I was six years old, my parents were moving into a new house, and to keep us busy, my dad put in this Les Miserables VHS tape. It was the 10th anniversary of Les Miserables, to keep us busy while they were packing so we wouldn't get in the way.
By the time they were done... and came to check in on us... well I was still there watching Les Miserables. I kept rewinding it, like, the whole day.
I even turned the rocking chair upside down to be my own little spot, because the whole cast sat on the stage for the 10th anniversary of Les Miserables, so I turned the rocking chair upside down so I could sit there and wait for my turn to go up on the stage.
I just was so fascinated with that music. And I love the story, I love the songs and the melody, and just the message of the balance between justice and mercy. I just think it's such a beautiful story, and you learn so much - and think about so much watching it.
You've done some acting. Do you ever see yourself performing in a Broadway show?
(Laughs) I have, you're right. I have done some acting. I just don't feel like I'm very good at acting. And I've never done a musical. But I have in the last, like, year... I have auditioned for a couple of Broadway things.
Oh really?
Yeah! But I just never got a call back. (Laughs). So I think my acting could still use some practice. (Laughs.) I actually started taking some acting classes, though, so I don't know... maybe it wasn't because I was super bad at acting, but maybe it was. Maybe they just found someone that they could use that was better for the part, or whatever, you know? But, I think it would be a good challenge to do sometime. I've already been open to trying it. I just get really nervous. I don't know how many people memorize so many lines.
It amazes me. I was talking to Ace Young's brother. [Ace] was on "American Idol" and he's done Broadway. He did Hair and other things. His brother was like, "You know, he just has a gift, this ability to just pick up lines. He can just read them and just memorize them and have the thing ready in, like, a couple of weeks."
I'm like, "How on Earth? How on Earth can you do that?" It takes me three days just to memorize one song. (Laughs)
I do feel, just like writing songs, if you practice and put effort into it, it can be done.
So that's how I feel: I would like to challenge myself to do Broadway, because that's how I got my start in music - because of a Broadway show, Les Miserables.
I'm going to start a campaign. I want to see it happen.
(Laughs)
Well, it's kind of Broadway-adjacent, but I have to thank you for introducing me to one of my favorite songs: "Birdland" by The Manhattan Transfer.
(Laughs) Oh my goodness!! (Laughs) I love that song!
You wrote about it in the back of your book, Chords of Strength, and I downloaded and fell in love with it. It's just the most joyous thing.
Yeah! I'm so glad! I love that song! It's so cool!
WINTER IN THE AIR is available now wherever music is streamed or sold, while the new Spanish-language NAVIDAD EP is available digitally. To see the music video for David's new single, "Christmas Every Day," click here.

The national WINTER IN THE AIR tour is scheduled to run through December 21, including stops in Orlando on December 11, Nashville December 13-14, and New York City on December 17. To get tickets, visit DavidArchuleta.com.
---
What do you think of David Archuleta's Christmas music? Are you planning to get tickets for the tour? Let me know your thoughts on Twitter: @AaronWallace
Photo Credit: Robby Klein
Related Articles
View More Music

Stories