BWW Interview: Albert Castiglia Releases Live Album, 'Wild and Free'
A step forward in the career of Albert Castiglia took place recently with the release of Wild And Free, the first live album of the Florida-born blues guitarist's career. While live recordings are sometimes seen as an offering between studio sessions, the two nights of shows these tracks come from will make excite fans and those just discovering him.
From his home, Castiglia says the album got off to a good start, debuting on iTunes and Amazon at #1. "It's been a long time coming," he admits, "my very loyal fan base has been clamoring for me to do one."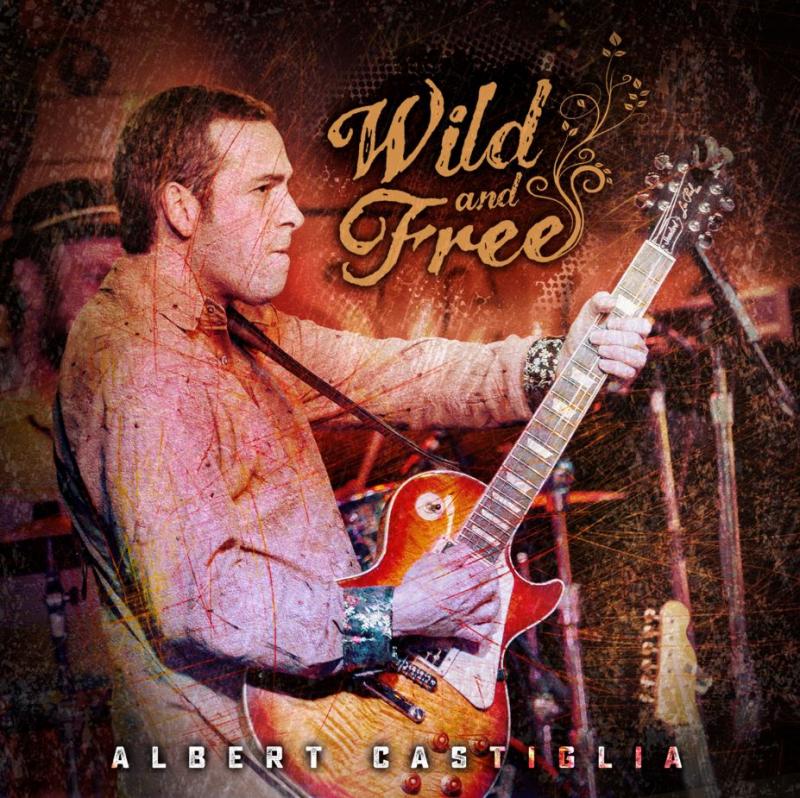 Songs from his recent Gulf Coast Records release, Masterpiece is here, plus others, delivered with the energy Castiglia brings on Wild and Free. Originals such as "Big Dog" and "I Been Up All Night" take their places alongside covers of Freddie King's "Boogie Funk" and Johnny Winter's "Too Much Seconal." "It's got all the elements of my favorite live albums growing up," Castiglia says, "it just jumps at you. My favorite live records were Fillmore East by the Allman Brothers, ZZ Top's Fandango, and The Who's Live at Leeds, a very similar vibe.
Our discussion then moved into the numerous influences Castiglia proudly claims, most from the rock world, initially. "Johnny (Winter) was a very important person in my life musically," Castiglia explains. "The album that made me want to be a blues musician was an album by Muddy Waters, called Hard Again, and it was one of the last studio recordings Muddy had done, and Johnny was the producer. He was such a big part of my life, musically. There are four guitar players in my life you can blame for me playing for the way I do... it's Clapton, Buddy Guy, Luther Allison, and Johnny Winter, those are the four most influential guitar players to me."
Castiglia talks freely, and with enthusiasm about the music that moved him, and how it began. "One of my uncles played guitar casually," he recalls. "He and his buddy used to jam over at my grandmothers' house, just guitar and drums, very Black Keys before the Black Keys were even around. This was like the late 70s and early 80s, and now and then they'd let me pick up a percussion instrument and play along. My uncle had taught me about three chords in the beginning, and I learned the rest myself."
The rock world had most young people of that time, as Castiglia continued, "I grew up listening to classic rock in the beginning, the Who, the Stones, the Beatles and Hendrix, Grand Funk Railroad. Clapton was a huge influence on me; it was the classic rock of the day. I didn't feel there was a lot of great stuff being put out in the 80s, but there were some gems. I loved AC/DC, Bruce Springsteen was putting out music with a message, but there was very little coming out at that time that really moved me. Then I heard blues for the first time."
Two pivotal recordings sent Castiglia in the blues direction. One was Clapton's live Just One Night. "Eighty percent of the album was blues," Castiglia says, "because of that album, I started delving into the original version of these songs that Clapton was playing. I started buying Otis Rush, John Mayall, and B.B. King records, and around 1984, '85 I was fifteen or sixteen, picked up Hard Again, and that was it! The first thing you hear is Muddy's booming voice, the a cappella intro into "Mannish Boy." It frightened me, I'd never heard anything like it, I ran under the bed when I heard that booming voice! It was the most raw feeling I ever heard. In that moment at fifteen, I knew what I wanted to do, and suddenly not making the varsity baseball team didn't matter so much. All that mattered was playing music."
The next step was an introduction via a mutual friend to Junior Wells in 1996. "Out of college, I took a job at the welfare office," Castiglia says, "and I was playing nights in bands. He brought me up on stage to play with him. Before I'd gotten up onstage, his road manager told me, 'You better be good, 'cause if you're not, Junior's gonna embarrass you in front of all these people.' I told him, "Man I just worked at the welfare office; a bad night with Junior Wells beats a good day at the office.'
"I had no fear going up there," Castiglia goes on, "and I'd dealt with far worse characters. So I got up there and did about five songs with him...by that time it was the greatest moment of my life."
Wells didn't forget the guitarist from Florida and called Castiglia to substitute on guitar about a month later for a few gigs. "About a month after that," Castiglia adds, "they asked me if I'd move to Chicago to play with him full time. I haven't had a real job since."
What was it like to back a living legend such as Wells? "He (was) like my dad in a lot of ways," Castligia recalls, "very nurturing, but if he felt you weren't giving your all, he didn't have a problem calling you out. It was an amazing time, and I wouldn't trade it for anything. It wasn't always pleasant, but it was an adventure. I never took it personally when he expected more of me."
Castiglia's tenure lasted less than a year when Wells died in early 1998. He later joined Sandra Hall's band, a stint that lasted three and a half years. "She was amazing," Castiglia says, "cut out of the Koko Taylor kind of style of Chicago blues singing, terrific incredible stage presence, I went all over the world with her." After splitting time between Chicago and Florida during this period, Castiglia went on his own in 2001.
Starting with 2002's Burn, Castiglia slowly became more prominent, especially behind three Ruf Records releases that included Big Dog (2016). The shift to longtime friend Mike Zito's Gulf Coast Records involved last year's Masterpiece, and how that found its way onto that label.
The background is a brotherly relationship the two have. "He's always looked out for me," Castiglia explains, "I think we're just cut out of the same cloth, very much alike in the musical sense."
The aim for Masterpiece was a final, one-off deal with Ruf. "I went in the studio with Zito," Castiglia remembers, and Zito's idea for the project. "He and I did all the instruments; Mike did most of the drums and bass tracks, and I did the guitar and vocals. I did play bass on two tracks, and gave Mike a slide solo on 'Red Tide.' It was kind of an out of the box recording for blues, other acts have done it this way."
That recording had a decidedly different feel, due to the songs, subject matter, and sound, and Castiglia knew some fans weren't going to get it right away. "I was prepared for a lot of that," he says. "I knew it was gonna take some people by surprise because we did a lot of really interesting things that not a lot of blues players do. One of my favorite songs is 'Heavy.' Mike was like, 'Let's try an electronic drum on this,' and it sounded pretty cool. I rationalized putting in there, by going back to the old Malaco soul records in the 70s (that used such technology) on Bobby Bland and Z.Z. Hill records. If it's good enough for Malaco, it's good enough for me."
Label owner Thomas Ruf, however, was not so impressed. "I really loved the way it sounded," Castiglia says, "but Ruf Records thought it was a little too raw, and wanted it remixed, have the drums replaced. I wasn't feeling that; Mike interceded and purchased the album from Ruf, and I signed with (Gulf Coast).
"His plan for Gulf Coast was to sign regional acts, guys that he felt needed exposure and needed to be heard. The material on that record was special, and came from a very deep place."
That recording earned two Blues Music Awards, for Blues Rock Artist and Blues Rock Album of the Year, and Castiglia had no regrets about holding firm. "That's what being an artist is about, you've got to put yourself out like that."
Castiglia agrees there is a split between traditionalists and progressives on the future of the blues. "I really don't know what it's gonna take to unite the genre," he says. "It's a very divided genre: one thought process is we should stick to the traditions and just keep it more traditional, and there are more progressive thinking individuals who think all influences should be worked into the blues.
'I'm influenced by every piece of music that ever meant something to me. The blues meant more to me than anything; it's always going to be the foundation. But there's always going to be the rock influence; I grew up listening to rock and roll and that influence is gonna be in there.
"The blues is such a wide tent," Castiglia goes on, "and I love all of it. It doesn't matter if it's the Piedmont blues of Etta Baker, or the Delta blues of Robert Johnson, or the Chicago blues of Buddy Guy and Junior Wells, or the west coast blues of Lowell Fulsom or Pee Wee Crayton. It's all good, and I think everybody just needs to do what's in their heart and play what they need to play. I don't think the blues has to go any particular direction; I think everybody who creates in this genre need to do it their own way."
With the coronavirus, Castiglia, like most performers, is grounded, but can't wait to get back on the road and provide what he calls, "a very high energy show. It's got an edge to it, and it's gonna have more of an edge when we get out of lock-up," he adds with a laugh. "I'll probably be a little more animated than normal...if you like hard rock and blues, then we're the band to see."
https://www.gulfcoastrecords.net
https://twitter.com/AlbertCastiglia