BROOKLYN RIDER Comes to The CCA Gile Series Performance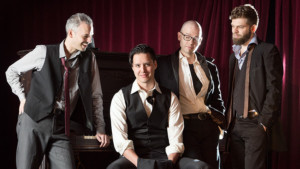 Brooklyn Rider will perform at the Capitol Center for the Arts (Concord, NH) on Wednesday, May 8, 2019 at 7:30PM. This performance is part of the 2018-'19 William H. Gile Concert Series.

Brooklyn Rider are Johnny Gandelsman, violin; Colin Jacobsen, violin; Nicholas Cords, viola and Michael Nicolas, cello. Hailed as "the future of chamber music" (Strings), they offer eclectic repertoire in gripping performances that continue to attract legions of fans and draw rave reviews from classical, world, and rock critics alike.

In fall 2018, Brooklyn Rider released Dreamers on Sony Music Masterworks with Mexican jazz vocalist Magos Herrera. The recording includes gems of the Ibero-American songbook as well as pieces written to texts by Octavio Paz, Rubén Darío, and Federico García Lorca. Brooklyn Rider is also debuting their Healing Modes project this season, which presents Beethoven's Opus 132 alongside five new commissions by Reena Esmail, Gabriela Lena Frank, Matana Roberts, Caroline Shaw, and Du Yun.

Says Anastasia Tsioulcas of NPR Music, "Brooklyn Rider is one of today's most technically accomplished string quartets, full stop. Its superb playing is matched only by the thought, commitment and inspiration its members pour into projects like this one - making the string quartet not a relic of times long gone, but a vessel for the shape of music to come." The Pittsburgh Post-Gazette notes, "[Brooklyn Rider] are four classical musicians performing with the energy of young rock stars jamming on their guitars, a Beethoven-goes-indie foray into making classical music accessible but also celebrating why it was good in the first place."

Tickets for the May 8 Brooklyn Rider performance are available at no charge, are limited to four per patron and are available starting Monday, April 8, 2019 at 11AM. Tickets may be ordered by calling the Capitol Center for the Arts at (603) 225-1111 or online at ccanh.com. Tickets may also obtained at the CCA's box office at 44 S Main St. Concord, NH, which is open Monday, Tuesday, Thursday and Friday from 11AM to 6PM and Saturdays from 11AM to 2PM.

The William H. Gile Concert Series opened on December 16, 1960, after a legacy of more than $700,000 was left by Helen B. Gile in 1952 to finance a concert series for the residents of Concord, New Hampshire. The bequest was made in memory of Ms. Gile's father, William H. Gile, who had resided in Concord for a number of years. Ms. Giles stipulated that the details of the concerts were to be left to a committee of three Concord citizens and that the events were to be "of the highest type in all respects." After much consultation, the first Gile Concert Series was arranged for the 1960-61 season and was held at the Capitol Theatre (now the Capitol Center for the Arts). Over the first few years alone, the Gile Series enabled the Concord community to enjoy choir, dance group, and operatic performances, as well as luminary soloists such as Van Cliburn, Isaac Stern, Duke Ellington, Count Basie and Victor Borge. While the concert series has been held at various locations over the decades, it is currently being performed again at the Capitol Center.

Previous Gile Series performances have included Gobsmacked, Cashore Marionettes, Tom Rush, Veronica Swift, the Soweto Gospel Choir, and Dorrance Dance.
Related Articles View More Music

Stories
More Hot Stories For You