Alice Glass Debuts 'Forgiveness' Video Today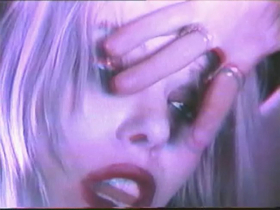 Alice Glass debuts a new video for "Forgiveness" today-watch it here. Taken from her self-titled solo EP, the video was directed by Lindsey Mann. Alice Glass, written by Glass with additional writing and production by Jupiter Keyes (formerly of HEALTH), is out now to great critical acclaim.
"This song is about rejecting the idea of forgiveness," says Glass. "Forgiveness isn't always a moral act, the way some religions portray it. Sometimes forgiveness can be exploitative or even predatory, especially when people use it as a means to guilt someone rather than heal them. When forgiveness is used to create a false sense of superiority it is a toxic act."
The new video follows Glass' stunning visual for "Without Love," directed by Floria Sigismondi-watch it
watch it here.
Praise for Alice Glass: "It feels like a perfect encapsulation of who she is and the sound she's worked toward throughout her career. It's electronic pop full of feeling-rage, love-as though it's been played on a piano made of glass shards; kind of like looking at the last song of the night, sweaty and sentimental, thought a kaleidoscope."-VICE's Noisey
ALICE GLASS EP
1. Without Love
2. Forgiveness
3. Natural Selection
4. White Lies
5. Blood Oath