PARO-A Vibrant New South Asian Food Brand Launches Nationwide
PARO-New South Asian Food Brand Launches Nationwide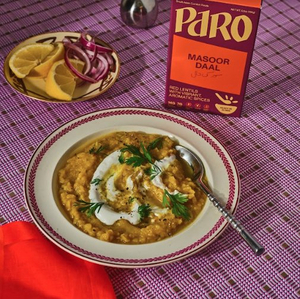 Paro, the new South Asian comfort food brand, launches on February 1st with a line of South Asian-inspired pantry staples and meal starters. Founded by Umaimah Sharwani and named after her mom, Paro launches with three products featuring her family's beloved Pakistani recipes for Masoor Daal, Kitchari, and Tarka. The nourishing and nostalgic foods are quick and easy to prepare (all coming together in thirty minutes), and only require water and light cooking. As a first-generation Pakistani-American, Umaimah founded Paro with the intention of providing consumers an easier way to indulge in the healthy, vibrant, and shareable dishes of the South Asian region, while also showcasing plant proteins and superfoods native to the region's cuisine such as lentils and mung bean.
THE PRODUCTS
Paro launches with three products based on Umaimah's family recipes- two lentil-based dishes including Masoor Daal and Kitchari, and an addictive, spicy ghee-based topping called Tarka.
-Masoor Daal ($10) is a dish of red lentils and a classic staple across South Asian dinner tables. Paro's is made with a sweet and earthy blend of spices and fast-cooking red lentils which have 14g protein and 7g fiber per meal. Daal can be topped off with a squeeze of lemon, dollop of yogurt, fried egg, or fresh herbs like cilantro and parsley.
-Kitchari ($10) is a quintessential South Asian comfort food. Paro's kitchari is inspired by the one Umaimah's ami [mom] makes, with a special blend of seven hearty spices, basmati rice, and mung bean, a combination that promotes digestion and gut health with 5g fiber and 9g protein. Kitchari is a versatile base and pairs well with meats, vegetables, potatoes, and more.
-Tarka ($16) is a spicy and toasty traditional South Asian topping made by combining spices, ghee, and grapeseed oil. Paro's Tarka is a mix of garlic, red chili, cumin seeds, ginger and curry leaves, all tempered in ghee and grapeseed oil. In South Asian cuisine, tarka is traditionally used as a condiment or additional seasoning for dishes like stews, daals, and curries, but can be added to nearly any dish for a hit of spicy, umami-rich flavor.
Each Paro product features wholesome ingredients, making for nourishing meals. Both the Daal and Kitchari come together in only thirty minutes on the stovetop with the addition of water or broth (either vegetable or chicken) for fuller flavor.
The gorgeous and colorful branding from Wedge reflects the brand's warm and playful ethos with a nostalgic, yet modern design complete with Urdu script, written by Umaimah's ami (mom).
THE FOUNDER
Umaimah Sharwani is a first-generation Pakistani American who launched and scaled digitally native brands including Glossier, Bravo Sierra, Jet.com and Fab.com. Now with Paro, Umaimah is creating a next-generation pantry staples brand with South Asian comfort foods that are flavorful, nourishing, and easy to cook.
"I created Paro because I love sharing food. I will always want to eat my ami's (mom's) food and Pakistani food more than anything else. When I left home for college and then to New York to start my career, my mom would send me little ziplock bags with her own special lentil and spice mix. All I had to do was add water, cook for 30 minutes, and I had my mom's food--my comfort food.
Later I started making my own lentil and spice mixes for parties, or when I had a friend over for dinner. There's just something about Pakistani flavors that go perfectly with good company, dinner gossip, and a lot of laughing. With Paro, I've packaged these personal recipes for classic South Asian dishes so you can cook them at home and share with your friends and family." - Umaimah Sharwani, Founder, Paro
AVAILABILITY
Paro launches direct-to-consumer online (fromparo.com) with shipping available nationwide. In the coming months, Paro will be available at Big Night in Greenpoint, Brooklyn..
For more information, please visit fromparo.com and follow Paro on Instagram @fromparo.
Photo Credit: Heidi's Bridge