Click Here for More Articles on FOOD & WINE
LATKE FESTIVAL Returns to Brooklyn Museum on 12/18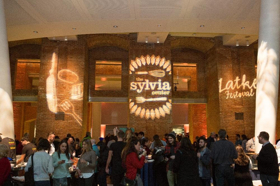 The 9th Annual Latke Festival, one of most deliciously fun tasting events on New York City's calendar, will celebrate the scrumptious versatility of the potato pancake on Monday, December 18, 2017 at the Brooklyn Museum, the event's new home after a smashing debut there last year. Presented by Great Performances, the sustainability oriented New York City catering company, the beloved holiday tradition will showcase 20-plus latke creations, from the classic to the decadently imaginative. Popular Latke Festival veterans such as Baz Bagel, Benchmark, Burger & Lobster, Kulushkat, Shelsky's of Brooklyn and Veselka will join first timers like FryGuys, Loreley Beer Garden and Tudor City Steakhouse in the museum's stunning glass enclosed lobby pavilion.
Among the tempting offerings at the ninth edition of the event competing for top latke honors will be:Daikon Radish Cake (Latke) with Tea Smoked Duck and Orange Hoisin from Kings County Imperial;Deeply Rooted Latke, Beets with Onions, Carrots, Horseradish by R&D Foods; Crispy Potato Latke with Rock shrimp and Spicy Lobster Sauce from the Garden Court Café; and Plantain Latke with Shrimp Ceviche and Jalapeño Cilantro Crema by The Norm at the Brooklyn Museum.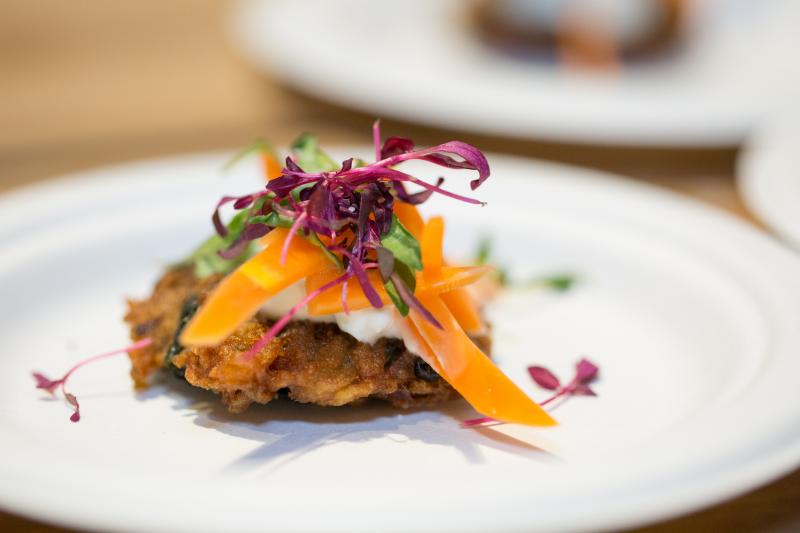 Latke lovers will vote for their favorite to determine "People's Choice" Best Latke while a panel of influencers and food experts will determine the "Judges' Choice" Best Latke. This year's judges include: Jimmy Carbone, restaurateur and Heritage Radio Network host; Peter Kim, the executive director of the Museum of Food and Drink; CEO of Manischewitz David Sugarman; Scott Wiener of Scott's Pizza Tours and Sarah Zorn, food editor of Brooklyn Magazine. Returning for a second consecutive year to the panel of judges are Alicia Glen, deputy mayor of the City of New York and David Berliner, the Brooklyn Museum's president and COO.
As has been the case since the event's debut, the 9th Annual Latke Festival will benefit The Sylvia Center, the nonprofit dedicated to inspiring young people to become healthy eaters and advocates for healthy food in their communities by teaching cooking classes to children, teens, and families living in New York City and Columbia Co., NY.
Festival attendees will be able toast their support of The Sylvia Center and the winning latkes with a variety of liquid refreshments from beverage partners such as Tito's Vodka, City Winery, GuS Grown-Up Soda and Shmaltz Brewing.
The 9th Annual Latke Festival will be produced by Great Performances with the vital assistance of a number of sponsors including, Cabot, Manischewitz, and Yelp.
The annual latke celebration will take place at the Brooklyn Museum, 200 Eastern Parkway, Brooklyn, NY on Monday, Dec. 18 from 6 to 8:30 p.m. Tickets are $70, including unlimited latke tastings; wine, beer, cocktails and non-alcoholic beverages are also included. A $120 ticket grants exclusive access to the chic VIP Lounge, boasting specialty cocktails and bar snacks.
Tickets can be purchased online at https://www.eventbrite.com/e/the-9th-annual-latke-festival-tickets-35247343754. For more information, visit http://www.latkefestival.com/.
ABOUT THE SYLVIA CENTER
The Sylvia Center was founded in 2007 by Liz Neumark, CEO of Great Performances which has been serving respected corporations, nonprofits, cultural institutions and private clients for more than 35 years. Ten years ago, Liz began working with culinary and education partners in New York City to provide cooking classes to youth and teens in New York City Housing Authority community centers and experiential learning day trips to Katchkie Farm. The Sylvia Center is committed to making hands-on food education available to youth and teens, in an effort to instill communities with the skills they need to lead healthier lives. This year, The Sylvia Center is celebrating its tenth anniversary, and in the last decade, they have served 20,000 students in New York City and Columbia County, NY. For more information on the Sylvia Center, visit: http://www.sylviacenter.org/.
Photo Credit: Courtesy of Latke Festival 2016