GREAT PERFORMANCES Catering Offers Thanksgiving Feast for At-Home Celebrations
Great Performances' Thanksgiving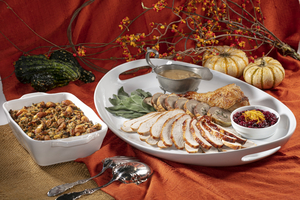 For this Thanksgiving like no other, Great Performances, New York City's premier catering and events company, offers the second of its new series of holiday themed menus created by culinary ambassador Georgette Farkas for the intimate at-home entertaining the pandemic dictates. The celebratory feast addresses the common Thanksgiving "to-go" dilemma of assuring white and dark meat afficionados are satisfied by presenting carved breast meat and thigh stuffed and braised with herbs and spices with every serving of the succulent main attraction turkey, along with umami-rich gravy and cranberry- citrus zest compote. Likewise, Great Performances' Thanksgiving Dinner assures rapture for vegetable lovers with three sides dishes showcasing produce from the company's Hudson Valley organic Katchkie Farm, such as decadent Yukon gold potato puree and orange roasted carrots.
Priced at $240 for four, including a whole drumstick in addition to the breast and thigh meat. ($60 for each additional person). the Great Performances Thanksgiving Dinner can be further embellished by a tempting selection of starter, side and pie enhancements. Think the likes of Smoked Trout Spread, scallions, caraway seeds multigrain lavash crackers to begin, Bourbon Pecan Pie, whipped cream as an addition to the dinner's light as air Pumpkin Chiffon Pie and a vegan gluten-free entrée in the Delicata Squash Stuffed with Butternut and Chickpea Risotto. Enhanced or not, it must be ordered by midnight, Nov. 22 for pick-up or delivery on Wednesday, Nov. 25.
The menu of heat-and-serve individually packaged dishes comprising the Great Performances Thanksgiving Dinner is:
-Roast Turkey Carved Breast, Thigh and Whole Drumstick
-Brioche Turkey Sausage, Sage, Sweet Onion and Celery Root Stuffing
-Cranberry and Citrus Zest Compote
-Turkey Gravy
-Orange and Spice Roasted Carrots, Toasted Pistachio
-Mashed Yukon Gold Potato and Celery Root
-Autumn Harvest Salad, roasted delicata squash, red beets, pears, Lolla Rossa, frisée, spiced pumpkin seeds, goat cheese bonbon, shallot vinaigrette
-Pumpkin Chiffon Pie, Graham Cracker Crumb Crust
The enhancements, ranging in price from $20 to $30 for servings of four to six and six to eight are:
-Smoked Trout Spread
-Butternut Squash Soup
-Delicata Squash Stuffed with Butternut & Chickpea Risotto
-Roasted Brussels Sprouts
-Bourbon Pecan Pie
-Double Crusted Apple Pie
-Pear-Cranberry Crumble Pie
The Great Performances Thanksgiving Dinner boxes can be picked up or the company's easily accessed Bronx kitchen near the Willis Avenue and Third Avenue Bridges, at Domaine Franey in East Hampton, NY or at Katchkie Farm in the Hudson Valley's Kinderhook,NY.
The Great Performances Thanksgiving Dinner at $240 for four ($60 for each additional person) can be ordered online at https://www.greatperformances.com/thanksgiving-holiday-dinner-order-form and must be placed by midnight on Sunday, Nov. 22.. For more information, email celebratefood@greatperformances.com or call 212-727-2424.
Photo Credit: Courtesy of Great Performances
Related Stories
More Hot Stories For You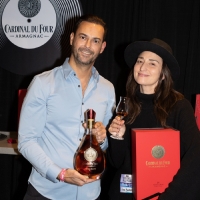 Cardinal Du Four Armagnac Celebrates Music Icons During 2022 ROCK & ROLL HALL OF FAME CEREMONY

November 26, 2022

Cardinal du Four Armagnac 21 Rébellion was a hit at GBK Brand Bar's 'Backstage Artist Lounge' held in October during the 37th Annual Rock & Roll Hall of Fame Induction Ceremony at Microsoft Theater in Los Angeles.
---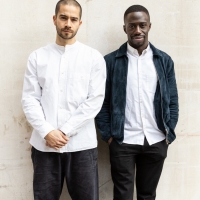 Ikoyi at 180 The Strand Opens Next Month

November 15, 2022

On the 5th of December, Ikoyi will welcome guests to its new home within London's new space for the creative industries, 180 The Strand on London's Northbank. With a dedicated entrance on the corner of Surrey Street, the larger restaurant and kitchen space will afford its co-founders, Jeremy Chan and Iré Hassan-Odukale, the freedom to focus on the future evolution of their pioneering restaurant. 
---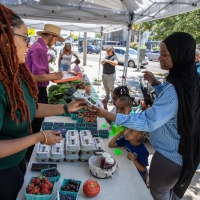 New Northern Liberties Farmers Market Pop-Up To Debut At Piazza in Time for Thanksgiving

November 4, 2022

The Food Trust, in collaboration with The Piazza and Northern Liberties Business Improvement District, will debut a special Northern Liberties Farmers' Market on Saturday, November 12, 2022, from 10:00am to 2:00pm.
---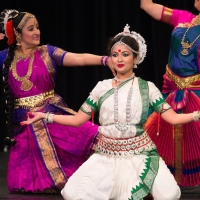 DIWALI: LIGHTS OF INDIA to Showcase Music, Dance, and Martial Arts at Seattle Center Today

October 22, 2022

Seattle Center Festál continues with Diwali: Lights of India, Saturday, Oct. 22, 12 p.m. to 6 p.m. at the Seattle Center Armory Food & Event Hall. The festival, organized by Northwest Share, is free and open to the public. 
---
Film Director Baz Luhrmann and Bombay Sapphire Launch 'SAW THIS, MADE THIS' Campaign

October 14, 2022

Bombay Sapphire has partnered with world-renowned film director and creative visionary Baz Luhrmann to launch its new campaign 'Saw This, Made This'. With creativity being cited as the second-most in-demand skill in the world, and with people involved in creative pursuits proven to be more positive, Luhrmann has issued a creative call to arms, inviting people to discover the creative inspiration that exists all around them.
---