Chef Spotlight: Chef/Owner Adam Schop of STEAK FRITES BISTRO in Hell's Kitchen
Chef/Owner Adam Schop of STEAK FRITES BISTRO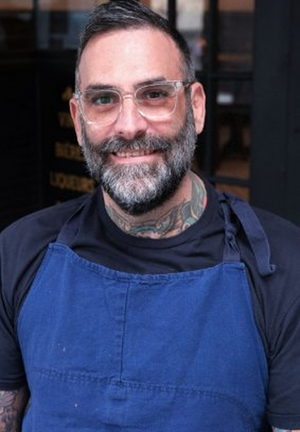 After attending the Culinary Institute of America in 1995, Chef Adam Schop spent the next decade at celebrated restaurants in Scottsdale, Arizona, including Michael's at the Citadel, Restaurant Hapa, and he honed his French techniques for four years as Chef de Cuisine at renowned Zinc Bistro. In 2006, Chef Adam moved to Chicago to work as Executive Chef at DeLaCosta alongside James Beard Award-winning Chef Douglas Rodriguez. He returned to New York City in 2008 to open Pan-Latin restaurant Nuela as Executive Chef for which StarChefs.com named him "New York Rising Star Chef" in 2011. In late 2012, restaurateur Stephen Starr chose Chef Schop to be Executive Chef at his breakout Washington, D.C., brasserie Le Diplomate. In 2014, Adam returned to Manhattan as Director of Operations for world famous Miss Lily's. Chef Schop has successfully opened outposts of Miss Lilys in the East Village, Negril, Jamaica, and Dubai, UAE. Now Chef Adam returns to the French kitchen, cooking French Bistro classics at Steak Frites Bistro. Vive le Bistro!
Broadwayworld had the pleasure of interviewing Chef Adam about his career and Steak Frites Bistro.
What was your earliest interest in cooking?
Licking the cookie dough of the old school eggbeaters while helping my grandmother bake.
Who were some of your career mentors?
My career mentors are too many to list, but the first team of young sous chefs I worked with-David Judd, Jason Merril, Scott Liberty, and Pietro Vitelli-we were all in our early 20's when when we worked at Lon's at the Hermosa Inn in Paradise Valley, Arizona back in 1995 under Chef Michael De Maria. This group showed me what a team could accomplish.
What culinary styles have influenced your career?
I would say that I have been quite fortunate to be well travelled because of my career. I spent many years cooking and traveling to South America, learning and dining in Lima, Buenos Aires, and Quito. I'm quite fond of cooking and serving traditional French classics such as charcuterie and particularly large format dinners with larger/whole cuts of meat, game, and fish. I'm working right now on a whole steak on the bone cooked in the fire with a peppercorn crust; a Skate Au Poivre for 2 to share.
What do you consider the most distinguishing features of your work as a chef?
For Steak Frites Bistro, restraint is our approach, meaning we try to cook culinarily accurate versions of familiar dishes utilizing the best ingredients we can and focussing on great technique. We are not trying to re-invent the dishes, but trying to bring out the best possible version of say: Onion Soup Gratinée, Pâté de Campagne, or Soufflé au Chocolat for instance. At Steak Frites Bistro, simplicity is the Ethos and technique and great ingredients are how we intend to back it up.
What is your favorite meal or meals?
My favorite meals are Peking duck with Chinese pancakes and hoisin, and also prime rib with French fries; pretty basic I guess!
Tell me a little bit about your restaurant for our readers.
Steak Frites Bistro is crowded, the tables are close to one another, and the music and lighting fills the room with Bistro vibes. Our servers are hospitable and happy to help choose a wine from our all French, natural leaning wine list. The kitchen team is serving quintessential dishes from the French Bistro Playbook! Vive Le Bistro!
Steak Frites is located at 496 9th Avenue New York, NY 10018 at West 38th Street They are open for dinner Dinner: Sunday to Thursday from 5pm to 10pm; Friday and Saturday from 5pm to 11pm; and for Weekend Brunch on Saturday and Sunday from 11am to 3pm. For more information visit www.steakfritesbistro.com or call 929.614.5070. Follow them on Instagram @steakfritesbistro.
Photo Credit: Courtesy of Steak Frites Bistro