CAFE MISH MOSH New Lebanese Restaurant Opens in NYC
CAFE MISH MOSH New Lebanese Restaurant Opens in NYC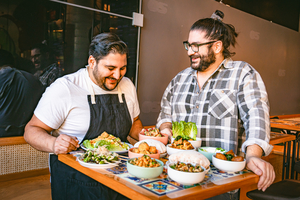 Allen Dabagh, the Head Chef / Proprietor of Boutros in Brooklyn, and Samer Asfahani, CEO of OS NYC, has introduced Café Mish Mosh. Located inside the colorful pop-up space at OS NYC - a one-of-a-kind gaming and experiential venue celebrating the digital world - at Chinatown's Hotel 50 Bowery, Café Mish Mosh is a contemporary Lebanese concept centered around cultural traditions.
Dabagh and Asfahani, two entrepreneurs of Lebanese heritage and long-time friends, were raised with the knowledge that food is always at the heart of the household. And, upon realizing this shared passion for Lebanese cuisine and its importance, the concept for Café Mish Mosh began to take shape.
"Lebanese food brings people together," says Asfahani, "It brought Allen and I together. And that understanding is the passion behind this pop-up. We're weaving the threads of Middle Eastern culinary heritage into the fabric of New American cuisine - a somewhat new experience for American diners - and helping to share the incredible power of Lebanese food."
For Dabagh, the Executive Chef at Café Mish Mosh, creating a menu that boasts delicious, modern takes on Lebanese classics, yet appealing to both patrons of OS NYC and Hotel 50 Bowery alike, was crucial. Woven around tradition and mixed with influences from the partners' formative years in New York and London, the menu is approachable and inspiring. It will cater to guests and all New Yorkers wanting to experience tasteful Lebanese fare. It's something he has artfully honed at his first restaurant, Boutros, and Café Mish Mosh is no exception.
Inside the premium, all-day cafe-style space, guests can enjoy a selection of "mezze" - like creamy hummus with warm, fluffy house made pita or Pork Shawarma Eggrolls - Kebabs, and Shawarma sandwiches. Highlights include Cauliflower Shawarma with garlic confit tahini, pickled turnips, and cabbage, Shrimp Kebabs with pickled mustard and preserved lemon chutney, and Pumpkin Kibbeh, all between $7-15 dollars. A selection of approachable interpretations of traditional Lebanese sweets are also available, as is a full wine, beer, and cocktail menu. The menu is designed for sharing, so bring loved ones.
"In Arabic, Mish Mosh means apricot; it's a fruit often associated with optimism and hope for the future, traits synonymous with Lebanese people, even in the face of adversity," Dabagh says. "We believe this feeling is felt most over a meal, with friends, old and new. And that's the feeling we want our guests to have when they dine at Café Mish Mosh."
Café Mish Mosh is now open seven days a week for lunch and dinner from 12PM to 10PM. It is perfect for groups, families, or a quick bite.
Photo Credit: Courtesy of Café Mish Mosh