Click Here for More Articles on FOOD & WINE
BWW Interview: Liz Neumark of GREAT PERFORMANCES, KATCHKIE FARM and THE SYLVIA CENTER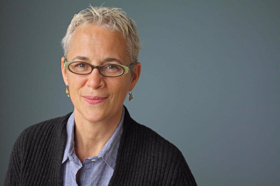 Since launching Great Performances (GP) in 1980 as a staffing agency offering part-time employment for women in the arts, Liz Neumark has orchestrated its transformation into one of the country's foremost catering and food service companies, lauded for its commitment to seasonal ingredients, innovative culinary presentations and exceptional service. Sustainability, too, is a GP hallmark, which Neumark spotlighted with the 2006 purchase of 60 acres in upstate New York hamlet of Kinderhook, making GP the nation's first caterer to own and operate an organic farm as a source of locally grown produce. At the table for many of the tri-state area's most prestigious events, GP is the exclusive caterer for a number of distinguished New York City institutions including, the Apollo Theater, Brooklyn Museum, Brooklyn Academy Of Music, Jazz at Lincoln Center and The Plaza Hotel. GP also 12 restaurants, cafes, food trucks and concessions throughout New York City and in Westchester County - Dizzy's Club Coca-Cola, The Norm and Mae Mae Café among them.
Neumark's passion for food advocacy is demonstrated by her involvement with such organizations as Just Food, GrowNYC, New York State Council on Food Policy, West Side Campaign Against Hunger, City Harvest and the Food and Finance High School. In 2006, she founded The Sylvia Center, a garden-to-table not-for-profit organization dedicating to teaching children and their families about healthy cooking and eating through hands-on experiences at the farm and in kitchens.
Currently the board chair for the Hudson Square Connection, the business improvement district for the lower Manhattan neighborhood in which GP's headquarters is located, Neumark formerly served as the vice president of the Women's Forum of New York and was recently named among New York City's 50 Most Powerful Women by Crain's New York Business.
In her spare time, Neumark can be found exploring farm stands and food shops, blogging for The Huffington Post and spending time with her husband and three grown children. She is the author of Sylvia's Table, a highly acclaimed cookbook inspired by family and the seasons.
Broadwayworld.com had the pleasure of interviewing Liz Neumark about her career and her culinary enterprises.
When did you first realize your penchant for fine food?
My basic orientation towards food stems from two sources - childhood family meals where it was clear "life happens around food" AND moments in my two grandmothers' kitchens. They had completely opposite personalities and lifestyles; one a Russian immigrant who never threw anything out and never cooked with a recipe. The other granny was thoroughly American, had a cook to help her, but always had formal weekend meals with no less than 20 guests at her long table. The passion for hospitality was engrained from a young age. The glorification of food, was secondary to guests and just being together around a table - talking, learning, sharing.
Who have been some of the mentors for your career?
My dad ran a small family business. His work ethic always made an impression on me. My first job out of college was completely unexpected - I placed office temps. My boss, a strong willed, charming and cunning woman, taught me everything about dealing with customers. June Rogers was amazing.
What inspired the inception of Katchkie Farms?
I had been dreaming about farms for a long time - perhaps from my Russian gene pool, looking for a connection to the land. As the company grew, I didn't want food to become a commodity for us and was looking for a real connection to the source of food; local, delicious product we could watch grow and feel a part of. I started dreaming about a farm for Great Performances. The actual moment in which the decision was made to make this dream happen was in connection to the creation of The Sylvia Center. The two projects were intertwined from the start. The creation of a farm would provide a home for The Sylvia Center. And the farm would be - and is - dynamic testimony to our commitment to sustainability, to local sourcing and to the future of agriculture in New York State. GP was the first catering company in the country - and may still be the only one - to own and operate an organic farm. Now its 10th year, it has evolved from the seasonal cultivation of an acre to a year-round operation utilizing 20 acres and three greenhouses that use oil recycled from GP's kitchen in Hudson Square for power. And in its role as home to The Sylvia Center, the farm has welcome more than 20,000 students from New York City and upstate NY.
What are some of the challenges of overseeing a multi-faceted food service business?
There are both great challenges and amazing opportunities. We are so strong operationally because of our diverse businesses. This allows us to take on a range of events in all different sizes. We work with celebrity chefs; we work with out-of-town restaurants; we take on theme events; we can produce food in the least hospitable of environments (no water, no gas etc); we have a wide range of service models, etc. The challenge is making sure for all the "one-off's" we produce, we maintain consistent levels of quality and service, which I believe we do. There are always a zillion details and we challenge our systems and colleagues daily to make sure that we double check every one.
Tell us a little about the personal rewards of The Sylvia Center.
The reward of seeing the impact of the program on the faces of our students is amazing. They are so smart and absorb the instruction so fast. Every time I participate in a class, I am impressed by the passion and energy of these kids. And why not? As adults in the catering business, we get excited about good food and ingredients. We all share the same experience essentially! On a deeply personal level, I love this tribute to my daughter, Sylvia, who wanted nothing more than to be a "helpful human." Creating this legacy for her, saying her name multiple times a day, is life-affirming beyond words.
Why do you think GP has become such a major influence on the food scene?
Good question! There are probably a few reasons. We have a great community of staff who are experts in so many different areas. Each of these talented people is an ambassador for our brand and an influencer. We have been catering in New York City for more than 35 years and during that time we have accumulated a lot of knowledge, good will and contacts. Add that together and our reach is quite broad. In over three decades, we have touched so many lives.
In addition, our business is dependent on a constant flow of fresh innovative ideas. Our ever evolving world enables us to be a source of new ideas, which in turn, influences thinking and trends.
What is the new Bermuda connection for GP?
This year, GP took on its first international project by creating, launching and overseeing ongoing the food and beverage program for the first new build hotel to open in Bermuda in 45 years, the luxurious The Loren at Pink Beach. The hotel's developer, Stephen King, wanted to incorporate core GP values, such as commitment to local sourcing and sustainability, into the hotel's restaurants, in-suite dining and catering. A team led by our executive chef of venues Tim Sullivan developed a program that assures The Loren utilizes Bermuda's culinary resources to the greatest extent possible, which turned out to be a novel practice on the island, where hotels and restaurants traditionally rely on imports. So The Loren's seasonal, locally sourced menus are precedent-setting in Bermuda, while the whole partnership between the hotel and GP is a catering and hotel industry first. It's been a very exciting project.
Tell us a little about your vision for the future.
There is enormous disruption in every business model. We are trying to understand what it means for our industry - how it effects our buyers, the selling process, communication, food production and people's choices. I want to be in front of this, leveraging lessons for GP so we stay strong as an organization.
From a growth perspective, we are diversifying in some additional foodservice areas, though the core of our business, is the special event/catered party. We believe that partnering with other food/culinary entities will help us respond to customer interest in broadening their food experiences.
And finally, we want to make sure the fundamentals of hospitality are preserved. Bringing people together - inperson, in celebration, around food - is irreplaceable.
Anything else, absolutely anything you want BWW readers to know!
We are committed to serving New Yorkers, and over the years, have been lucky to serve the most amazing cross section of individuals (including rock stars, Presidents, movie stars, politicians, influencers etc.) But what keeps us balanced is our commitment to all New Yorkers. We have always been active participants in supporting food rescue, food pantries and caring about what the underprivileged population in the city eats. We are food activists in every sense of the word.
For more information about Liz Neumark's culinary enterprises, please visit the following web sites.
Great Performances: www.greatperformances.com
The Sylvia Center: www.sylviacenter.org
Katchkie Farm: www.katchkiefarm.com.
Photo Credit: Michael Lionstar
Related Articles