The Ricardo Montalbán Theatre Presents PROXIMA
The Ricardo Montalbán Theatre, Hollywood & Vine's classic theater reborn for a new era of performing arts, is proud to present PROXIMA, the new show by globally recognized, Japanese-based visual/dance ensemble enra. Experts in martial arts, ballet, rhythmic gymnastics, acrobatics, contemporary dance, juggling and circus arts, enra defies conventions of space, time, gravity, and physics, through seamless synchronization of digital projection and physical movement. As part of a North American tour, The Montalbán brings enra's new PROXIMA show to LA for three nights: Friday, October 21 and Saturday October 22 at 8:00pm and on Sunday, October 23, 2016 at 5:00pm. Tickets cost $49.00. The Montalbán is located at 1615 Vine Street, Los Angeles, CA 90028. For tickets, call 323-461-6999 or visit http://www.themontalban.com/buy-tickets. To learn more about enra and their new production, please visit http://enra.jp.

Nobuyuki Hanabusa, enra's Creative Director, weighs in on the challenges of creating PROXIMA:
It takes from about 2 months to half-a-year for us to create a single piece. PROXIMA is a 90-minute show, so to put together such a long program for a full show was the most difficult part. It has taken us 4 1/2 years to create this hour-and-a-half performance. This has been our greatest challenge."
PROXIMA -
Defying the conventions of time, space, gravity, and physics through a stunning fusion of digital projection and physical movement, enra's dynamic show, PROXIMA, is futuristic and totally one-of-a-kind. Vibrant swatches of primary color, geometric patterns in multiple dimensions, and gorgeously rendered digital art are seamlessly fused in a marriage with the human form in motion. The high-adrenaline new show features dynamic brand-new works as well as audience favorites "primitive," "Pleiades," and "FUMA-KAI."

With contextual references to Japanese pop culture, cinema, video games, and astrology, enra captures the postmodern and eclectic spirit of sprawling, contemporary Tokyo. Performers seem to jump off of rooftops, swim through underwater temples, destroy asteroidal objects, and harness the power of starlight. Expressive troupe members have rich and diverse backgrounds, drawing on a range of genres including Chinese martial arts, ballet, rhythmic gymnastics, acrobatics, contemporary dance, circus arts, animation dance, house dance (a type of street dance) and juggling. Video artist Nobuyuki Hanabusa, who has a background in automobile design and CG production for video games, is enra's director.

Their fresh, truly universal work creates a sense of awe, wonder, and emotional connection with audiences across demographics. Moods in the all-ages show range from suspenseful to serene, reverent to playful, and emotional to upbeat. The Montalbán performances in Hollywood are part of the group's second North American tour, which also includes dates in Staten Island NY, Newport News VA, Muncie IN, Skokie IL, and Mexico City.

enra -
Tokyo-based enra seeks to create the ultimate union between motion graphics and live performance. Projections are an essential element to their art, integrating sensory interaction and projection mapping. Their otherworldly work incorporates dance, performance art, music, technology, and light. Hinting at the supernatural, enra's name is derived from the mythical shape-shifting and smoke-like Japanese spirit enenra.

Receiving enthusiastic ovations from Beijing to Buenos Aires, Memphis to Manhattan, Dubai to Detroit, the dance troupe regularly performs all over the world. They have performed in over 26 different countries on 6 continents to overwhelming acclaim in the four years since their founding in 2012. Most notably, enra performed as a guest of the Prime Minister of Japan at the official welcoming dinner for the International Olympic Committee (IOC) during its evaluation of the 2020 Tokyo Olympics plan. enra achieved viral video success after the Tokyo performance was picked up online, earning the group avid fans across the globe. enra's YouTube Channel has racked up 10 million views in just a few short years. Additional notable performances, all in 2015, have included the Cannes Film Festival, America's Got Talent, and the Japan Society Contemporary Dance Showcase.

The Ricardo Montalbán Theatre -
The Ricardo Montalbán Theatre, Hollywood's classic theater reborn for a new era of performing arts, is located at 1615 Vine Street just south of the world-famous Hollywood & Vine intersection. It is one of the few remaining mid-sized and fully equipped proscenium theaters in Los Angeles. It is known for its excellent sightlines and acoustics and features orchestra, mezzanine, loge, and balcony seating. It hosts screenings, comedy, and musical performances. In recent years, a variety of eclectic professional productions have graced the venue's performance spaces including Selena, Culture Clash's Zorro in Hell, The Who's Tommy, Jesus Christ Superstar, Eric Idle's An Evening Without Monty Python, various engagements with comedian Billy Connolly, John Leguizamo's Ghetto Klown, Rooftop Cinema Club's LA screenings, Nick Kroll and John Mulaney's Oh, Hello, Hollywood Chamber Orchestra concerts, and regular live screenplay events by The Black List.

The Ricardo Montalbán Theatre was designed by Myron Hunt (Rose Bowl, Cal Tech, Ambassador Hotel) and built in 1926 as the Wilkes Brothers Vine Street Theatre. The gorgeous Beaux Arts building was the first legitimate live Broadway-style theater in Hollywood. Over the years, it has been owned by Howard Hughes (who renamed it The Mirror), CBS Radio (who bought it for its local station KNX and its wildly popular Lux Radio Theatre), and in the 1950s, by Huntington Hartford, heir to the A&P grocery chain. In 1964, James Doolittle, who was running the Greek Theatre in Griffith Park, bought the venue and staged smart productions for 20 years with both Hollywood and Broadway stars. UCLA took over in the 1980s until the Ricardo Montalbán Foundation, a 501(c)3 nonprofit, bought the building in 1999.

Emmy Award-winning actor Ricardo Montalbán's vision was to create a presence in Hollywood that provided inspiration and employment for young Latinos as well as other underrepresented people throughout the community. In recent years, under the direction of Montalbán's son-in-law GilBert Smith, nearly $4 million has been invested into theater restoration to help preserve this good old classic that contributes to making Hollywood a very special and incredibly creative place.

LINKS:
• enra - http://enra.jp
• PROXIMA Tickets - http://themontalban.tix.com/Schedule.aspx?OrgNum=1300
• PROXIMA FB Event - https://www.facebook.com/events/1752468764975684
• PROXIMA Event Trailer - https://youtu.be/p--T64B_b6k
• enra Facebook - https://www.facebook.com/enra.jp
• enra Instagram - https://www.instagram.com/enra_jp
• enra YouTube - https://www.youtube.com/channel/UCuTQlhY1VA5nMSHVLzvKlAA
• The Montalbán - http://www.themontalban.com
• Montalbán's Facebook - https://www.facebook.com/TheMontalban
More Hot Stories For You
Joffrey Ballet Remounts Yuri Possokhov's Blockbuster ANNA KARENINA, February 15-26

December 7, 2022

This winter, The Joffrey Ballet remounts Yuri Possokhov's blockbuster Anna Karenina for the first time since its crowd-pleasing world premiere in 2019.
---
Dallas Black Dance Academy Launches Adopt-A-School Dance Program

December 7, 2022

Dallas Black Dance Academy is launching a new Adopt-A-School Dance Program providing an intense dance curriculum to support middle and high schools with existing dance programs.
---
Photos: Inside the Dancers Over 40 Annual Legacy Awards

December 7, 2022

See photos from inside The 14th Annual Dancers Over 40 Legacy Awards and Holiday Dinner, presented on Monday, December 5, 2022 at Lips Restaurant.
---
Ice Theatre Of New York, Inc Presents THE UNSEEN At ONX Studio

December 7, 2022

Ice Theatre of New York (ITNY) presents The Unseen, a real-time motion capture performance on ice showcasing, celebrating, and honoring Black figure skaters of the past and present on December 16 & 17, 2022 at 6:30pm at ONX Studio, 645 Fifth Avenue, NYC.
---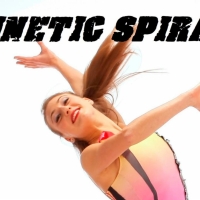 Nai-Ni Chen Announces The Bridge Dance Classes, December 12-14

December 7, 2022

Nai-Ni Chen Dance Company announces The Bridge Virtual Dance Institute of boundary breaking dance experiences Free One-Hour Company Classes on Zoom and In Person.
---