Miro Magloire to Present New Chamber Ballet at Mark Morris Dance Center in February
The performance will take place on February 3 & 4.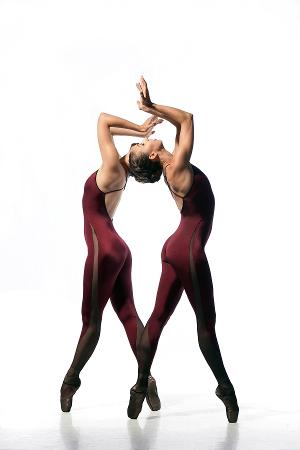 Miro Magloire will present his New Chamber Ballet in his full-evening work "Sanctum," created in collaboration with the Ekmeles vocal ensemble, at the Mark Morris Dance Center in Brooklyn, February 3 & 4, 7:30 PM. "Sanctum" describes either a sacred place, or a privately secluded one, and Magloire's ballet vividly evokes both, powerfully brought to life by the music of two outstanding female composers, Kaija Saariaho of Finland, and Karin Rehnqvist of Sweden.
In this rare collaboration, New Chamber Ballet's enthralling dancers and musicians, and the stunning singers of the Ekmeles vocal ensemble - Charlotte Mundy, Elisa Sutherland, and Joy Tamayo - join forces for a 70-minute celebration of sounds, bodies, and movement created by Magloire in the company's trademark up-close, in-the-round style.
Magloire, who began his career as a composer, has distinguished himself for particularly interesting and bold music choices. "Sanctum" is bookmarked by vocal music: Saariaho's Changing Lights and From The Grammar of Dreams, in which the singers also move with the dancers; and Rehnqvist's Davids Nimm, a bone-chilling shepherdesses' call that closes the performance. The center section is left to violin and piano with Saariaho's Nocturne, Calices, Prelude, Tocar, and Ballade, as well as Rehnqvist's Dans.
EKMELES is a vocal ensemble dedicated to the performance of new and rarely-heard works and gems of the historical avant garde. With a special focus on microtonal works, they have been praised by the New York Times for their "extraordinary sense of pitch."
Earlier this month, the ensemble was announced as one of the two recipients of the Ernst von Siemens Music Foundation's prestigious Ensemble Prize 2023, which is awarded annually to outstanding young ensembles worldwide. Ekmeles is the first American ensemble to receive this honor.
In its announcement, the Siemens Foundation highlighted that "Ekmeles is one of the few vocal ensembles worldwide that focus on contemporary music. The New York singers convince with a grandiose sound, oustanding precision and intonation, with which they master even the most difficult microtonal works. At the same time, Ekmeles strikes a good balance between new works and the repertoire of past decades."
In the 2019-2020 season Ekmeles performed with the MET Museum's first commissioned sound installation, Oliver Beer's Vessel Orchestra, and released their debut album "A howl, that was also a prayer" on New Focus Recordings, with works by Taylor Brook, Erin Gee, and Christopher Trapani. Fanfare magazine called the album's performances "beyond expert - almost frightening in their precision."
Other notable collaborations include the U.S. Premieres of Stefano Gervasoni's Dir - In Dir and Wolfgang Rihm's ET LUX with the Mivos Quartet; Mathias Spahlinger's uber den frushen told frauleins anna augusta markgrafin zu baden with members of the Tilt Brass and loadbang; Beat Furrer's FAMA with Talea Ensemble; and Luigi Nono's Quando Stanno Morendo with AMP New Music. Ekmeles has also performed works by student composers at institutions including Columbia, Ithaca, NYU, Rutgers, Stanford, Syracuse, University of Chicago, and University of Mexico.
Kaija Saariaho, born in Finland and currently a resident of Paris, is one of today's most popular composers and recipient of awards from Finland, Italy, Germany, and the U.S.A. Named 'Musician of the Year 2008" by Musical America, her opera "L'amour de loin" was recently performed by the Metropolitan Opera.
Sweden's Karin Rehnqvist is recipient of The Nordic Council Music Prize in 2022 for her oratorio "Silent Earth." As a composer, her range extends to chamber, orchestral, stage, and vocal music. In 2009 Rehnqvist was appointed the first female professor of composition at the Royal College of Music in Sweden.
www.newchamberballet.com

These performances are supported by the Amphion Foundation, and by Dance/NYC's
Coronavirus Dance Relief Fund: New York State Edition, made possible by the New York State Council on the Arts.
Dancers include: Anabel Alpert, Megan Foley, Nicole McGinnis, Amber Neff, Rachele Perla Singers: Charlotte Mundy, Elisa Sutherland, Joy Tamayo
Musicians include: Doori Na, violin; Melody Fader, piano.
Performances take place Friday & Saturday, February 3 and 4 at 7:30 PM at Mark Morris Dance Center, 3 Lafayette Avenue, Brooklyn.
Tickets: $38
Reservations: https://cloud.broadwayworld.com/rec/ticketclick.cfm?fromlink=2219047®id=174&articlelink=https%3A%2F%2Fncb-sanctum.eventbrite.com?utm_source=BWW2022&utm_medium=referral&utm_campaign=article&utm_content=bottombuybutton1