Feature: The New York Butoh Institute Festival 2018 Showcases Women and International Artists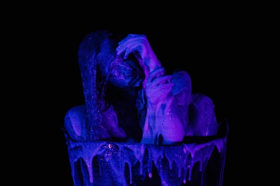 In October 2018 the New York Butoh Institute and Vangeline Theater presented sixteen international artists hailing from Japan, Brazil, Chile, U.K., Israel, Italy, Germany, France, Costa Rica, Spain and the United States as part of a festival aimed to celebrate the diversity of the art form through workshops, masterclasses and four evenings of groundbreaking performances focusing on fierce female expressions of butoh. With this minimalist, avant-garde dance form's eerie, even grotesque imagery, extreme environments and ghostly gestures in hyper-slow motion, the month that ushers in Halloween was the perfect setting for such an event. The festival -- which sold-out every single performance of its four dates at Theater for the New City -- was a palatable feast for serious butoh practitioners and connoisseurs as well as those looking to sample and discover the method and expression for the first time.
Butoh is an artistic expression for a modern era that has emerged from a place of tragedy, turmoil, and pain -- only sixty years old, this dance theater expression was born out of postwar Japan in 1959. It is a rebellious art form, dramatically avant-garde and reveling in the repulsive, the shameful, the dark inclinations within and exposing them to the surface. Like punk-rock music or paintings of the Abstract Expressionists, butoh rejects any mainstream norms -- Eastern and Western. Lofty refinement and sophistication, beauty standards, politeness and poise are cast aside and more humble, earthbound, common and even vulgar and taboo gestures and imagery are embraced. If classical ballet were akin to Monet's Water Lilies, then butoh would be a Rothko color field painting -- its mystery envelops you in a bizarre yet powerful way and creeps into your soul. The movement is both poetic and surreal, never turning away from the darkness lurking in the bodies and minds of human beings but plunging deeply into that abyss with gusto. It propels the "Shadow Self" into the spotlight.
Vangeline Theater and the New York Butoh Institute, which was formed in 2002 by French born dancer, choreographer and instructor Vangeline, has been devoted to the preservation, education and performance of butoh and to bringing the art form into the 21st Century by honoring its past, nurturing its present, and shaping its future. These organizations' purpose and mission is to engage, educate and empower. This vision is clear in Vangeline's curation of the 2018 Festival's vast global representation that showcased purely female interpretations. Part of this was inspired by disgust with a male writer penning a new book on butoh only focusing on men because he felt that "women have made no significant impact." Both Vangeline's life work and the four evenings' worth of mesmerizing performances resolutely disputes that statement. (See my interview with Vangeline on Broadway here as a companion piece to this feature).
Here are the highlights from the artists featured in the The New York Butoh Institute Festival 2018 per evening:
Program 1: Thursday, October 18, 2018:
The very first performance, Navel -- Techne Soft, was by Nu Canal (Nurya Chana) a Bronx-born dancer who incorporates her interests in science (biology, ecology and anatomy) with primitive art and architecture, hypnosis and Freudian psychology (the reference of "navel" is to his theories on the nexus and of a dream's unknown) into her butoh storytelling. In a low red light and droning sounds like the whirl of a ceiling fan, Nu Canal rises slowly then examines and explores the objects around her like a scientist playing with her discoveries as an awed participant. She pulls off the white lab suit and contorts her body in controlled gestures as if through molasses or water and fiddles with and puppeteers the various cups full of liquids and powders on pulleys that spill out onto the stage. In this prop-heavy piece, it is the elements of her surroundings that seem to control and motivate her movement even down to her return to the center-point or "Freud's navel" of this subconscious world.
The second piece entitled Shira Hime Ryu - A story of a white lady dragon, is a collaboration between Japanese butoh and theater artist Yokko and César Dávila-Irizarry (American Horror Story theme song composer). Fans of more traditional styles of butoh (though there is no such thing as "one way" to do butoh -- each expression is as unique as its creator) horror, mythology and Japanese lore will be entranced by Yokko's portrayal of both the white dragon and a hideous hag, exploring longing and power relations through the honored white dragon spirit -- a destructive and life-giving force who is also said to "possess" older, unmarried women who are considered cursed. The exquisite lighting design by Andy Dickerson aided by the striking visuals of costumes and makeup design by Deepsihka Chatterjee and Elena Thomopoulou, respectively, teamed with Yokko's nightmarish transformation from meek and vulnerable to fiendish and foul and painted a ghoulishly satisfying portrait displaying twisted terror and darkness in ways rarely encountered on stage.
The first evening's third performance was The Nearway by Margherita Tisato -- a dancer and instructor from Italy who began studying with Vangeline in 2007 and became one of her principal dancers within a year. The artist presents it as an exploration of the dichotomy between womanhood and personhood and proclaims it a tribute to female artists, activists and professionals in their struggle to minimize that struggle (themes that find a comfortable place amongst the 2018 Festival's female-centric mission). The piece has strong, symbolic imagery -- Tisato dons the skeletal frame of a hoop skirt reminiscent of the restrictive layers women have had to wear and moves with shaking outstretched arms to a cauldron-like vessel where she pulls out a scarlet scarf (evocative of the similarly potent symbolism of female menstruation used by Pina Bausch in her magnificent Rite of Spring). Her long, dark and curly locks drape limply, obscuring her face for most of the low-lit performance until she bursts her body open, like a bird cracking out of an egg, mouth and eyes gaping wide, exposed to harsh, almost cruel lighting.
The fourth work -- called Medusa Butoh -- was choreographed and conceived by and stars French/Spanish theatre artist Sophie Amieva. It was the first to feature the use of video projections (video collage by Magin Schantz with animation by Tatie Nguyen) as well as a second performer -- Will Atkins. The piece examines the unjust situation thrust upon Medusa, a young maiden transformed into a monster after being raped by Poseidon. The movement and physical expressions of power dynamics between the male and female bodies onstage (aided by the vivid, sometimes grotesque and brutal visual images projected) played with male and female duality, archetypes, and imposed roles. The pair seemed to puppeteer one another, like living voodoo dolls commanding domination and control over the other then losing it only to be the one being controlled.
The fifth work was a fascinating solo piece, Chimera, by Melissa Lohman hailing from Italy and performing around the world. In the near darkness and silence (save occasional soft crackling or animal sounds one might find in the deep woods or recesses of the subconscious) a figure appears -- but as to what is almost impossible to tell. One realizes later on that the main moving mass is actually her back, a signature element in butoh practice -- acting with the back, but for the majority of the performance the creature (and artist) appear completely headless. The whole thing is so alien and unusual that it is utterly mesmerizing to watch it unfold, like discovering a new species of flora or fauna that one can't quite tell which end is up. It's something out of a myth, dream or perhaps the imaginative world of Dr. Seuss. Indeed, this piece is devoted to a mythical magical creature that the artist describes as: "The impossible demon, graceful and fractured, forgetful and melancholic" who resides in "the dry, silty, still landscape of implausible dreams and unrealizable desires." This was one of the simplest pieces in the entire festival and one of the most effective, not reliant on props, partners or multimedia aides, that Lohman created which established a truly engrossing otherworldly atmosphere.
The sixth and final performance of the evening was a stark contrast to the former work. It was also a solo -- Porning the Planet: The Desensitization of a Nation by Raquel Almazan from Costa Rica/Spain -- but it was an aggressively current, on-the-nose exploration of porn and politics (Bernie Sanders, Trump and Kavanagh were mentioned aloud to jeers or cheers) and featured multimedia, monologue and even audience involvement encouragement. However -- it seemed to wake up and engage the younger viewers. The premise was a bit complicated (a porn star chosen to work for NASA, dealing with multiple personality disorders and larger themes of how porn has altered our way of interacting) for the short presentation (in fairness, it is an excerpt of a full-length solo show) but what it demonstrated best is that butoh is not an art form limited to one style of expression -- it can be a tool and asset in the skill set of a theatre performer as one more way communicates their story.
Program 2: Friday, October 19, 2018:
(Note: Nicole Vivien Watson's The Mud Formed A Finger, Pointed was the opening piece for Programs 2, 3 and 4 -- the latter two dates on Saturday and Sunday were reserved for the headliners acts of The New York Butoh Institute Festival 2018 and featured the same program so her performance will be investigated there).
Multidisciplinary Israeli visual and performance artist, Keren Shavit, has only been studying butoh with Vangeline since 2016 but her proposal for the astonishing and provocative piece The Odds of Being Born prompted Vangeline to add her to the roster of butoh heavyweights in Program 2, the second night of The New York Butoh Institute Festival. It was a risk worth taking, for Shavit's performance was as riveting as it was revolting, honoring hallmarks of butoh and searing a sensory impression into the minds of the spectators. It could have gone drastically wrong, for it was reliant on both props and other people (something I've noted in some cases, though certainly not all, can overcompensate and overcomplicate the bare truth in simplicity) but while the scene may have appeared complex, the actions were simple -- intensely so.
Shavit shared the stage with three other performers (Steven Dworkin, Lauren Farber and Bill King) at a demented dinner party where two of the players, painted in cracked white powdered flesh like corpses are propped up to the table like Norman Bates' parents. Spread out on the table is a man massive in size and looking only a bit more fresh, eyes closed and body limp and lifeless but with a more peachy pallor. On his abdomen is a gruesome white substance (Maggots? Guts?) that Shavit, dressed conservatively as the harrowing hostess plunged headfirst into at the command of ominous, wailing female tribal vocals from a song called "Mahalalela (Lazy Bones)" by Hugh Masekela. After she takes in a mouthful, she chews, swallows and sticks out her tongue as if to say "All done!" in this macabre pie-eating contest though she's clearly fighting back tears and revulsion. This action, along with the accompanying soundscape and shrieks that lure her into this dark ritual with an almost religious fervor, continues no less than thirteen times. The imagery evoked the scene in HBO's Game of Thrones series where Daenerys (Emilia Clarke) as Khaleesi, queen of the Dothraki is forced to devour a horse heart whole. Finally, as the music shifts to "Chernobyl" by Blanck Mass, Shavit's gory mission is complete and the sorrow and shame seem to settle in. The relentless repetition in action and sound called to mind the power of a Philip Glass composition -- complex and dynamic in its seeming simplicity -- though this performance attacked all the senses in that ghoulishly gleeful way one can't help but be entranced by that which repulses -- a major part of the study and practice of butoh.
The next performance of the second evening, Between by Alana Rosa of Brazil with live music accompaniment from Junia d'Affonseca -- was a warm and welcome contrast to calm the nerves from the previous piece. It was one of the few if not only of the 2018 Festival to inject outright humor and joy into the discipline of butoh. This is not unprecedented, for acclaimed butoh artist Kazuo Ohno has an approach to butoh that is more lighthearted, playful and theatrical as Rosa's portrayal. But glee is not the only emotion present in her piece. Between intends to explore the places that we walk in the middle of opposite extremes. Joy shifts to sadness and bitter resentment, imagination and realism teeter one way or another -- there is darkness and depth to this lighthearted approach. But the through line of Between is the sheer delight it is to watch Rosa's charming enactment of such emotions through the heart of a child's innocence and purity, particularly when plucking the petals of a yellow flower and questioning (in Portuguese) the most unnerving state of in-between -- roughly translated to and universally understood as "He loves me. He loves me not."
The following piece, Untitled by Japanese artist Azumi O E, a principal dancer in Vangeline Theater for over eight years, was a solo exploring how destruction can lead to creation and that creation often forces destruction. She investigated these ideas through playing with movement and stillness, through frenzied gestures and deliberately lethargic ones, sound and most especially silence, all with remarkable control over her body down to the twitch of her pinky toe.
The fifth performance of the second program was also by a dancer and choreographer hailing from the land of butoh's origin -- Mariko Endo in The Skin That Hears, The Skin That Hums. In continuing with the curation of placing contrasting works alongside each other, while Azumi O E's solo utilized the strong impact of silence, this work was sonically vibrant and diverse with music by Pulitzer Prize-nominated composer, Joel Thome, who Endo also studies Spirituality in Art under the guidance of the song "Adoration of The Divine Mother" is a canto from Savitri Traveller of the Worlds by Thome. Guided by the changeable winds of the music, which leapt from the drone of throat-singing to jazz and into a flurry of flutes and horns, Endo contorts her body from a hunched beggar or street urchin to a powerful warrior woman and collapses and rises again, repeatedly, with movement that varies from vulnerable to violent and sensual to stark, complementing the soundscapes that propel her motion and emotions.
Sindy Butz from Germany who rounded out the evening with Vanished Country - Trauma of Freedom, was "transported by a whiff of nostalgia scent" from the sentimental ballad "Am Fenster" by the East German cult band City, written by renowned German lyricist and poet Hildegard Maria Rauchfuss, amongst other German-based composers and musicians whose music shaped her solo. On the wings of the music, Butz enters an "expansive journey of emotional and transcendental mind states." For lack of a better analogy, the work is very "German". It is a multi-dimensional multimedia piece with more characters and imagery in the video projections than onstage. (There are trains, dancers in attics and on streets and scenes of Germany). Yet Butz's presence is compelling and commanding. She is made up in the traditional butoh white face and body paint casting a ghoulish presence and begins clad in black and covered, cowering and seemingly afraid. Moving with the cues from the music and her video projected partners, she casts aside the dark cloak to expose a sexy white pantsuit and reveal a figure and hairstyle that reminded me of Nico -- the German singer/songwriter, actress and model who was a muse to Federico Fellini, Andy Warhol and Lou Reed. Free from constraints, her arms move in wing-like expansiveness that morphed into salutes and a stern march to close the performance.
Program 3 and 4: Saturday and Sunday, October 20-21, 2018:
The opening piece for the headlining acts' two-night engagement was by U.K. butoh artist Nicole Vivien Watson entitled: The Mud Formed A Finger, Pointed. It begins in near darkness where a folded figure (in the "Which end is up?" style that was beautifully demonstrated in a previous evening by Melissa Lohman), revealing something shifting in the low light. The sounds are barely more than droning and breath, but that is all that is needed to paint the weird and wonderful world Watson draws the audience into. There is a slimy pinkish mass in a bucket of goo invoking creation myths of how human beings were formed but also toying with the aesthetic and appeal within of the fetish of "Messy Play," where the seemingly gross and grotesque takes on a sensual and sexual dimension. (The custom-created non-toxic and semi-fluorescent pink goop was made by an artist interested in "Messy Play" for Watson). It was totally transfixing to watch as a shapeless object rises from the muck and stands tall in her goddess-like glory like Botticelli's Birth of Venus. Watson's intention is to link (through the art of butoh and the other elements) the understanding of the contemporary body and its connection and imaginings of a primordial past.
The denouement and final piece in the puzzle of exploring contemporary expressions of butoh by international artists from a female perspective also took a cue from an ancient world in Chilean artists Natalia Cuellar and Raimundo Estay's epic journey into the Underworld dubbed Xibalba. The title refers to the Underworld according to Popal Vuh, the sacred Mayan book which narrates the origins of mankind. The mythology states that only the contact with this subterranean reality makes the knowledge of life possible, which is the fate of the virgin maiden thrown into the cave to marry the God of the Dead as an act of sacrifice. Such images and themes are quite universal and can be readily found in European mythology such as the fate of Persephone, the formidable, venerable majestic princess of the Underworld and Hades' unhappy wife. Xibalba has something else in mind --- The introduction to the piece was given in both English and Spanish and examined the ancestral memory of the Latin American people through sacrifice. This led to the discussion of a "corporeal dramaturgy" discovered through more than fifteen years of training in the Japanese artform of butoh, explored on stage by the duo -- transforming their performance into a theatrical discourse with a distinctly Latin American social, political, and cultural background.
The performance begins with a heavy, heady scent of incense in the air. It is one of the few experiences I have had theatrically to employ the significant sense of smell or taste (often overlooked) into a show and it imbued the space with an otherworldly, dream-like feel. The male figure (Raimundo Estay) clad in loincloth and war paint, warrior and lord of the Underworld, prowls and ponders his acquisition of a bride (or perhaps complete disaster and destruction if not appeased) and lays the setting (a clump of earth, a bed of flower petals) for her arrival. She (Natalia Cuellar) arrives in all of her curvaceous glory much like any teenage virgin -- supple and enticing, yet frightened, insecure, inexperienced. Her transformation (and his later under her command) is as intoxicating as the enveloping scents that blanket the room and though she clearly experiences some kind of a death (performed with extraordinary sincerity and truth), she regains her feminine powers and prowess and even the lord of death seems to be putty in her hands. The work is empowering, inspiring, and honoring of a multitude of cultures.

Nu Canal in Nurya Chana: Naval -- Techne-Soft. Photo by Warren Archer.

Yokko in Shira Hime Ryu. Photo by Warren Archer.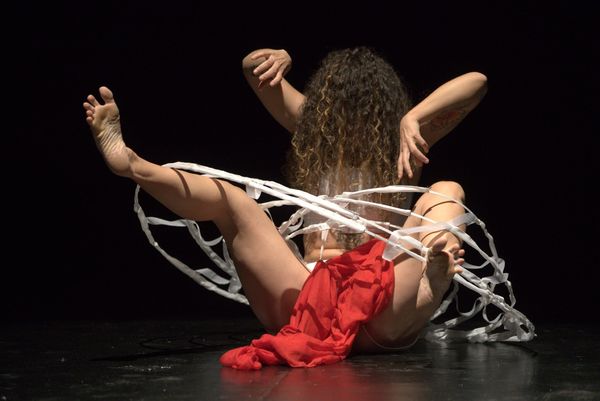 Margherita Tisato in The Nearway. Photo by Warren Archer.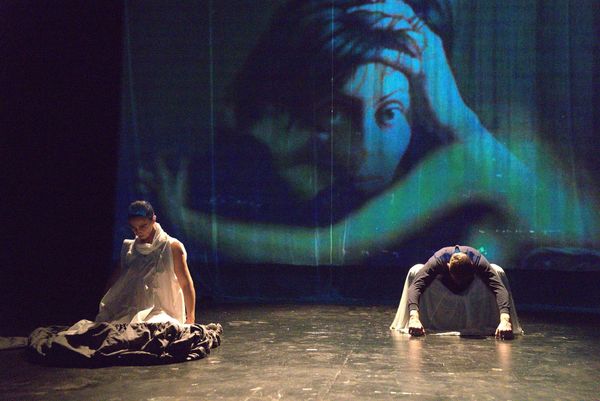 Sophie Amieva and Will Atkins in Medusa Butoh. Photo by Warren Archer.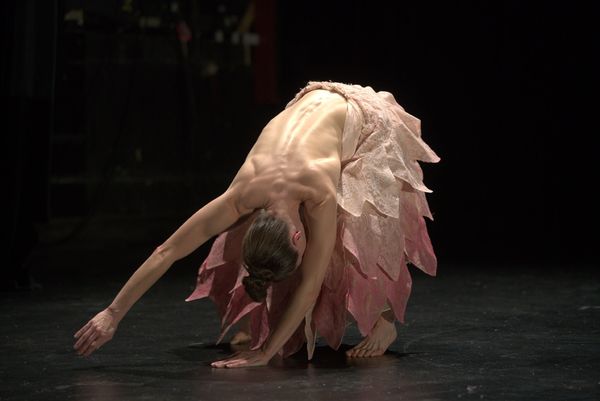 Melissa Lohman in Chimera. Photo by Warren Archer.

Raquel Almazan in Porning the Planet: The Desensitization of a Nation. Photo by Warren Archer.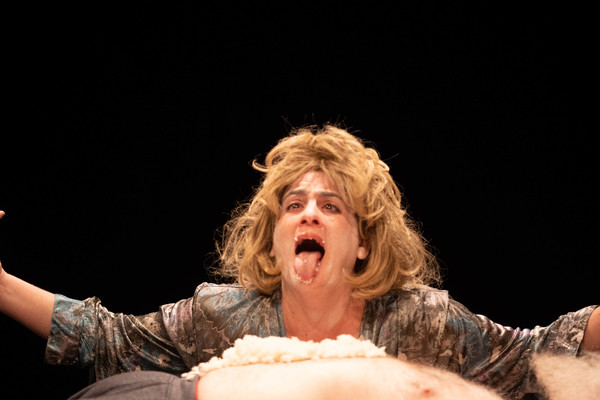 Keren Shavit in The Odds of Being Born. Photo by Warren Archer.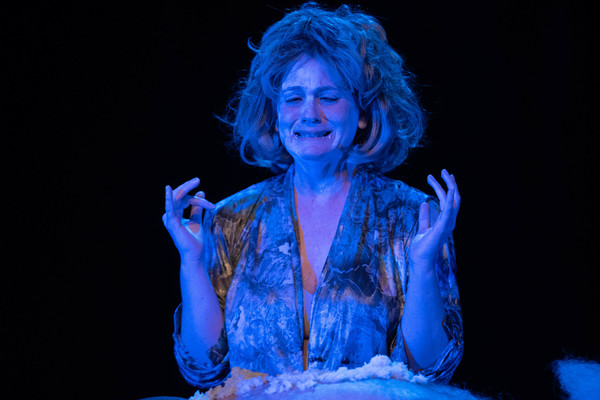 Keren Shavit in The Odds of Being Born. Photo by Warren Archer.

Alana Rosa in Between. Photo by Warren Archer.

Azumi O E in Untitled. Photo by Warren Archer.

Mariko Endo in The Shin That Hears, The Skin That Hums. Photo by Warren Archer.

Nicole Vivien Watson in The Mud Formed A Finger, Pointed. Photo by Michael Blase.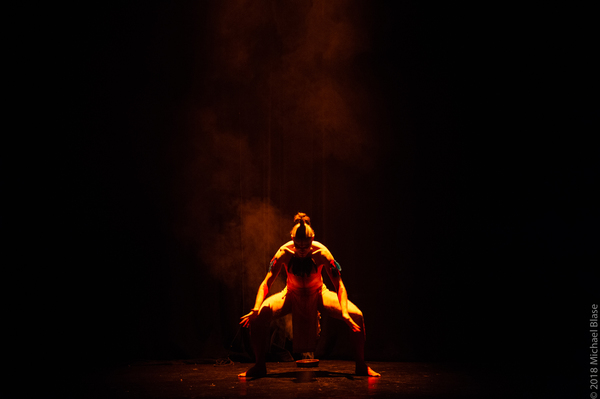 Raimundo Estay in Xibalba. Photo by Michael Blasé.

Natalia Cuellar and Raimundo Estay in Xibalba. Photo by Michael Blase.