BWW Dance Interview: Jenn Freeman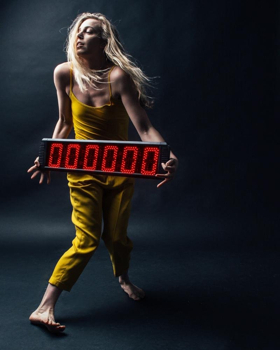 Freemove Dance's debut evening-long work ...it's time... everyone is literally "on the clock." The piece, choreographed by Jenn Freeman, is conceived as a meditation on each individual's intricate relationship to time. The work features five dancers whose performances are both constrained and propelled by the presence of a large digital timer, inexorably counting down towards zero. The evocative live drum score, composed by Dani Markham (Childish Gambino), serves as the soundtrack to the dance conceived as a metaphor of a lifetime - one long, cinematic take in which performers transition through changing ambiances, styles, and energies.
The work features five dancers: Maddison Burg, Mia DeWeese, Matt Luck, Christopher Ralph, and Chelsea Thedinga. Dani Markham's score for the piece will be performed live by Price McGuffey. The lighting design of the piece is by the 2010 Bessie-winner Philip Treviño (awarded for his work on Pam Tanowitz's Be in the Gray With Me) and costumes are designed by Mondo Morales (known for his work with Alvin Ailey II.)
The interview was conducted via e-mail.
Q. Let's start with your background. Where did you first start studying dance?
A. I began dancing at a local studio in my hometown of Boise, Idaho at the age of two. I got instantly hooked and never looked back. I studied mainly jazz, tap, and lyrical until I was twelve. I then started training in ballet under Marla Hansen at Boise State University and subsequently became a company member of Idaho Dance Theater; I worked with them until I moved to New York City at seventeen.
Q. Ballet or modern?
A. I have trained extensively in both, but I cherish and prefer the movement freedom and avenues of expression available in contemporary dance.
Q. Any particular teachers stand out?
A. I have been extremely fortunate to have had so many compelling, inspirational educators in my life; it is difficult to pick just a few, but I'll try.
Marla Hansen, who is Associate Professor at Boise State University in the Department of Theatre Arts, was my ballet teacher and mentor during my teen years. She showed me what it looks like to live a disciplined life for your art, for the love of it, not just for the accolades.
Kay Cummings was a professor of mine at NYU; I took a choreography course with her. She taught me how to look at dance from all angles, her way of saying things was simple and clear. I experienced constant revelations in her class, which became deeply rooted in me and still resonates ten years later.
Chris Jacobsen, whom I know from The Dance Sessions, is a longtime mentor of mine. He is one of the most passionate and generous educators I have encountered. Chris shows up in the same way for two students as he does for two hundred, and whether they're gifted or not, he will love you and in turn, they will love dance. His passion is infectious.
Sonya Tayeh is a dear friend and mentor of mine. She taught me discipline and drive and what it takes to be confident as a woman navigating this industry. I have been by her side witnessing her ability to dig deep and face her biggest fears head-on, over and over again for many years. She has taught me that it is OK to show how much you care.
Q. Did you attend college? What did you study there?
A.Yes, I studied dance at Tisch at NYU. I received a BFA. I really began to focus on and experiment with my choreographic voice there. The program provides a lot of opportunities for students to put work on stage if they desire.
Q. What was your first professional experience outside college?
A. I was hired as an assistant to Mia Michaels for a touring convention called the Pulse on Tour and was simultaneously apprenticing for Keigwin and Co. I was never a full-time company member with them, but because of a circumstance involving a dancer injury, I did get to experience a lot of amazing opportunities, including performances at Fall for Dance, Jacob's Pillow, and at The Joyce. I gained valuable experience by working with dancers much more mature than I was at that time. And of course, there were some hard lessons involved with those opportunities as well. I am grateful for my time in both places.
I was also a founding member of Kyle Abraham's Abraham.In.Motion. I was fortunate enough to work with Kyle for three years at NYU when he was a graduate student in the program. Having finished school, he founded the company, and I performed his work for a couple of years after that. I will always remember and cherish my time working with him; it was immensely gratifying to watch him build everything from the ground up with unwavering determination and passion.
Q. This new piece, ...it's time..., has been described as a step into new territory. Can you elaborate on this?
A. In the last decade, I have created over three hundred short works, but I have never had the means to dive into a process this extensively. I have also never self-produced a performance of this magnitude. ...it's time... is my first evening-length piece and it is also the debut performance of my company, Freemove Dance. It has always been a dream of mine to be at the helm of a collective group of dancers committed to navigating and performing my work. It is meant to be a home base for me and the artists involved, a safe place to attempt new ideas in collaboration with dancers I trust who believe in the work.
Q. How many dancers are in this work? Will you employ full-time musicians?
A. There are five dancers in the work. Two are LA-based and three live in New York. They are all accomplished performers and dear friends of mine. I am employing Dani Markham, the composer, as well as Price Mcguffey, the drummer and co-arranger, who will play her score live. No artist in the company or on the creative team is employed full-time, they are all freelance contributors.
Q. What do you think will be interesting about your collaboration?
A. Dani has been completely willing to put the dancing first. She is truly interested in making music for the dance. She is intuitive and she understands what each section requires. Sometimes I find the music melding so seamlessly that I stop hearing it, in moments the two become one. Drum-centered music seems particularly appropriate for a dance about time and our relationship to it: I am very inspired by the way the drums can narrate the clock and comment on time-based rhythm and tempo - the two compliment each other beautifully.
Q. What themes are being explored in this dance?
A. The human obsession with measuring time. Also, the expectations we put on specific points in time and how that can create a disconnect in what would be our otherwise natural progression.
Q. You achieved quite an extraordinary result, raising funds for this project, taking $40,000 in a single Kickstarter campaign. Can you share the secret of this amazing success?
A. There really is no secret! This was my first attempt at fundraising to produce my own work. I tried to be as transparent as possible: I think people appreciated that. I was extremely, perhaps obsessively, proactive in reaching out and communicating with my network of supporters. I wanted people to understand that their contribution was meaningful and that it would be honored and used appropriately. I put a lot of thought and effort into how the campaign looked aesthetically; I was asking for a lot of money and I believed that the quality of my presentation needed to reflect that. If people see that you are organized on one platform, they trust that you will be equally meticulous in your other ventures. Preparing and running the campaign took an enormous amount of time and energy, more than I could have imagined. It felt like a full-time job for a few months, and I treated it that way. I was also not afraid to ask for help and advice: I think that was key.
Q. What can we expect from you in the future?
A. I will continue to make dance in whatever way I can whenever I can. For ...it's time... fundraising was by far the biggest challenge. I hope I can find a manageable way to keep producing work with Freemove Dance. I also definitely want to create work for other companies. My desire to perform is still strong, I hope I continue to have opportunities to perform, even if it means creating those moments for myself.
Photograph: Mike Esperanza