Modern Family EP Danny Zuker Launches 2018 Rock The Vote Campaign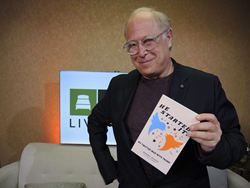 Modern Family Executive Producer, 5-time Emmy Winner, Comedy Writer and Celebrity Tweeter
Danny Zuker
announces the launch of a 2018 Rock The Vote Campaign. With only 3 weeks to go until the Midterm election on November 6, Zuker is cranking up the volume with coast-to-coast media interviews for his new book for charity. This campaign includes media interviews (The
Howard Stern
Wrap-Up Show), a
Charitybuzz
Campaign benefiting Planned Parenthood, speaking events and a special Book Talk and Signing event for his political humor book,
He Started It!: My Twitter War With Trump
(Sept 2018).
A father, husband and celebrity activist/tweeter, @DannyZuker is calling on everyone to vote in the 2018 Midterms "To Restore Sanity, Balance and Respect in the U.S." Zuker emphasizes; "You must vote your voice to be heard. While millions vent their opinions on social media, it won't matter unless you vote! We can't emphasize the importance of taking action by voting enough. This really is the most critical election of our time."
Zuker continues to weigh in on breaking news daily. His Celebrity Tweets have been recently quoted in Deadline, Huff Post, Breitbart News, VICE, The Blast and more, on topics such as the Kavanaugh nomination, the Presidential Alert, Taylor Swift urging people to vote and misunderstood jokes on Twitter.
Political Satirist and Book Editor Paul Slansky adds; "We're on the brink of the 21st century version of civil war, and there is no balance of power in Washington right now. So, vote on November 6th to save our democracy. It's literally the least you can do."
Modern Family EP Danny Zuker #RockTheVote Campaign includes:
Monday, 10/15/18 – The Howard Stern Wrap-Up Show – Live from NYC, Emmy Winner Danny Zuker urged people to get out and vote during a book interview on Howard Stern Wrap Up Show" onclick="linkClick(this.href)" rel="nofollow">The Howard Stern Wrap-Up Show with Hosts Jon Hein and Gary Dell'Abate this week.
Tuesday, 10/16/18 –Digital Hollywood Producers Panel and Book Signing (LA Skirball Cultural Center) – Zuker spoke on a Producers Panel at this digital entertainment trade conference in Los Angeles that covers the latest trends and impacts of film, television, music, home, video, cable, digital media and technology.
Wednesday, 10/17/18 (9am EST) – Wednesday, 10/31/18 (3:30pm EST) – Charitybuzz Campaign – Modern Family EP Danny Zuker is launching a Charitybuzz Campaign to benefit Planned Parenthood (also a charity supported by the book). This campaign is an auction for a "Modern Family" experience that includes a LA set tour for up to 4 people, autographed copy of a Modern Family script written by Zuker and signed by Cast Members, and 4 autographed copies of his new book, He Started It!: My Twitter War With Trump. Anyone can bid on this Charitybuzz Campaign.
Tuesday, 10/23/18 – Social Media Club LA #RockTheVote Book Talk and Signing (The Riveter, West LA) – Modern Family EP Danny Zuker and Political Satirist/ Book Editor Paul Slansky will be interviewed by What's Trending Co-Founder and Media Host Shira Lazar at this special Get Out The Vote event. Topics will include how to deal with Twitter Trolls, Midterm Anxiety, and the importance of voting (RSVP on Eventbrite).
And Zuker is all-in on this campaign that has nothing to do with making money. In fact, Zuker is donating 100% of Author Profits from his book, He Started It!: My Twitter War With Trump (Sept 2018) to 3 charities hurt by the Trump Administration: Planned Parenthood, World Wildlife Fund and RAICES (legal aid at the border).
BOOK
He Started It!: My Twitter War With Trump by Danny Zuker with Paul Slansky (Griffith Moon) is now available on Amazon, Barnes and Noble, Books-A-Million, and IndieBound. #HeStartedIt #Vote2018
https://www.amazon.com/He-Started-Twitter-War-Trump/dp/0999845284
DANNY ZUKER @DannyZuker is a five-time Emmy Award Winner, Comedy Writer/Producer, Podcast Host, TEDx Talk Speaker and AUTHOR of He Started It!: My Twitter War With Trump . Zuker is currently an Executive Producer/Writer for ABC's hit comedy TV show, Modern Family, where he's worked for the past nine years. Previously, Zuker worked on more than a dozen TV shows, including Evening Shade, Roseanne, Just Shoot Me, and, as Trump so cleverly tweeted at him, "so many flops." As a regular at The Hollywood Improv Comedy Club, Zuker is part of the Smash Story show team. Zuker started out as an intern on The Howard Stern Show. His work has appeared in many media, including CNN, The Hollywood Reporter, Entertainment Weekly, Deadline, Mashable, The Hill, IFC and more. Zuker delights his hundreds of thousands of Twitter followers daily by trolling the leader of the free world. http://hestartedit.com
PAUL SLANSKY @slansky is a Writer, Producer, Political Satirist, Author and the EDITOR of He Started It!: My Twitter War With Trump. Slansky is the author of the best seller The Clothes Have No Emperor: A Chronicle of the American '80s and five other books (including My Bad: The Apology Anthology and The George W. Bush Quiz Book) that savagely mock the idiots, hypocrites and demagogues who masquerade as our "leaders." On the big screen, Slansky is best-known as the Co-Writer of the feature film Picture Perfect, starring Jennifer Aniston. His magazine profiles, essays and humor pieces have appeared in dozens of publications, among them The New Yorker, The New York Times, Esquire, and Spy. Slansky's self-described missions are "Amassing a memory for Americans allergic to accountability and addicted to amnesia" and, through his website TrumpelThinSkin.com and his relentless tweeting, "Inducing apoplexy in Donald J. Trump."
Media Contact, Liz Kelly, 310-987-7207
Related Articles View More Books

Stories
More Hot Stories For You