Laugh-Out-Loud Memoir by Boulevard Books Celebrates Italian-American...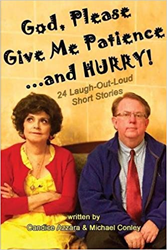 October 2018 Is Italian-American Heritage Month
Publisher Avi Gvili of Boulevard Books announces that the hit comedy book "God, Please Give Me Patience…and Hurry!" written by TV sketch comedy writer Michael Conley and Brooklyn born Sicilian-American actress Candice Azzara is a pivotal part of Italian-American Heritage Month designated during October 2018.
Azzara also dedicates the book to her Sicilian mother, Josephine Bravo Azzara and pays homage to her in Chapter 15 called "Italian Mothers" in "God, Please Give Me Patience…and Hurry!"
She celebrates her landmark 40th Anniversary from her Broadway career and humble beginnings in Brooklyn, New York to acting and living in Hollywood where she starred in the hit comedy movies: HOUSE CALLS with Walter Matthau and Art Carney, EASY MONEY with Rodney Dangerfield and Joe Pesci, and FATSO with Dom DeLuise and Anne Bancroft. Ironically, Pesci, DeLuise and Bancroft are all of Italian descent, too.
Azzara starred in the CBS sit-com "Calucci's Department" with yet another Italian actor and co-star, James Coco. She also has played memorable recurring roles in the hit Network sit-coms "Who's the Boss?" with Tony Danza, a fellow New Yorker and Italian, as well as roles on "Soap," "Rhoda" and "Caroline in the City." Azzara played Lea Thompson's nosy next-door Italian neighbor for several seasons. "In fact, one of the funniest scenes was when I was on the phone with my ex-husband, while I was teaching Lea how to make Italian sauce," she smiles.
EASY MONEY which celebrates its 35th Anniversary in 2018 (was shot in Manhattan and Staten Island) and has particularly poignant memories for Azzara. She affectionately recalls "Rodney loved Italians. Even though he was Jewish, he said his dentist and barber were Italians. I remember, Rodney even wore an Italian horn. Not only did Rodney insist that I be his wife in the movie, but he was one of the writers of "Easy Money" for his love of all things Italian."
Azzara starred in "Lovers and Other Strangers" on Broadway written by yet another of Azzara's NY comedy clan, Joe Bologna, the Italian half of the Academy Award-nominated writing comedy duo of Bologna and his wife, Renée Taylor. Bologna and Taylor also starred in the play.
Conley is a veteran of variety/comedy sketch writing and a tribute award show writer who cut his teeth at the tender age of 22 (in 1982) when he began his writing career with sketch comedy for TV legend Bob Hope. He is born and raised in LA, Jesuit educated, and a veteran Hollywood publicist; he also served as Vatican Press Advance for Pope John Paul II and His Papal Mass at the LA Coliseum. Conley muses, "I'm Irish, the closest I am to Italian is my Papal press pass."
Related Articles View More Books

Stories
More Hot Stories For You