Road Less Traveled Productions Begins 2023 With THE THIN PLACE
The Thin Place opens Thursday, February 23 and runs through Sunday March 26, at the Road Less Traveled Theater at 456 Main Street.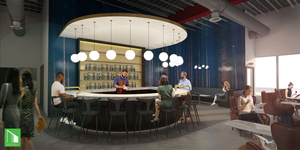 Road Less Traveled Productions (RLTP) begins 2023 with The Thin Place by Lucas Hnath. The Thin Place will open Thursday February 23 starring David Mitchell*, Kristen Tripp Kelley*, Margaret Massman and Renee Landrigan under the direction of RLTP Artistic Director Scott Behrend. The production team includes RLTP Ensemble members Hasheen DeBerry (assistant director), Sarah Foote* (stage management), Dyan Burlingame* (set design), John Rickus* (light design), Katie Menke* (sound design) and Diane Jones* (props master) alongside Brenna Prather (costume design). (*member of RLTP Ensemble)

The Thin Place Synopsis: Everyone who ever died is still here, just in a different part of here. Linda can communicate with them. And if you believe, she can make you hear them, too - in the thin place, the fragile boundary between our world and the other one. With acuity, relentless curiosity and a bit of magic, Lucas Hnath's play transforms the theater into an intimate séance, crafting an unnerving testament to the power of the mind, which has a mind of its own.

Most recently represented in NYC with the Broadway bound Dana H. at Off-Broadway's Vineyard Theatre, Hnath was Tony Award nominated for his play A Dolls House, Part 2 in 2017. He is also writer of The Christians (produced at RLTP 2018), A Public Reading of an Unproduced Screenplay about the Death of Walt Disney (produced at RLTP 2015), and Isaac's Eye. Awards include the Whiting Award, Guggenheim Fellowship, Kesselring Prize, Outer Critics Circle Award for Best New Play, Obie Award for Playwriting, Steinberg Playwright Award, and the Windham-Campbell Literary Prize.
WEDNESDAY MARCH 22 AT 7:00PM
RLTP OFF-BOOK Happy Hour Zoom Discussion Series featuring The Thin Place. To register for the free discussion series, please click here: https://bit.ly/off-book-the-thin-place

The Thin Place opens Thursday, February 23 and runs through Sunday March 26, at the Road Less Traveled Theater at 456 Main Street. Regular performance times are Thursday, Friday, and Saturday at 7:30PM and Sunday at 2:00PM. Tickets are $45 general admission plus $10 students (Mighty Taco Student Thursday) $25 students (Friday, Saturday, Sunday). Mighty Taco Student Thursday dates: March 2, 9, 16, 23 ($10 student tickets available for purchase at door only w/valid ID). Tickets can be ordered online at www.roadlesstraveledproductions.org, by calling the RLTP Box Office at (716) 629-3069, or by visiting the Box Office during the 30 minutes prior to any performance. Advance purchase is suggested.