Review: In QUINCE, Live Theatre Blooms at The People's Garden in Bushwick
The Return of Rituals and Shared Live Experiences, Safely
Live theatre safely performed in front of a flesh-and-blood audience in the time of COVID-19? I had to blink and double-check that what I read was accurate when I received an invitation to review Quince -- an immersive tale of a 14-year-old Mexican-American girl confronting her queer identity, dealing with complex family relationships, and questioning her faith on the eve of her Quinceañera. COVID-19 safety measures are built directly into the narrative experience and guests are given colorful lace and fringe-laden masks created by the show's costume designer, Scarlet Moreno. After not seeing or reviewing any in-person theatrical event since early March, this festive, gilded opportunity seemed almost too good to be true!
Created and conceived by artistic duo Ellpetha Tsivicos (director) and Camilo Quiroz-Vazquez (writer), Quince is co-produced by 15-year-old Brooklyn theater ensemble The TEAM, led by Artistic Director Rachel Chavkin, and will be showcased in four fully masked, sanitized, and socially-distanced performances at the People's Garden in Bushwick, Brooklyn on August 21 and 22, 2020. All shows are free with a reservation but are currently sold-out at capacity for the entire run, a success that will likely beckon a return engagement.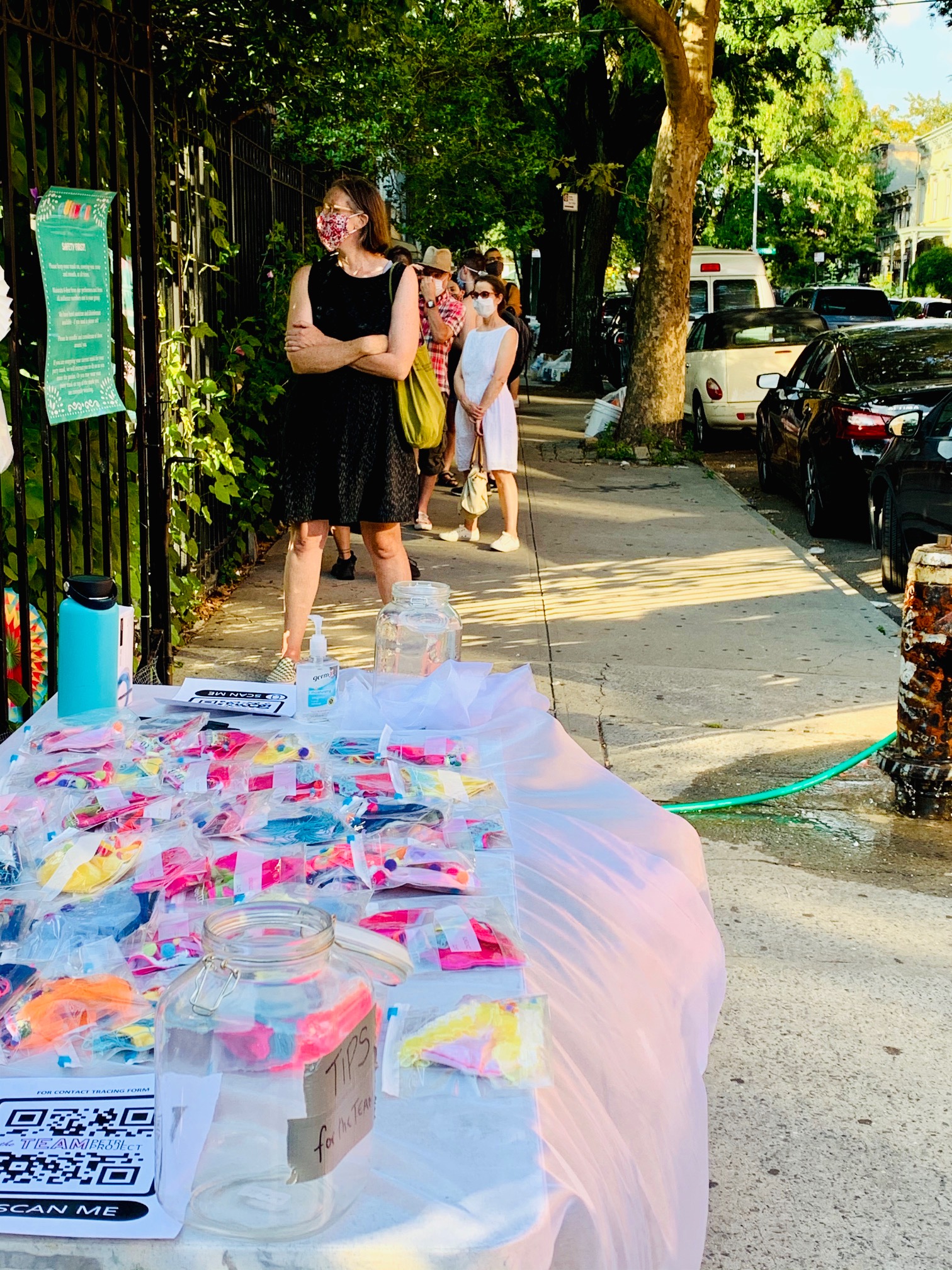 The carefully-distanced (except for those who came together) audience wrapped around both sides of Greene Street and Broadway, flanking the People's Garden. The little haven is a few minutes' walk from the Kosciuszko stop on the above-ground J train which hovered overhead ominously, an industrial presence of power adjacent to the tiny cityscape oasis. Waiting in anticipation while baking in the steamy summer evening, attendees were required to scan an app with contact tracing, in case an outbreak were to occur. However, staff and safety crew members were rigorously trained by an OSHA-certified Production Infection Control agent to oversee all safety protocols, enforce social distancing and mask-wearing, and thoroughly disinfect all surface and seating areas to ensure that wouldn't occur. Finally, after a lot of patience, guests were allowed to enter one by one and traverse the jungle-like overgrowth until they arrived at a seating area where chairs were arranged per reserved grouping. None of the forty-five or so people seemed bothered by all of the fuss. By this time everyone is used to it and grateful for both the opportunity and the care. The People's Garden may not be Madison Square Garden at capacity but seeing that such a gathering can be accomplished at all was hopeful and encouraging.
The grounds were saturated with hues of azure, saffron, magenta, and ruby that seemed to be plucked from a Freida Kahlo painting and were befitting of a Mexican-American girl's coming of age and coming out story. The scent of copal wafted in the air. Characters roamed about as a mariachi band made joyful noises. Cynthia (played by Chicana actor, writer, activist, and recent Ithaca College graduate, Sara Gutierrez) sat at a school desk scanning various books and pondering them wistfully as the audience settled in. The show itself was about the length of the process to get in to see Quince. It opened with a greeting and statement from director Ellpetha Tsivicos, perched atop the garden shed and art gallery in a glittering sapphire gown like a beautiful bluebird. Her disclaimers were well received and much needed to fully enjoy the experience within the limitations. Being both in nature and the middle of a busy Brooklyn neighborhood, distractions were bound to happen and she requested that every time the J train made its appearance, to raise a raucous cheer. Advisories accomplished, it was showtime.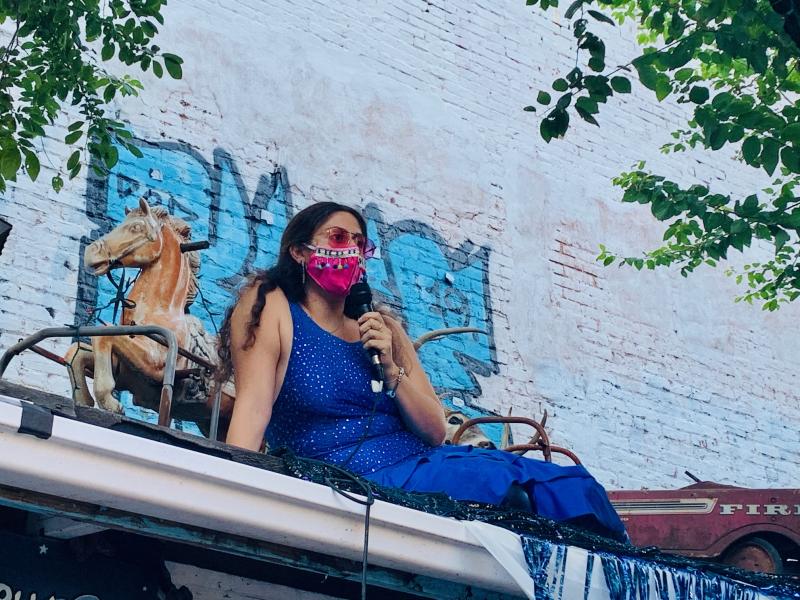 Quince delivers exactly what it promised -- the story of a queer Latina teenager struggling with her identity, religion, and family concerns as her Quinceañera, a celebration of transition to womanhood rooted in Mesoamerican cultures but strongest in Mexican households, looms. Though it took place in a garden, as a theatrical work it does not dig much deeper than the surface with more bullet-pointed plot lines and archetypal characters. That's not necessarily a bad thing. It fit the setting and context. Quince possessed a sense of magical realism which incorporated paper mache masks, playful props, and costuming by Moreno that evoked a Disney fairytale ending when Cynthia and her girlfriend Katie (Livvie Goble, a jubilant blonde) finally danced together. It was a scene akin to the Broadway musical, The Prom. Cynthia was decked-out in a seafoam-green gown and Katie donned a sort of 1970s blue jumpsuit with a plunging neckline resplendent with frills that were reminiscent of Belle and the Beast's famous waltz. When they shared a kiss (a nod to The Prom's iconic smooch that made national television), the girls unveiled oversized plush lips and pressed them together passionately. Like a red ribbon for blood, could this be the new way of keeping intimate scenes safe? It certainly elicited cheers and smiles from the viewers!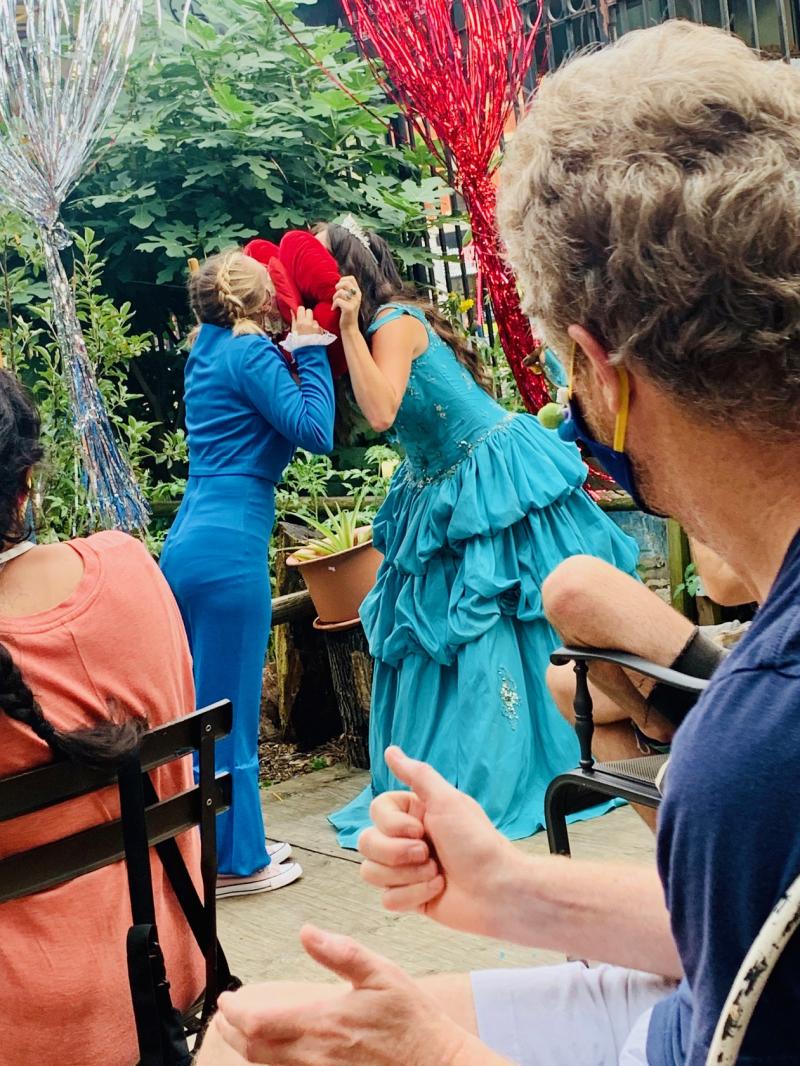 Quetziquetl Angulo-Alemán (who played Mexica/Aztec Dancer), was a standout performer. As Captain/Head of Mexica Aztec Dance Huehuetlatolli -- whose mission is to preserve the Indigenous way of life and the ancient traditions of Mexico, with a focus to link dance to leadership development as well as to a holistic approach to health and healing through traditional practice -- she brought a sense of groundedness and authenticity. Angulo-Alemán also had some of the best lines and funniest quips as she offered Cynthia crucial insight on her heritage and personal path. There were some legitimate technical problems during the performance which muddled the text in key scenes. But the team did their best to overcome them in real-time, make light of it, then adapt the show regardless of any unfortunate, unforeseen issues. I even received an offer from the press team to see the show again since a "blown generator affected the microphones for an otherwise beautiful piece," they explained. I could not attend the Saturday performance but was moved by the invitation -- they cared that much about the show and wanted the optimal experience to be granted. So while Quince may not have been ground-breaking or earth-shattering, it was quirky, charming, celebratory, and delightful, filled with sincerity and warmth.
The grassroots style and non-pretentious 'let's put on a show!' vibe was welcoming, refreshing, and well-suited to the surroundings. Outdoor performance has a particular magic to it. Actors have to work with the elements, not against them and as much as interference and distractions can happen, so can powerful moments that could never have occurred in a more controlled setting. Though seated reservations were capped at a maximum of forty-five attendees, the iron fence of the garden had gaps wide enough for onlookers passing by to observe the event. While most only paused for a moment to see what the commotion was, a few stayed for the long haul. One who struck me, in particular, was a middle-aged Hispanic man with grey hair and a red Phillies tee shirt. From the looks of it, he may have seen his share of Quinceañeras himself, or certainly similar joyful family festivities. He gripped the steel bars intensely and was rapt with attention, not moving the entire time since he happened upon the immersive theatrical experience. This man was certainly the most engaged audience member and his reverence added a sacred aura around the production. That gave me pause because he was not one of the few selected RSVPs fortunate enough to make the cut, most of whom (with a few exceptions) were more typical Brooklyn hipster, artsy types. The man who stopped, stood, and focused more intently than anyone was merely strolling the streets of Bushwick when something caught his eye and then hooked him in. This is a reminder of what theatre is and ought to be -- by and for the people, not the privileged few -- something we may have lost sight of in the times of big-budget spectacles.
Rituals and rites of passage mark critical turning points have been a part of humanity's history and culture for eons. I've been to one wedding and one funeral since COVID-19 hit NYC. Both were stumbling and awkward at times, still trying to navigate the rules and honor precautions during such potent life events where intimacy and closeness is so desired. Still, each contained moments that were touching and transcendent not despite but because of that struggle. Coming together to celebrate a life lived and lost; a lifelong commitment solidified, or a girl's rite of passage into becoming a woman under her terms are events that require a sense of community that cannot be achieved through a screen. It's the rituals we share that are part of our global culture as human beings. Taking part in Cynthia's Quinceañera with a bunch of masked strangers in a garden bursting with vibrant colors and life, the cacophony of the city acting as a soundscape, and neighborhood folks passing by and sometimes stopping to observe the activity reminded me viscerally of the irreplaceable importance of the shared experience of live theatre, and the indomitable spirit of New York artists and audiences.