Mwalim Takes Us To A PARTY AT THE CROSSROADS On Cape Cod Next Month
Performances are April 7-23.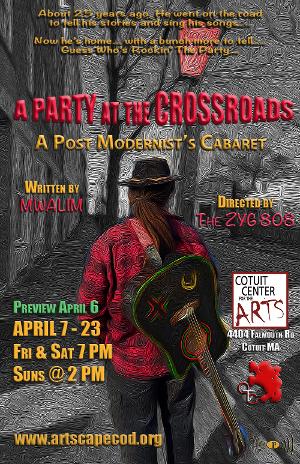 "A PARTY at the CROSSROADS: A Post-Modernist's Cabaret" is a work of adult-oriented storytelling theater with original soul, blues and jazz music; written and performed by Mwalim (with a little help from his friends) directed by The ZYG 808. The show will be running at the Cotuit Center for the Arts Black Box theater, April 7 - 23.
Ever been stranded in Paris and your French sucks? Ever been to a bachelor party? Ever meet one of your idols as you're getting off stage? Ever get bookings for your band that only knew five tunes? Drawing from Wampanoag, Afro-Caribbean, and African American heritage influences, "A Party at the Crossroads" is a journey of often hilarious and occasionally hair-raising tales and adventures of a veteran performing artist; interspersed with amazing soul, jazz and blues music, as one would expect at a Post-Modernist's (as opposed to Postmodernist, because the author loves puns), cabaret.
A multi-award-winning playwright and performance artist, it was in 1998 when Mwalim first presented "A Party..." as a performance work at the Prodigal Son Cafe in Hyannis, soon taking the storytelling and music show on the road, hitting spoken-word and open mics from Maine to North Carolina; leading to "A Party..." being performed at venues throughout the USA, Canada, and the Caribbean; experiencing evolutionary revisions as time and experiences of the author changed. Some of the tales from earlier versions of the show found their way into Mwalim's short story collection, A MIXED MEDICINE BAG and his novel, LAND of the BLACK SQUIRRELS; and music that would go on to receive multiple Grammy nominations and considerations on The GroovaLottos 2017 album, ASK YO MAMA. His play "Listen To Sipu" premiered in 2021 as a sold-out production at the New Repertory Theatre in Watertown, MA.
"A Party..." marks the theatrical directorial debut of musician/ composer and podcast host, The ZYG 808. Having grown up exposed to and involved in the theatrical productions of New African Company and Oversoul Theatre Collective, ZYG learned from watching masters such as Naheem Garcia, Vincent Siders, and John Adekoje bring scripts to life. "A Party at the Crossroads" is being produced through a special collaboration with Oversoul Theatre Collective, Inc., a 28 year-old professional arts and education organization, with a focus in developing and presenting works of outstanding quality, primarily by and about Black and Native American people.
"A Party at the Crossroads" will be at the Cotuit Center for the Arts Black Box Theater, April 7-23, with doors opening for the Friday and Saturday Shows at 7pm and on Sundays at 2pm. For tickets and information visit, https://cloud.broadwayworld.com/rec/ticketclick.cfm?fromlink=2230196®id=10&articlelink=http%3A%2F%2Fartsonthecape.org?utm_source=BWW2022&utm_medium=referral&utm_campaign=article&utm_content=bottombuybutton1