Review: STRAIGHT WHITE MEN: Boys Will Be Boys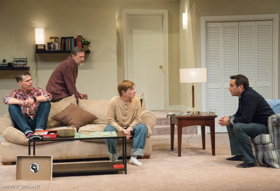 Straight White Men
Written by Young Jean Lee, Directed by Elaine Vaan Hogue; Scenic Designer, Afsoon Pajoufar; Costume Designer, Chelsea Kerl; Lighting Designer, Aja Jackson; Sound Designer, Lee Schuna; Stage Manager, Becca Freifeld; Movement, Yo-EL Cassell
CAST (in alphabetical order): Dev Blair, Shelley Bolman, Ken Cheeseman, Michael Kaye, Dennis Trainor, Jr.
Performances through September 30 at New Repertory Theatre, Mosesian Center for the Arts, 321 Arsenal Street, Watertown, MA; Box Office 617-923-8487 or www.newrep.org
Playwright Young Jean Lee has quite the resumé, with numerous plays produced in New York and around the world, multiple awards for her writing, and she has been the recipient of funding from many prestigious foundations. Most recently, she became the first Asian-American female playwright to have a play produced on Broadway when Straight White Men began performances on June 30, 2018, by Second Stage Theater at The Helen Hayes Theater. New Repertory Theatre presents the New England premiere of Lee's play which explores the experience of the title cohort in a manner usually reserved for studying the "other," or any group of outsiders.
In a world where one most often reads a book or watches a play or a movie whose female characters are written by a man, one of the things that stands out about Straight White Men is that a woman is the creator of the four male characters. Known for conducting extensive research for her projects, Lee clearly did her homework to discover what goes on in a room devoid of women and overflowing with testosterone. Ed (Ken Cheeseman) and his three adult sons Matt (Shelley Bolman), Jake (Dennis Trainor, Jr.), and Drew (Michael Kaye) are gathered for Christmas at Ed's home, where the absence of his late wife hovers in the room like the fading scent of air freshener.
Lee's mission is the exploration of privilege, identity, and American values in a white, middle-class family. Drew is a prize-winning fiction author, Jake is a successful banker, but Matt, the eldest brother, resides at home to help his widower dad while working a menial temp job. With an Ivy League education and aspirations to make a difference in the world, Matt's present situation is anathema to his brothers, who spend the better part of their holiday reunion browbeating and interrogating him to set him straight. In addition to being the brother most likely to succeed, Matt was seen as the standard bearer who would carry out the calling of their mother, a social justice advocate who taught them to appreciate their good fortune and use their advantages to help others. Drew and Jake just can't accept that their big brother has thrown it all away, or given up, from their perspective, but Matt, although somewhat adrift, is undaunted.
The action is set in the basement rec room of Ed's house which allows the boys to be boys. Drew and Jake, especially, cavort like children, roughhousing, grossing each other out, and replaying many of their juvenile pranks and escapades. Kaye and Trainor are a perfectly-matched pair, authentically conveying a mix of sibling love and rivalry, and both show genuine concern and care for Matt, albeit in different ways in keeping with their characters' personalities. Cheeseman, a fine actor who has graced the New Rep and other local stages in a wide range of roles, is the "Father Knows Best" kind of genial dad here, but imparts a degree of gravitas to the proceedings. He is the grownup in the room, but he radiates warmth and affection for his sons and rarely pulls rank on them.
Matt is the unknown quantity in this family constellation, and Bolman does a good job of walking the line between the easygoing good son, who seems in no particular hurry to figure things out, and the troubled guy who may be a disappointment to his family and himself. While Matt busies himself with housekeeping duties, food preparation, and the occasional bit of play with his brothers, Bolman's expression betrays some inner turmoil that Matt steadfastly denies. But therein lies my major problem with Lee's story. Little hints and bigger hints are dropped or thrown like grenades as the play progresses, laying the ground work for some big reveal about Matt's problem to occur, only there is no reveal.
There is one other character who appears at the start of the show, to make some introductory remarks and give the curtain speech. Dev Blair is an engaging presence as Person in Charge, and appears at each scene break to direct the stagehands in resetting the props, as well as to position the actors for the next scene. At the end of the play, Blair makes another brief appearance, which may or may not provide some insight into Matt's existential angst. I made a judgment from the encounter, but you'll have to draw your own conclusions. If I'm right, the ending sneaks up out of nowhere. If I'm wrong, then Straight White Men is representative of the "Seinfeld" era, i.e., a play about nothing.
Photo credit: Andy Brilliant/Brilliant Pictures (Michael Kaye, Ken Cheeseman, Shelley Bolman, Dennis Trainor, Jr.)
| | |
| --- | --- |
| Vote Now for the 2022 BroadwayWorld Boston Awards | |
| voting ends in | |