BWW Review: SPAMILTON: AN AMERICAN PARODY National Tour Extends at Huntington Theatre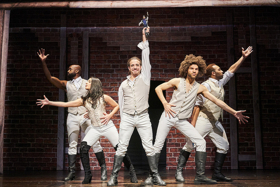 Spamilton: An American Parody
Created, Written, and Directed by Gerard Alessandrini, Choreography by Gerry McIntyre; Musical Director, Curtis Reynolds; Musical Arrangements, Fred Barton, Richard Danley; Music Supervision, Fred Barton; Set Design, Morgan Large; Costume Design, Dustin Cross; Lighting Design, Michael Gilliam; Production Manager, Nathaniel Vilandre
CAST: Chuckie Benson, Ani Djirdjirian, Marissa Hecker, Brandon Kinley, Adrian Lopez, Dominic Pecikonis, Datus Puryear
Performances extended through April 7 at Huntington Theatre Company at Calderwood Pavilion at the Boston Center for the Arts, 527 Tremont Street, Boston, MA; Box Office 617-266-0800 or www.huntingtontheatre.org
Needham native Gerard Alessandrini has been practicing the craft of parody professionally for nearly four decades, ever since Forbidden Broadway debuted in New York in 1982. Numerous iterations later, he has pointed his pen at perhaps the biggest target on Broadway, the award-winning juggernaut, Hamilton, and its creative genius, Lin-Manuel Miranda. Following its 2016 premiere and successful run at the Triad Theater in New York, Huntington Theatre Company presents the extended Boston engagement of the national tour of Spamilton: An American Parody on its Wimberly Stage in the Calderwood Pavilion at the Boston Center for the Arts.
Hidden in plain sight inside the expected lampooning is a love letter to Miranda, the game-changer of musical theater. The slender through-story of Spamilton is how Alessandrini imagines that Miranda took it upon himself to save Broadway from all of the jukebox musicals and shows adapted from less than artistic films, staging a revolution, as it were. This is the subject matter of his parody version of "My Shot," with the lyric, "I am not gonna let Broadway rot!" In addition to a litany of songs from Hamilton, there is a smattering of other shows included, among them In The Heights, Gypsy, Chicago, The King and I, Assassins, Camelot, The Book of Mormon, and Sweeney Todd. There are cameo appearances by Stephen Sondheim, Bernadette Peters, Liza Minnelli, and Barbra Streisand, all played by the versatile cast doubling as characters in Hamilton.
Adrian Lopez is featured as Miranda and, at times, even sounds like him. Datus Puryear plays Leslie Odom Jr. playing Aaron Burr and carries the rivalry between the two historical figures over to a rivalry between the actors. Donning a wild, frizzy wig, Dominic Pecikonis resembles Daveed Diggs, and Brandon Kinley, in a crown and red velvet robe, captures the right tone to represent King George III. Chuckie Benson and Ani Djirdjirian display boatloads of versatility covering a variety of roles (Ani plays all of the Leading Ladies). Downstage right, Musical Director Curtis Reynolds sits at the piano and plays with brio.
Spamilton: An American Parody has a clever conceit with the promise of smart satire resulting in hilarity. I can report that some of the audience laughed long and loud at many things that I never heard, and I'm not talking about insufficient volume (the actors wear head mics). However, Alessandrini's raps have so many words crammed into so little space at warp speed that clarity is in short supply. There is a handful of songs that are more tuneful, or typical of musical theater, which offer greater likelihood of being understood. In searching for reasons why the lyrics were so difficult to pick up, it's possible that my seat location (on the piano side of the audience) had something to do with it, but that doesn't excuse it.
Created, written, and directed by Alessandrini, Spamilton is choreographed by Gerry McIntyre, features a simple set design by Morgan Large, lighting design by Michael Gilliam, and costumes by Dustin Cross that are evocative of those worn in Hamilton. The music, dancing, and performances by the ensemble are topnotch, but my experience can best be summed up by the title of the song Thomas Jefferson sings when he returns from France, "What'd I Miss?"
Photo credit: Roger Mastroianni (Datus Puryear, Ani Djirdjirian, Adrian Lopez, Dominic Pecikonis, Chuckie Benson)