BWW Review: Reagle Music Theatre's ANYTHING GOES: Seaworthy and 'See-worthy'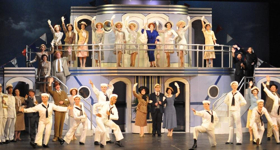 Anything Goes
Music and Lyrics by Cole Porter, Original Book by P.G. Wodehouse and Guy Bolton, Howard Lindsay and Russel Crouse, New Book by Timothy Crouse and John Weidman; Producing Artistic Director, Robert J. Eagle; Directed and Choreographed by Eileen Grace; Music Director, Dan Rodriguez; Scenic Design, Scenographics; Costumes, Costume World Theatrical; Lighting Design, David Wilson; Assistant Director, Paul Reynolds; Wardrobe Supervisor, Amelia Fitch; Production Stage Manager, Elizabeth Yvette Ramirez; Production Manager, Lori E. Baruch
CAST: Leigh Barrett, Jared Troilo, Libby Rosenfield, J.T. Turner, Mark Linehan, Ansley Speares, Karen Fanale, Rick Sherburne, Rich Allegretto, Shannon Cheong, Paul Sanford, Tom Sawyer, Anelise Allen, Bernie Baldassaro, Mei Lu Barnum, Jessica Bodner, Louis Brogna, Emma Clinch, Ian Costello, Ashawn Dabney, Elizabeth D'Aiuto, Noura Deane, Taavon Gamble, Kasia Gneiser, Audra Hebard, Michael Brent Hicks, Chris Adam King, Paul Marchesiani, Conor Meehan, Heather Morgan, Michael Morley, Tracey O'Farrell, Evan Pouch, Antonino Ruggeri, Harley Seger, Brian Soutner, Julia Springer, Suzi Weisberg, Rachel Wirtz
Performances through July 15 by Reagle Music Theatre of Greater Boston at Robinson Theatre, 617 Lexington Street, Waltham, MA; Box Office 781-891-5600 or www.reaglemusictheatre.com
If you ever get nostalgic for the golden age of musicals, the Reagle Music Theatre of Greater Boston has the ticket for you. Continuing its 50th Anniversary Summer Season at Robinson Theatre in Waltham, the multiple Tony Award-winning Anything Goes sails in on the S.S. American, boasting an energetic cast of nearly 40 performers and a 16-piece orchestra that gives the incomparable Cole Porter score its due. Recently anointed recipient of the Elliot Norton Award for Sustained Excellence (2018), Leigh Barrett headlines as nightclub singer Reno Sweeney, wrapping up a banner year for her on Boston stages. Multiple IRNE Award-winner Eileen Grace returns to RMT to direct and choreograph, alongside resident music director/conductor and four-time IRNE-winner Dan Rodriguez.
Anything Goes debuted in 1934 and ran for 420 performances. It has had numerous iterations and revivals, each of them tweaking the story and adding or deleting songs. The Reagle production appears to follow the template of the 1987 Lincoln Center Theater version which starred Patti LuPone as Reno. If the boy-meets-girl story is a little dated and quaint, its innocence and cultured society offer sweet relief, and what the book lacks in fireworks is more than made up for by the explosive sounds of those dancing feet. More than a dozen members of the cast are current or former students of The Boston Conservatory and Emerson College, the not-so-minor leagues of the Boston theater community, and their triple-threat talents are on display, front and center. Thanks to their terpsichorean brio, the rousing Act One finale of "Anything Goes" is worth the price of admission.
Although she is designated as the star, Barrett does not have to do all the heavy lifting alone, sharing the spotlight with a quartet of principals who are the cornerstones of the show's success. J.T. Turner (Moonface Martin) is a hoot as Reno's buddy, the small-time gangster disguising himself as a man of the cloth and carrying his machine gun in a violin case. From the moment he makes his entrance, Turner inhabits the cartoonish character and proves himself to be a master cartoonist. Mark Linehan (Lord Evelyn Oakleigh) does another of his many brilliant turns as the fool, but plays it straight from the heart to get us laughing with him, rather than at him. The star-crossed duo at the center of the story are portrayed by a pair of newcomers to RMT. Jared Troilo lends his matinee idol good looks and mellow tenor voice to the ardent Billy Crocker, who is trying to move up in class by pursuing debutante Hope Harcourt, played as a combination good girl/rebel by Libby Rosenfield. On her own, her silky soprano soars plaintively ("Goodbye, Little Dream, Goodbye"), and she blends harmonically with Troilo when they duet ("It's De-lovely," "All Through the Night").
Barrett's Reno is very relatable, more kind than gritty, and wears her heart on her sleeve. She has good chemistry with both Troilo and Linehan, but steps it up a notch with Turner when Reno and Moonface wax lyrical about their "Friendship." She masterfully sings the Porter tunes, and vocally kicks it into overdrive in "Blow, Gabriel, Blow," her big production number. Grace's choreography and staging accommodate the range of dance talent available to her, showcasing the sailors and passengers played by the ensemble members (special shout out to Taavon Gamble and Audra Hebard for their ballet sequence in "All Through the Night"), while strategically moving Barrett in and out of the routines. Troilo and Rosenfield trip the light fantastic together in a couple of their songs, and Linehan has fun with "The Gypsy in Me."
Picking up where she left off with her notable performance in Reagle's A Chorus Line last month, Ansley Speares (Erma) does a good job of evoking the gun moll traveling with Moonface. Karen Fanale (Mrs. Evangeline Harcourt), Rick Sherburne (Elisha Whitney), Rich Allegretto (Captain), and Tom Sawyer (Ship's Purser) all shine in important supporting roles. The colorful characters and their antics on the S.S. American make for a fun-filled voyage, but it's Porter's score, the singing, and the dancing that launch Anything Goes on its transatlantic journey. Only four chances remain for you to stow away!
Photo credit: Herb Philpott (The cast of Anything Goes embarks on their journey)