BWW Review: Manual Cinema's THE END OF TV: Silhouettes on the Shade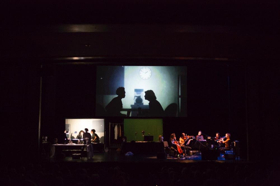 The End of TV
Manual Cinema
Screenplay, Music and Lyrics, Kyle Vegter and Ben Kauffman; Direction and Storyboards, Julia VanArsdale Miller; Adapted for the Screen by Lizi Breit, Drew Dir, Sarah Fornace, Julia VanArsdale Miller, Ben Kauffman, Kyle Vegter; Sound Design, Kyle Vegter; Puppet Designer, Lizi Breit; Costumes, Mieka van der Ploeg; Lighting Design, Claire Chrzan; Masks, Julia VanArsdale Miller; Stage Manager, Shelby Glasgow
CAST: Kara Davidson (Flo, Puppeteer), Sharaina L. Turnage (Louise, Puppeteer), Vanessa S. Valliere (Female Ensemble, Puppeteer), Jeffrey Paschal (Male Ensemble, Puppeteer), Maren Celest (Sound Effects, Vocals), Nora Barton (Cello, Vocals), Marques Toliver (Violin, Vocals), Kamaria Woods (Guitar, Keyboard, Vocals), Ryan Zerna (Flute)
Performances through January 27 by Manual Cinema at ArtsEmerson: The World On Stage at the Emerson Paramount Center, Robert J. Orchard Stage, 559 Washington Street, Boston, MA; Box Office 617-824-8400 or www.artsemerson.org
Around this time last year, Chicago-based theatre troupe Manual Cinema made its debut appearance at ArtsEmerson: The World On Stage with a five-day run of Ada/Ava. Having been a big hit, they have returned for a second visit, presenting The End of TV for a two-week run at the Emerson Paramount Center. If you can't decide whether to watch television, see a movie, or go to a live performance, Manual Cinema has got you covered with their multimedia style of entertaining storytelling. In addition to live-action silhouettes, overhead projection, video, puppetry, and humans, it is all backed up by a five-piece band playing and singing an original score.
Set in a Rust Belt city in the 1990s, The End of TV shows the stories of two women whose lives would be unlikely to intersect, yet who come together in a plausible way. Flo (Kara Davidson) is an elderly white woman living alone, subsisting on a steady diet of QVC on television as her only companion. A retired supervisor at the local auto plant, Flo has dementia and confuses her memories with the tv commercials running nonstop in her living room. One day when her doorbell rings, instead of it being a package from QVC, Louise (Sharaina L. Turnage) brings her a delivery from Meals-on-Wheels. The young black woman, recently laid off from her job at the now-shuttered auto plant, connects with the old woman, perhaps seeing her as a surrogate for her own elderly father from whom she is estranged.
In their screenplay, Kyle Vegter and Ben Kauffman tackle the subjects of loneliness and isolation, showing two different experiences from the perspectives of old and young. Whereas Flo's resignation to her situation is bolstered by the friendly faces and voices of the television announcers and the security blanket of dozens and dozens of boxes crowding her house, Louise's solution is to take action, finding new employment and reaching out to others who are alone. Vegter and Kauffman also wrote the music and lyrics that beautifully underscore the action, especially with heartfelt vocals by Maren Celest, Nora Barton, Marques Toliver, and Kamaria Woods, and instrumental contributions by Ryan Zerna (flute), Barton (cello), Toliver (violin), and Woods (guitar, keyboard).
At a Manual Cinema show, the audience is in for a treat, but must divide their attention between watching an image cast by the overhead projector on a large screen, and the scurrying about of cast and crew who are making it happen. In addition to Davidson and Turnage, Vanessa S. Valliere plays other female characters and Jeffrey Paschal plays a series of male characters. All four cast members double as puppeteers, rarely having a moment when they are not manipulating something for the screen, or appearing in front of the video cam for a QVC broadcast, another commercial, or even a snippet of a television show.
Julia VanArsdale Miller directs the production and keeps everything moving along like a well-oiled machine. She is also credited with storyboards, masks, and co-adaptation for the screen (with Lizi Breit, Drew Dir, Sarah Fornace, Kauffman, and Vegter). Mieka van der Ploeg's easy on/easy off costumes allow for quick changes. Claire Chrzan is the lighting designer who helps the audience shift focus countless times. Vegter also wears the hat of sound designer, responsible for producing the constant white noise that informs the world of the play. The cast and crew work together as a seamless ensemble to craft a creative, immersive experience for the audience. A marriage of film and live performance, there's nothing else quite like it.
Photo credit: Judy Sirota Rosenthal (A scene from The End of TV)