BWW Review: Gold Dust Orphans Ask the Musical Question: WHATEVER HAPPENED TO BABY JESUS?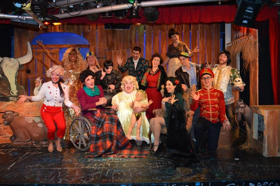 Whatever Happened to Baby Jesus?
Written by Ryan Landry, Directed by Larry Coen, Music Direction by Tim Lawton, Choreography by Matt Kyle, Meghan Edge, Qya Cristál; Lighting Design, Michael Clark Wonson; Costume Design, Scott Martino; Sound Design, Ryan Landry; Scenic Design, Matthew Lazure with assistance by Cara Guappone; Video, Ari Herzig; Wigs, William York; Spot Operation, Anzel Miller; Board Operation, William York; Production Assistance, Tori Dowd and Michael Poulin
CAST: Ryan Landry, Larry Coen, Penny Champayne, Vanessa Calantropo, Qyá Cristal, Meghan Edge, Jack Ferdman, Sam Thornill Geoghegan, Matt Kyle, Sarah Jones, Taryn Lane, Tim Lawton, Kiki Samko, Michael Underhill, William York
Performances through December 23 by The Gold Dust Orphans at The Ramrod Center for the Performing Arts, Downstairs at Machine Night Club, 1254 Boylston Street, Boston, MA
Tickets: https://whateverbabyjesus.brownpapertickets.com
In a world spinning hopelessly out of control, it's nice to know that there's someone you can always count on to stay true to his course, uphold his principles, and never take one cent from the government (because they never offer it). As sure as Christmas rolls around every December 25th, Ryan Landry and the Gold Dust Orphans return to the stage at the Ramrod Center for the Performing Arts at Machine Night Club with a Christmas-themed musical mystery, Whatever Happened to Baby Jesus? Undaunted by offending the religious right, unintimidated by ridiculing gay icons of the cinema, and unabashed by stretching the boundaries of good taste, Landry does what he does and cranks out another in a long string of inventive mash-ups for a holiday show unlike any other in town.
Longtime Orphan collaborator Larry Coen divides his time between wearing the director's hat and Baby Jane Hudson's banana curls, while Landry performs in a wheelchair as her sister Blanche. Neither of the actors imitate Bette Davis or Joan Crawford, per se, but their characterizations do evoke the relationship between the feuding actresses, while William York makes a cameo appearance in Davis' trademark pageboy and oversized eyeglasses to give elocution lessons to Jane, reciting some of her best-remembered lines in that familiar clipped speech. Another celebrity sighting in the cast is the gorgeously cool Beyoncé (Qya Cristál), and the theater troupe from "Summer Stock" brings in a major story thread as an excuse for singing, dancing, and personal drama.
There's never a shortage of references to films and musical theater in a Landry show (this one also borrows heavily from Crawford's axe-murderer-themed "Strait Jacket"), but Baby Jesus goes slightly beyond the tipping point, from mash-up to mishmash. That being said, even though my own ignorance of some of the source material left me confused, the action moves quickly from one gag to the next, with a film clip or song interspersed to advance the story, and it all becomes clear in the surprise ending. It wouldn't hurt to read a quick synopsis of the aforementioned movies (as well as "The Preacher's Wife" and "Whatever Happened to Baby Jane"), or add to your fun by seeing how many of the featured songs you can connect to their origins. For starters, wait for "Hello, Dolly," "Some People," and "Get Happy," as well as many Christmas tunes, all with new lyrics as only Landry could imagine.
Speaking of songs, as clever as the book scenes are, I always look forward to the musical numbers as the Orphans keep upping their game with talented players. They have a choir of incredible singers - old reliables like Tim Lawton (Music Director) and Cristál - and newer members like Vanessa Calantropo (Abigail) (following her impressive debut as one of the Sirens in Greece), sweet-throated Taryn Lane (Mary), and new hunk on the block, Michael Underhill (Joe). Choreography by Matt Kyle, Meghan Edge and Cristál is well performed and reinforced with the terpsichorean talents of Jack Ferdman, Sam Thornhill Geoghegan, and Kiki Samko. All of the dancers play additional roles, with Geoghegan's Orville Smirch especially revealing, and Samko's Dr. Bubbles Goldberg worthy of placement in the Weird Psychiatrist's Hall of Fame.
Strong characters are created by Sarah Jones (Marge) and Penny Champayne (Bea Smirch), who share the scenery-chewing with Landry and Coen. Champayne's alter ego Scott Martino's costume designs are divine, as always, dressing himself in a gorgeous wine-colored outfit, and making a Baby Jane dress for Coen that perfectly emulates the namesake doll's clothing. The costumes for the chorines range from Christmas-y to glitzy and enhance the production numbers. Matthew Lazure's sets (with assistance by Cara Guappone) focus on the mainstage barn locale, but include the effective use of both sides of the hall and a couple of miniature pieces. Michael Clark Wonson's lighting design meets the many challenges of book and music scenes (artfully employing the ever-present disco ball), Landry's sound design ensures sufficient amplification for all the singers, and video design by Ari Herzig adds an appropriate cinematic quality to the show.
Whatever Happened to Baby Jesus? is about as far away as one can get from a traditional holiday show, yet it incorporates themes that are relevant for this time of the year. The setting is a barn on Mary's farm where Joe and his traveling theater family are given shelter. Returning to their roots, the Hudson sisters are reunited and trying to bury the hatchet, as it were. In a nod to a disturbing modern-day occurrence, someone steals the Baby Jesus from the creche downtown. The theater troupe stages their Christmas show, A Stranger in the Manger, a star is born, and everything ends happily ever after. God bless the Gold Dust Orphans, every one!
Photo credit: Michael von Redlich (Ensemble of Whatever Happened to Baby Jesus?)