BWW Review: Gloucester Stage Signs Off 39th Season With World Premiere MY STATION IN LIFE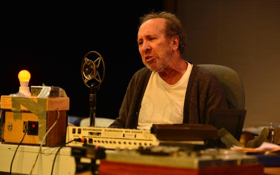 My Station In Life
Written by Ken Riaf, Directed by Robert Walsh; Scenic Design, Afsoon Pajoufar; Lighting Design, PJ Strachman; Costume Design, Lara Jardullo; Sound Design, David Reiffel; Stage Manager, Julia Fioravanti; Assistant Stage Manager, Claire Morse; Video Footage, Ferrini Productions
CAST (in alphabetical order): Ken Baltin, Meagan Gallo, James Tarantino, Veronica Anastasio Wiseman
Performances extended through October 28 at Gloucester Stage Company, 267 E. Main Street, Gloucester, MA; Box Office 978-281-4433 or www.gloucesterstage.com
Simon Geller and WVCA-FM, his one-man classical music radio station, were part of the local color of Gloucester, Massachusetts, for 24 years. From 1964 until he retired in 1988, Geller lived, breathed, ate, and slept to single-handedly produce commercial-free broadcasts from his in-home studio, doing it his way with meager financial support from his listeners. Playwright Ken Riaf, who lives and works in Gloucester as a practicing attorney, has been developing My Station In Life with the Gloucester Stage Company since last season's NeverDark reading. Ken Baltin returns to GSC for the first time since appearing in Neil Simon's Last of the Red Hot Lovers (2009) to bring his interpretation to this most interesting character.
Artistic Director Robert Walsh directs the world premiere play, giving it an aura of its locale and putting the focus squarely on the curmudgeon at the center of the story. We know from the start that Geller is deserving of being called that "c-word" when he shouts at some youngsters who pound on his door and run away. His existence is mostly a solitary one, although he is visited by a fisherman, the mailman (both played by James Tarantino), and a neighborly woman (Veronica Anastasio Wiseman) and teenage girl (Meagan Gallo in her professional theater debut) who stop by periodically to bring him soup. Otherwise, Geller's contact with the outside world is overwhelmingly on the telephone, which seems to ring incessantly.
Cooped up in his two-room cluttered apartment/studio, Baltin portrays Geller as someone who walks a line between feeling trapped and feeling free. He answers to no one, not even the multiple callers, many of whom seem to chide him, and deals with the FCC licensing business as an annoyance. He upbraids his listeners for not sending him enough money to keep the station going and feed himself. It is a vicious cycle, and Baltin gives the appearance of becoming more worn down as the show goes on. The bright spot is always the music, which apparently does have charms to soothe the (his) savage breast.
Riaf puts a deserved spotlight on Geller and his achievement, but My Station In Life doesn't have much to say beyond the character study of a little Guy Standing up for his independence. There are repeated scenes of Geller putting on a record, Geller hobbling upstage to the kitchen, Geller yelling at someone on the phone, etc. As much as Baltin inhabits the character, his voice and his physical challenges, we get a limited view of his personality. There are a couple of moments when he shares a scene with Wiseman or Gallo in which he plays a different note, but Riaf provides few opportunities for him to rise above or below the confines of the musical staff. In its current state, My Station feels a tad too long, but fleshing out some of the scenes with other characters might add necessary depth.
The design team makes a solid contribution to create Geller's world. Almost every inch of Afsoon Pajoufar's set is covered with papers, records, dirty dishes, and broadcast equipment, with effective lighting by PJ Strachman. David Reiffel (sound) has his work cut out for him with the back and forth phone calls, records playing, and a thunderstorm. Costume designer Lara Jardullo's attire for Geller is a pedestrian brown suit that usually looks slept in (because it is). Video footage by Ferrini Productions is interspersed, featuring man-in-the-street commentary from locals giving their impressions of Geller. Known as "The Voice of Cape Ann," it's doubtful we'll see the like of him again.
Photo credit: Gary Ng (Ken Baltin)
Related Articles View More Boston

Stories

Shows