BWW Review: Celebrity Series of Boston Kicks Off 80th Season with ALAN CUMMING: LEGAL IMMIGRANT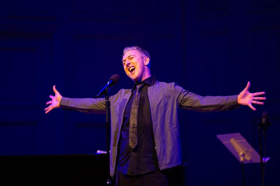 Celebrity Series of Boston Presents Alan Cumming: Legal Immigrant
Sunday, October 7, 2018, 7 pm, Symphony Hall, 301 Massachusetts Avenue, Boston, MA; Celebrity Series of Boston, Gary Dunning, President and Executive Director; Tickets 617-482-2595 or www.celebrityseries.org
Alan Cumming, vocals
Lance Horne, piano, musical director
Eleanor Norton, cello
Riley Mulherkar, trumpet
Chris Jago, drums, guitar
A year ago, almost to the day, Alan Cumming made his debut with the Celebrity Series of Boston, performing his touring show Sings Sappy Songs at Sanders Theatre. This time around, Cumming and his quartet of crack musicians took the stage Sunday night at the considerably larger Symphony Hall, wowing the sold out house with his cabaret program Legal Immigrant. Cumming tells stories at least as much as he sings, but his eclectic musical selections are made all the more compelling with Musical Director Lance Horne on piano, virtuoso cellist Eleanor Norton, young newcomer Riley Mulherkar on trumpet, and Chris Jago alternating between drums and guitar.
With this new show, Cumming's mission is to share his experiences as an immigrant, as well as to remind audiences of how great and magical America can be, with many thanks to its immigrants. Cumming became a naturalized citizen ten years ago, four days after President Obama was sworn into office, but he holds dual citizenship with his native Scotland. He says that his motivation to become a citizen, even though he held a green card, was to be able to vote, and the evening was peppered with references to the importance of exercising that right. Cumming made it a point to delineate the heritage of his band members, as well as the composers of most of the songs in the program, and it is a diverse representation.
Cumming trotted onto the stage with a dimpled grin and took a moment to soak up the vigorous applause before opening with a medley of "The Singer" (Walter Marks), "Hey, Old Friend," "Not a Day Goes By," and "Losing My Mind" (the latter three by Stephen Sondheim), which was a microcosm of what was to come. It is difficult to describe the quality of Cumming's (or anyone's) voice, but he has a wonderful capacity to modulate between belting with brio and crooning soft, mellow tones, often switching on a dime. Although he started with some Broadway melodies, he went on to feature pop tunes (by Pink and Adele), Disney animated film songs (from Moana, The Little Mermaid, and Frozen), and a lovely modern Scottish folk ballad, "Caledonia," by Dougie MacLean, which brought tears to many eyes, including those of Cumming himself.
Legal Immigrant is a well-crafted cabaret which follows a gently meandering path that includes stops at each of the versatile actor/activist's life stations. Many are familiar with Cumming from his years on television's The Good Wife, and he now stars on Instinct, the first hour-long network drama to feature a gay character in the lead. As a detective on the show, he has to handle a gun and took the opportunity to throw his support behind comprehensive gun reform. He also owns a cabaret bar in New York which strives to maintain an inclusive spirit, in keeping with his social activism and humanitarianism.
Besides Cumming's skill as an engaging and colorful storyteller, his singing is obviously the main draw and he did not disappoint. In a nearly two-hour show, there were many musical highlights, some of which had him putting his interpretation on songs identified with women. "Just Give Me a Reason" (Pink), "Falling in Love Again" (Marlena Dietrich), "Is That All There Is?" (Peggy Lee), and "When We Were Young" (Adele) take on new meaning when coming from a man. Showing that he knows his way around a Kander and Ebb tune (the team that wrote Cabaret), Cumming handled "Love and Love Alone" (The Visit) with care, making it his own. His penultimate selection, "If You Love Me, Really Love Me" (Edith Piaf), sung partly in French, was effectively an anthem for the cause of love and very moving. Capping the night with an encore, Cumming chose to leave us all with some hope and invited the audience to sing along with "Tomorrow" (Annie). He ended the concert as he began it, with brio and big smiles all around.
Photo credit: Robert Torres (Alan Cumming)