BWW Review: BETWEEN RIVERSIDE AND CRAZY: Seeking Asylum on the Upper West Side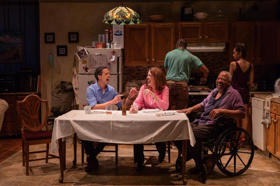 Between Riverside and Crazy
Written by Stephen Adly Guirgis, Directed by Tiffany Nichole Greene; Scenic Design, Eric D. Diaz; Costume Design, A.W. Nadine Grant; Lighting Design, Daisy Long; Sound Design, Nathan Leigh; Props Design, Jennifer Butler; Production Stage Manager, Dawn Schall Saglio; Assistant Stage Manager, Cassie Cushing; Fight Choreographer, Greg Maraio; Dialect Coach, Kelly Sabini
CAST (in order of appearance): Alejandro Simoes, Tyrees Allen, Octavia Chavez-Richmond, Stewart Evan Smith, Maureen Keiller, Lewis D. Wheeler, Celeste Oliva
Performances through October 13 by SpeakEasy Stage Company in the Roberts Studio Theatre, Calderwood Pavilion, Boston Center for the Arts, 527 Tremont Street, Boston, MA; Box Office 617-933-8600 or www.SpeakEasyStage.com
Embarking on its 28th season, SpeakEasy Stage Company is a fixture on the Boston theater scene and a steady anchor tethered to the Boston Center for the Arts. Producing Artistic Director Paul Daigneault and his team have a keen sense for programming works that will appeal to their audience, and a special knack for taking shows that have been on or off Broadway, downsizing or tweaking them, and molding them into something special to fit the parameters of the Roberts Studio Theatre. Put another notch in the championship belt as they present the New England premiere of the 2015 Pulitzer Prize-winning play Between Riverside and Crazy by Stephen Adly Guirgis.
Guirgis is a hyphenate (actor, playwright, screen writer) known for creating complex characters we come to like despite - or because of - their flaws, and letting them speak crisp, realistic dialogue. He devises a story arc for each character, no matter how minor, with great detail to provide a road map for the actors. Director Tiffany Nichole Greene is the navigator for the SpeakEasy Stage production and she masterfully guides a stellar cast on this journey. The play runs about two hours and ten minutes with one intermission, and there is never a moment when you will not be riveted to the action. From the opening scene, the people on stage take form as authentic, real life folks and we are sitting down to breakfast with them.
The focus of the story is Walter "Pops" Washington (Tyrees Allen), a retired New York City policeman. His wife died recently and his son Junior (Stewart Evan Smith), fresh from a stint in jail, is living with him in a rent-controlled apartment on desirable Riverside Drive. Junior's girlfriend Lulu (Octavia Chavez-Richmond) and his friend Oswaldo (Alejandro Simoes), a recovering addict, are also sharing the space. Walter has spent eight years pursuing a suit against the NYPD because he was accidentally shot while off-duty by a white rookie cop. His former partner, Detective Audrey O'Connor (Maureen Keiller), and her ambitious fiancé, Lieutenant Dave Caro (Lewis D. Wheeler), come around to check in on Walter, but also to pursue an agenda.
Pops is more likable than not, although he appears to be gruff and crusty, but that outward demeanor seems designed to keep people at bay. You don't have to scratch too far beneath the surface to find his caring spirit and generosity, as evidenced by his treatment of his house guests. Allen embraces all of the man's facets with gusto, adding a gravelly voice to augment his apt characterization, as well as carrying himself in a way that indicates his physical disabilities and his world-weariness. He is usually within arm's-length of a bottle of whiskey in a vain attempt to dull his feelings of loss and disappointment, but he's on his toes when he needs to be.
Although he has maintained a long, uncompromising battle with the NYPD, Pops continues to have a father-daughter-like relationship with Audrey, while trying to take the measure of her beau. Keiller does a great balancing act, treading cautiously as she maneuvers between her character's love and loyalty for the two men in her life. Dave is smooth as glass when we first meet him, almost like a latter-day Eddie Haskell spouting friendly platitudes to Pops. As the play progresses, Wheeler gradually and strategically peels back the layers to reveal Dave's true character. Both Keiller and Wheeler adopt evocative New Yorker accents to thoroughly inhabit the pair. (Kudos to dialect coach Kelly Sabini.)
Junior has a complicated relationship with Pops that is informed by things his late mother told him about the man and their marriage. He is still in mourning for her, but unable to truly share that experience with his father because they don't really talk. On the one hand, Junior knows that he has disappointed Pops; on the other hand, Pops has never been that present in his life while he was growing up. Smith conveys the internal struggle and plays it out in his relationships with his peers, as well. Like his father, he wants to give a helping hand to Oswaldo and be there for Lulu, but Junior is still working on his own stability and trying to become a better man.
Chavez-Richmond, Simoes, and Celeste Oliva (Church Lady), who plays a pivotal role with Pops at the beginning of the second act, are all secondary characters who are richly defined, and these performances sear themselves into your mind. Lulu seems like a ditzy lightweight, but becomes a steady influence who has a positive impact on the dysfunctional family dynamic. You can't help rooting for Oswaldo to stay on the road to recovery, even after he crashes and burns. I won't say much about Church Lady so as not to spoil her purpose in the story, but suffice to say that Oliva's performance is quite a departure from other roles we've seen her play.
Between Riverside and Crazy incorporates several serious themes while managing to maintain a comic edge. Greene and her outstanding cast are supported by the work of a stellar design team who create the world of the play. Eric D. Diaz's set reflects the disarray and fatigue in Pops' life, with Daisy Long creating effective shades of lighting, and Nathan Leigh transporting us between scenes musically. Costume designer A.W. Nadine Grant helps to sharpen our sense of the characters, and Jennifer Butler's props flesh out what life is like in this home. It may not look like a place that anybody would fight for, but it is home to Pops and that's what makes it special. Between Riverside and Crazy is something special. Call an Uber and go see for yourself.
Photo credit: Nile Scott Studios (Lewis D. Wheeler, Maureen Keiller, Stewart Evan Smith, Tyrees Allen, Octavia Chavez-Richmond)
Related Articles View More Boston

Stories

Shows