BWW REVIEW: MOULIN ROUGE Spins Wildly At Boston's Restored Emerson Colonial
Book by John Logan; based on the 2001 Twentieth Century Fox motion picture written by Baz Luhrmann and Craig Pearce, directed by Baz Luhrmann; director, Alex Timbers; choreographer Sonya Tayeh; music supervisor, co-orchestrator, co-arranger and additional lyrics, Justin Levine; scenic design, Derek McLane; costume design, Catherine Zuber; lighting design, Justin Townsend; sound design, Peter Hylenski; hair design, David Brian Brown; makeup design, Sarah Cimino; production stage manager, Adam John Hunter; music director, Cian McCarthy
Performances and Tickets:
Now through August 19, Emerson Colonial Theatre, 106 Boylston Street, Boston; tickets can be purchased online at www.EmersonColonialTheatre.com, by phone at 888-616-0272, or at the Box Office.
Cast in Alphabetical Order:
La Chocolat, Jacqueline B. Arnold; Harold Zidler, Danny Burstein; Nini, Robyn Hurder; Arabia, Holly James; Baby Doll, Jeigh Madjus; The Duke of Monroth, Tam Mutu; Toulouse-Lautrec, Sahr Ngaujah; Satine, Karen Olivo; Santiago, Ricky Rojas; Christian, Aaron Tveit
The opulent, newly restored Emerson Colonial, the historic crown jewel among Boston's glittering theatrical houses, is the perfect setting for the equally opulent but imperfect stage adaptation of Baz Luhrmann's anachronistic 2001 movie musical MOULIN ROUGE. Originally opened in 1900, the ornately adorned gilt and red velvet theater is now celebrating its grand re-opening with a glitzy, gaudy pre-Broadway tryout of a mash-up of 1900 Bohemian Paris and a contemporary jukebox of pop rock, techno, disco and punk music. The result is a whirling dervish of sights and sounds designed more for effect than affect. The audience, obviously familiar with and adoring of the original movie, rapturously cheers on cue. But for those seeking a more nostalgic emotional connection to the material, this MOULIN ROUGE may seem more rock concert than musical theater.
From the opening strains of "Lady Marmalade" to the superfluous mega-mix at the finale, MOULIN ROUGE plays to a crowd that came to party. Alcohol is brought right to one's seat, and the brightly lit cabaret-style set spills teasingly into the orchestra. The theatre, whose architecture borrows from the French Baroque style, is thus transformed into the infamous fin de siècle Paris nightclub that introduced the Can-Can to the world. Ringside seats put the "aristocracy" right in the middle of the action, while gilded cages on either side of the house allow scantily clad dancers to gyrate suggestively within arm's length of their patrons.
For the first 20 minutes or so, MOULIN ROUGE is loud, proud and self-indulgent. Performers are quite literally In Your Face, and snippets of songs come fast and furious. Most are used as an excuse for extravagant production numbers or for wild comic effect. But once the tragic love story kicks in, interesting characters start to emerge.
Satine (a powerful Karen Olivo) is the glittering diamond in the rough at the Moulin Rouge. She is the star attraction promoted (and pimped out) by the club's owner and impresario Harold Zidler (a fabulously flamboyant Danny Burstein). When the club falls on hard times, Zidler coerces Satine into becoming the courtesan to the psychopathic Duke of Monroth (a sneering Tam Mutu) in exchange for a hefty infusion of cash.
Complications ensue when Satine mistakes the love-struck American songwriter Christian (a somewhat goofy Aaron Tveit) for the Duke, creating a dangerous love triangle. Eventually these relationships are mirrored in the exaggerated melodrama that Christian, the artist Toulouse-Lautrec (a wonderfully sympathetic Sahr Ngaujah), and the Flamenco dancer Santiago (a comically passionate Ricky Rojas) write for Zigler and the Duke. For a time rehearsals provide cover for Satine and Christian's affair, but eventually the dangers grow to operatic heights, ultimately culminating in a tragedy worthy of Camille.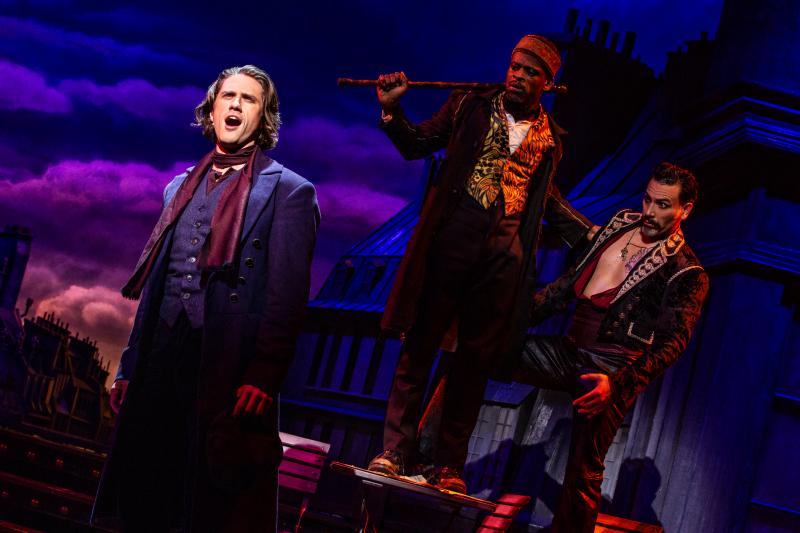 A major problem with this current iteration of MOULIN ROUGE is the jarring shifts in tone that all but destroy the underlying idealistic themes of "truth, beauty, freedom, and love." The singing voices are magnificent, to be sure, but Olivo, Tveit, and Mutu especially haven't found their footing in developing characters of real dimension. Only Burstein, Ngaujah, and Jeigh Madjus as the non-binary dancer Baby Doll are securely at home in a Belle Époque that dances to the eclectic rhythms of Gloria Estefan, Lady Gaga, The Rolling Stones and Patti LaBelle. Each brings a subtle heartbreak beneath the flair that suggests what MOULIN ROUGE could be with more character-driven direction.
Instead, director Alex Timbers and his creative team have amped up the orchestra and the visuals to translate from the film to the stage Luhrmann's quick cuts and extreme close-ups. Dancers move athletically to a distinctly loud and insistent electronic beat while a large, rotating windmill that hangs over the audience creates a pulsing strobe effect as its blades cut through the intense stage lighting. There are also times when Tveit, Ngaujah and Rojas seem like The Three Stooges, engaging in slapstick comedy that sacrifices the story for easy laughs.
It would also be helpful if there were stronger chemistry between Olivo and Tveit. If she were a bit more enamored and vulnerable and he a bit more brooding and sincere, together they might be able to ignite a strong enough spark to make their love story truly epic and eternal. Currently, their love can't compete with the sensory overload. And when their story does finally resolve on what turns out to be a heartfelt ending, the moment is obliterated by that needless mega-mix finale.
Still, as a commercial property, MOULIN ROUGE is likely to be a roaring success. Between now and its inevitable Broadway transfer, though, it would be wonderful if librettist John Logan, director Timbers and the entire creative team could turn it into an artistic triumph, as well.
PHOTOS BY Matthew Murphy: Danny Burstein as Harold Zigler; Karen Olivo as Satine and Tam Mutu as The Duke of Monroth; Karen Olivo and Aaron Tveit as Christian; Aaron Tveit, Sahr Ngaujah as Toulouse-Lautrec, and Ricky Rojas as Santiago; Karen Olivo and Aaron Tveit