BWW Interview: Julian Grant's NEFARIOUS New Opera with Mark Campbell's Libretto Opens at Boston Lyric Opera, 11/8
It's Edinburgh, Scotland, in 1828 and the city's world-renowned anatomy schools are suffering from a cadaver shortage. Enter two immoral and highly industrious men--William Burke and William Hare--who pick up the slack by murdering disenfranchised citizens and selling their corpses to one of these schools, Dr. Knox's Academy. Perfect story for a chamber opera, eh? Well, yes, actually, says composer Julian Grant (even if it's opening a bit late for Halloween).
THE NEFARIOUS, IMMORAL BUT HIGHLY PROFITABLE ENTERPRISE OF MR. BURKE & MR. HARE--as they say in the movies, "based on real events"--opens at Boston Lyric Opera (BLO) on November 8 with music by Grant and libretto by Mark Campbell in a world premiere commissioned by Music-Theatre Group with the support of BLO.
If the story sounds somewhat familiar, well, you might have come across it before. Boris Karloff and Bela Lugosi appeared in a version called "The Body Snatcher" in 1945 that is "quite scary," says Grant, and might have popped up on TCM (the original lobby cards showed up recently on PBS's Antiques Roadshow). And Timothy Dalton was in the latest film incarnation, "The Doctor and the Devils," in 1985, just before his short stint as James Bond.
As an opera, MR. BURKE & MR. HARE is quite a different take on the story than was first envisioned. It was originally going to be based on a screenplay by Welsh poet-author Dylan Thomas (an inspiration for that Dalton film) to celebrate Thomas's centenary. Grant was concerned about having the rights to the work set in concrete before getting down to work. Indeed, there was a problem, and a big one: The rights owner stipulated that they "couldn't change a word," says Grant, even though it was written toward the end of Thomas's life, when he was drinking heavily, according to most biographies, which could account for what the composer and Campbell found was its "going in and out of focus" and being "disjointed."
Okay. It's clear that this is a perfect horror story--who could resist this tale of two ne'er-do-wells who decide to remedy a cadaver shortage by, ahem, taking matters into their own hands? But what makes this a musical piece? I asked the composer. What said, "This story needs to be sung"?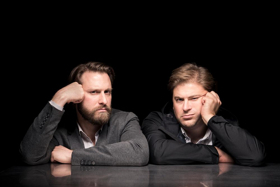 "Indeed, it's a very important thing to look at: It's rule #1 in writing an opera," says the British-born Grant, who speech pattern often walks the fine line between the British and American varieties of the language. "I think this story of bloodshed and degradation has a wonderfully moral core to it and music can winkle that out quite well. For us, there's something about the desperation of the human condition in this piece. It shows there's humanity in all the different strata of characters, from the lowly villains and victims to the rather self-preening theatrical doctor and his assistant."
The work is Grant's 20th opera--but don't expect something that sounds like Benjamin Britten. Raised in the English cathedral town of Chichester, he has lived outside Great Britain for most of the last 25 years and frankly doesn't consider himself "a British composer" at all. (He's British enough, however, to have been commissioned by the Royal Opera-Covent Garden to write a piece that delved into the history of the theatre and its creative spirit for the festivities surrounding the London Olympics in 2012.)
He first discovered opera at the age of 7, while snooping among in his parents' records and finding highlights from Mussorgsky's BORIS GODUNOV, in Russian. He proceeded to write his own libretto for the music, though he didn't actually know what was going on, wearing out the disk in the process. Fast forward: For the record, as a composer he's not drawn to the great English choral tradition, and prefers the music of Czech Leos Janacek to the British Britten. He also doesn't equate modernity in music with being intimidating or incomprehensible.
"My English side is that I relish the English language and I love sort of torturing it to music," says the composer. "That is where working with Mark Campbell is such a treat." Campbell is also no tyro in bringing the macabre-yet-human to the opera stage; recent operatic libretti have included THE SHINING from Stephen King's novel and ELIZABETH CREE by way of Peter Ackroyd; less scary recent works are Mason Bates' bio-opera THE (R)EVOLUTION OF STEVE JOBS and William Bolcom's DINNER AT EIGHT.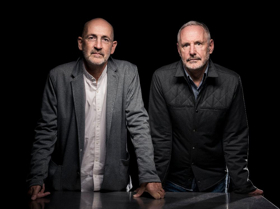 "Mark has this sort of innate sense of rhythm and operatic craft: the nuts and bolts of opera construction. He also has a wicked sense of humor and double meanings, which I've relished because that kind of verbal dexterity can heighten the music." His collaborator is also very thoughtful about what he does, says Grant. For example, because the subject matter of the piece is about highly reprehensible people doing highly repulsive things, Campbell suggested that it needed some poetry in the telling-and lots of song. Grant concurred, and, as Sherlock Holmes might have said it, the game was afoot.
The pair started researching the story of the two men and found material was plentiful since the story is very popular "across the Pond," as the composer put it. For example, Edinburgh has a Burke and Hare historical tour company, a Burke and Hare lap-dancing club that's on the 'ultimate strip club' list and, until recently, a hipster restaurant named for one of their victims, Daft Jamie.
According to Grant, he and Campbell had a great time figuring out how to tell the story, "so that its set pieces would have a shape, because often, in new opera, there's no sense of that--i.e., where you start from a position, kind of intensifying and exploding, and then going back.
"If people say to me, did you write the music and Mark write the words? I say, well, yes, that's kind of how it is. But it was much deeper than that--much more incestuous. That's the fun part. If you have a collaborator, you might as well have one with whom you're on the same wavelength. In truth, you know, Mark didn't write the words and then I the music.
"It was often Mark saying, 'What's your music doing here? This isn't quite what I had in mind.' And I say, 'That's interesting. What did you have in mind?' and we will talk about it. We had a staged reading with piano, in Boston, in December last year and then a big public workshop at Opera America's New Opera Showcase in New York, after which we rewrote probably a third of the piece. It was quite fine before it but I think we've made it even better."
"I think, very often, particularly outside America, there's a lack of gear-change in telling a story in opera," he explains, "and I always think it should have three distinct settings: You have the kind of information you have to get across that's important for the audience to hear and therefore you don't want the music to get in the way--this is kind of essential; then you have the intermittent arioso gear, where you need to bubble things along; and then you have the kind of song/aria, climactic/heightened moments where you put the evening into overdrive.
"We thought about our work in those terms quite a lot and I think that's something fascinating about it. And I think that's something you learn from looking at the classic operas more than anywhere else.
"I think that Mark and I were really conscious of what we believe goes wrong most in contemporary work: Opera is not an orchestral artifact. Outside the US, a lot of new operas are kind of obsessed with the respectable opera tradition, the German tradition, Wagner, Strauss and Berg, where the orchestra dominates. There are of course wonderful pieces in this realm, but they're very perilous examples to emulate.
"I'm drawn more to the great craftsmen who--perhaps compositionally, at least--are not taught so much today," he explains. "If you're a composition student you don't tend to go near Verdi or Massenet operas. But if you study them from a dramaturgical point of view, and the function of what the music is doing to the text and the inner life of the characters, you learn an enormous amount about what notes to leave out and when to really step on the gas."
Grant notes, "I liked the idea of exhuming that idea of 'opera as set piece'--of arias, duets and, in particular, ensembles. And I think that's highly discernible in our piece-though ours doesn't stop and start like MARRIAGE OF FIGARO, where you have the lyric moments being arias and the explaining accompanied by harpsichord being rattled off like dialogue (which I have to say is a wonderful way of doing things)."
"I find it amazing that Mark works so well with so many different kinds of composers," says Grant. "At certain points in our collaboration, we were almost like one mind with two bodies--completely intertwined--and I have the feeling that he's a chameleon and like that with all his other collaborators. And, by a long way, it was the most fun I've had in writing a piece."
Of course, the composer and librettist didn't work in a creative vacuum. Two other important figures in the work's development toward its final form have been David Angus, BLO's Music Director and conductor for the piece, and David Schweizer, its director.
Angus, who has what Grant calls "an amazing eye and ear for detail," made suggestions on how the music could speed the story along much better. "Sometimes it was a simple thing that would make a big difference: David would say, 'if you lost a bar or two here, it might just make it feel like it's accelerating more to the 'gold,' the desired moment. He's also charged with keeping things rolling in performance-communicating brilliantly with the orchestra.
As for director Schweizer--who just collaborated on another Campbell project, ELIZABETH CREE, which premiered at the Opera Philadelphia festival in September--he was instrumental in turning up the energy level and making the opera's beginning "less dour" (as Grant puts it). For example, at the onset, where the first victim is a drunken, depressive old soldier, the mood was too lugubrious, says Grant. By making it slightly more manic and a bit less melancholic, they injected a tone that worked much better in moving things along, says the composer.
"It was lovely that everybody on the team felt free to muscle in, because it's not always the case, and it's worked out quite wonderfully.
"In the end, there's a hunger in these characters that I think has an enormous amount of energy; even in our murderers, Burke and Hare, there's something deeply aspirational that is very spirited, that has a rhythm, that has a pulse. It's got a throb of blood to it. It's about going too far--crossing the moral line. If you bump off 18 people in 10 months but it's for the greater good, is that permissible? One thing that fascinated me about the story is that nobody gets their just desserts, really," he adds.
"With one exception, the villains get off: Their reputations may be tarnished and they might have to run away but they don't really get punished. That includes Burke and Hare and the doctor who becomes suspicious about the origins of all these cadavers he's received but doesn't blow the whistle because he needs them."
Grants concludes, "There are lots of things that simply don't come through in a verbal telling of this kind of story that music can jump on like a bird to ripe fruit... to misquote Berlioz."
---
THE NEFARIOUS, IMMORAL BUT HIGHLY PROFITABLE ENTERPRISE OF MR. BURKE & MR. HARE is a world premiere, presented November 8-12, by Boston Lyric Opera at The Cyclorama at the Boston Center for the Arts, an historic venue located in the South End neighborhood of Boston, 539 Tremont Street. For more information and tickets, see BLO's website.
Related Articles View More Boston

Stories

Shows
Richard Sasanow has been BroadwayWorld.com's Opera Editor for more than five years, with interests covering contemporary works, standard repertoire and true rarities from every era. (read more...)