Annie Probst and Raelyn Nelson Bring THE WINE, WEED & WHISKEY TOUR to City Winery Boston in April
The performance is on Sunday, April 23.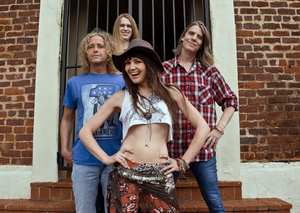 Two emerging female stars in the world of Country Music Annie Brobst, named New England Music Awards' Act of the Year and RAELYN NELSON - granddaughter of music icon Willie Nelson co-headline "The Wine, Weed & Whiskey Tour" coming to City Winery Boston on Sunday, April 23.
Annie Brobst will perform an acoustic set with guitarist Ryan Dupont. Currently New England Music Awards' Female Performer of The Year, Annie has performed to packed crowds across New England. Her debut EP "Ghost" and her full albums "My First Rodeo" and "Where We Holler" are currently available on iTunes, Spotify, Amazon Music, and more. Annie has opened for Little Big Town, Edwin McCain, and Miranda Lambert among many others.
Nashville's RAELYN NELSON - granddaughter of music icon Willie Nelson - will make her first ever live appearance in Boston and perform with longtime guitarist, collaborator, and producer Johnathan "JB" Bright of the Raelyn Nelson Band. Raelyn's original songs are part Loretta Lynn, part Cheap Trick with the occasional rebel energy of Joan Jett. Although her performances on "The Wine Weed & Whiskey Tour" will be acoustic, Raelyn will bring her comic wit and stories to the stage -just as she has performing at Farm Aid and opening for artists like Tim McGRaw and others.
Besides performing solo acoustic sets, Annie and Raelyn will join together at the end of the night to perform some originals and possibly even a Willie Nelson classic or two. Says Annie, "We can't wait to perform these intimate, acoustic shows where fans can hear the songs how they were born. That's how the songs were created, and we're excited to have audiences hear it."
ANNIE BROBST and RAELYN NELSON bring The Wine, Weed & Whiskey Tour to City Winery Boston Sunday, April 23. Doors will open at 6:00 PM, Show at 7:30 PM. For tickets and information, visit citywinery.com/boston. City Winery is located at 80 Beverly St, between Haymarket and North Station in Boston.