BWW Review: THE COLOR PURPLE is Vibrant with Song and Success at Red Mountain Theatre Company
For those wondering, the musical of "The Color Purple" is nothing like the film. The story is the same but the emotion is much more intense and unfiltered, leading to a wonderful piece of theater. If you have not read Alice Walker's novel or watched the 1985 film by Steven Spielberg, I am going to do my best to steer clear of any spoilers. For there are many unexpected places "The Color Purple" goes to that add to the heart of the story. I'll offer a general synopsis of the play. Set in the early 1900's in rural Georgia, It follows the life of a poor, young black girl named Celie (Myiesha Duff) on her struggle to survive in the throws of abuse and self-loathing. Growing up under an abusive father, her sister Nettie (Tierney Breedlove) was the one good thing in her life. After a forced and bruise filled marriage to Mister (Cecil Washington Jr.) shatters everything Celie holds onto, she is forced to overcome years of servitude and abuse. Inspiration arrives and Celie boldly takes a stand for herself.
Director Keith Cromwell captures the audience from the first scene and never lets go. The intimate stage springs alive with swashes of vibrant colors combined with familiar visual elements of traditional southern charm. The breathtaking set designed by Andy Fitch is a piece of art in itself that is worthy of being in a gallery. Without giving away too much, the set represents each of the various locations with much realism and artistic presentation. This is an impressive feat to do in such an intimate space. Lighting designer Brad Cozby gave additional support to executing some very striking theatrical effects.
The show opens with an energetic church revival that gets you in the spirit and setting of the story. The vocals throughout the performance are rich with full harmonies complemented with belting solos. Musical director Regi Yarbrough led a solid band that holds an appreciation for soul, blues, gospel and jazz.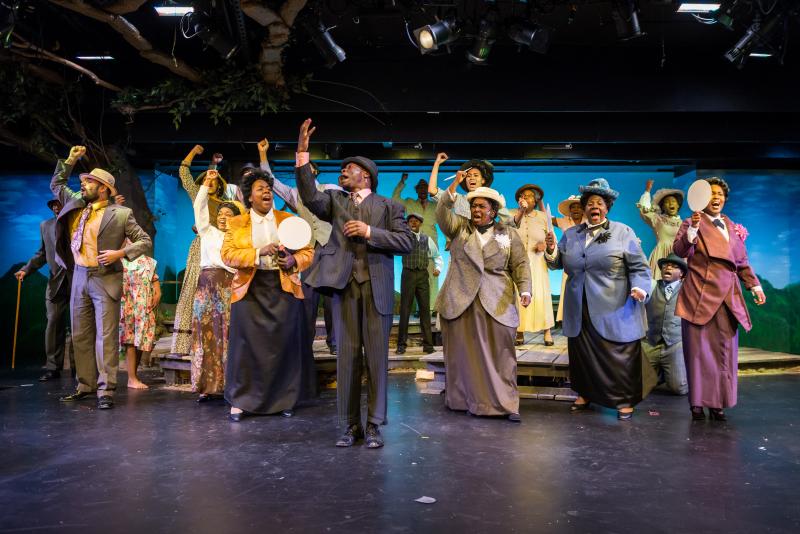 I asked director Cromwell about his connection and love for this show. "The Color Purple touches a place deep in my soul, because each of us has been hurt or challenged in different ways. It's how we overcome that and move into the light of love and forgiveness is always the miracle. Celie is a walking miracle. What director wouldn't want to bring that to life! It is also terribly important to me that the audience comes to forgive and receive Mister. If that does not happen I would feel I have failed." I asked about the set and its amazing design. "Oh Yes that set!! Designed by Any Fitch from UA - it is the most versatile smart design I have ever worked with especially within the constraints of our intimate space, it's so creative. The way we can make the Bed and the Tub and move so quickly and with such agility through the different locations is amazing."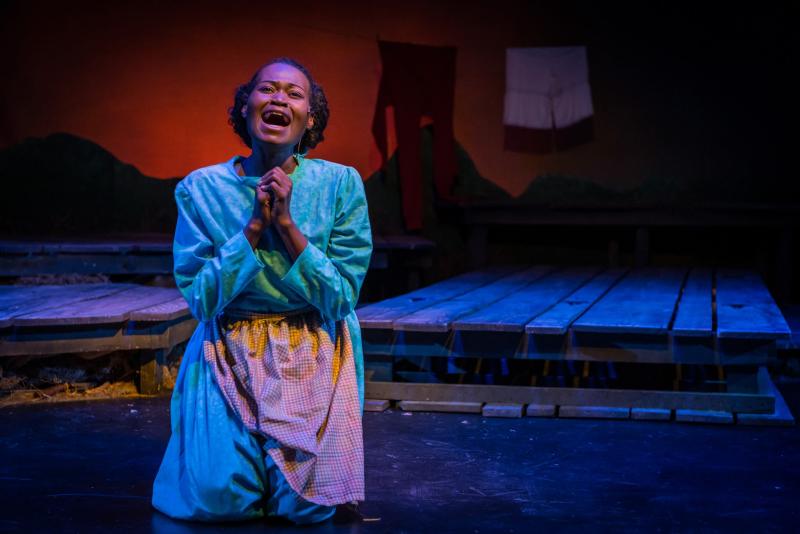 Myiesha Duff as Celie gives an angelic performance of pure admiration. She is pulling no punches and brings much focus and commitment. Celie is a woman with a tragic life from a young age. Duff gives a well-executed evolution to the role. She's wracked with pain, anguish and fear. As a teenager she struggles to survive in an abusive marriage and a broken spirit. Time moves forward and Celie's journey is wracked painful episodes. Eventually friendship, connection and love uncover a path to her true strength and beauty. I asked her what is it about "The Color Purple" that she connects with. "The overarching theme of forgiveness really touches me. To see the heartbreak, abuse, betrayal, and restoration that Celie, and so many of the other characters go through to finally land in forgiveness inspires me." With each tragic episode in her life, Celie finds a ring on the ladder to climb out from under Mister's abuse and the abuse she inflicts to her own self worth. Duff gives Celie a presence that is both meek and at times razor sharp. I asked her why she returned to the role. "It's super exciting bringing Celie to life for the third time. I've matured as a person and as an actress, and that allowed me to bring a new perspective to the character and the stage. I'm grateful for each time that I've been able to play this character, but this time holds a special place in my heart for the depth that I've been able to explore creatively." Duff's performance is full of real heart, power and inspiration. She gives a natural progression to Celie's strength. It was a perfect slow build that allowed the audience to truly connect with her in the good situations and bad. Her voice cuts to the core of the role and has no filter. She captures the real spirit of the role and gives it justice.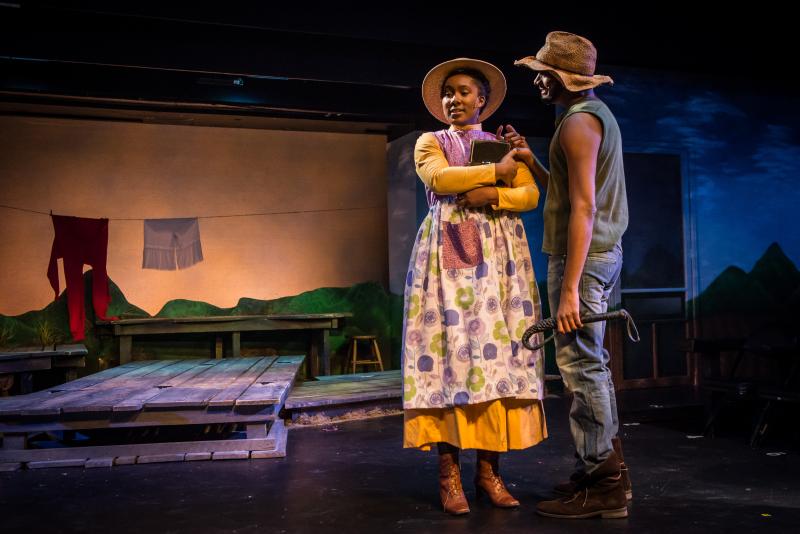 Tierney Breedlove brings Celie's sister Nettie to life with a regal presence and a bold voice. Her delivers Nettie's wisdom and nurturing warmth in the role. It's a perfect match with Duff's performance as Celie. I asked her to share what about the show has touched her. "It's a story about how the perseverance of true love and forgiveness can transform your life! The true love I'm referring to is of course the beautiful unwavering sisterly love that Nettie and Celie share. It's the kind of love that is completely unconditional and stands the test of time and distance. The second love I speak of is self-love. To watch Celie, a woman who has been literally beaten down by life find herself and her worth is gorgeous. This show reminds me that if we all awaken to the power of loving who we truly are, and grab hold tight to the ones who truly love us, we shall not be moved. I think of my own sister, who means the world to me when I think of Celie and Nettie." The two actresses have a chemistry that feels as if they really are sisters. The glimmer of light and hope in their eyes when together feels genuine. I was curious to learn how it felt taking on this role. "Nettie is representative of Celie' s hope! She is the embodiment of faith and hope. Like our director Keith Cromwell so eloquently put it, she is "untouched snow" glistening and glimmering in the light of hope. "
Cecil Washington Jr. returns to play role of the abrasive Mister. He gives the character both a hateful nature along with a core of a vulnerable, bruised man looking for acceptance and validation. I asked him to reflect on reprising this complex role for the third time. "Everyone has a little of "Mister" in them. Not so much as the verbal or physical abuse aspects, but how your upbringing can shape the way you become an adult. I love playing Mister. Again not because of the abusiveness, but it's a story like his that rarely gets to be told. No one wants to hear the excuses of an abusive and vile person; but if you do allow them to tell their story the healing for them as well can begin." He dives into the role with a firm grasp on the character's flaws and strength. Real emotion is felt in both his song and acting. Washington brings the house down delivering an emotional solo where his vocals echo with the soulful sounds of a greatly broken man. "Throughout Mister's solo he tells his story, and you begin to realize Celie wasn't the only want who had a rough life. I would or could never truly compare them, but it was my job to show his pain and his realization of how he expressed that hurt by inflicting it verbally and physically. My goal was to reach those who have had an interesting upbringing and relay this message. No matter what happened in the past you can be healed, redeemed, loved and forgiven, even if it's only by God. You don't have to continue to live or allow your past to dictate you or allow your past to dictate your present nor your Future." The wisdom in this approach carved a riveting performance and added to the overall power of this production.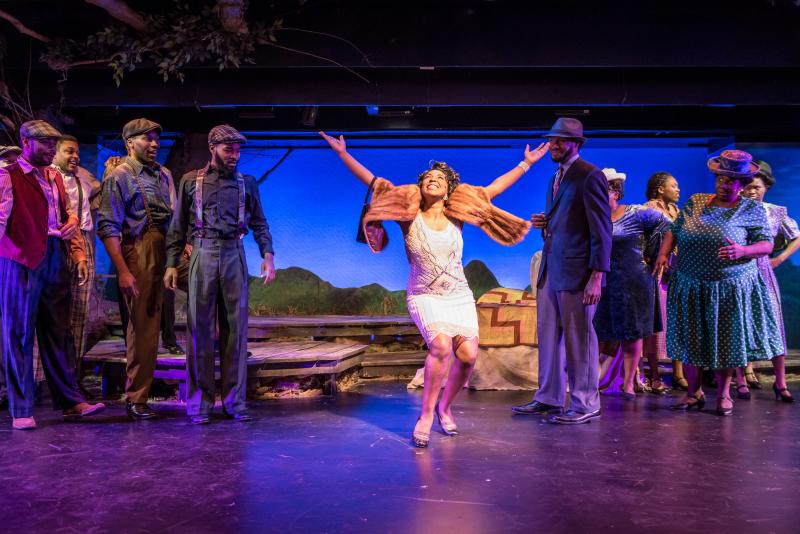 The cast is rounded out with several performances of note. Caprenia Anthony is Shug Avery, the sassy burlesque singer who has always been the love of Mister's life. Anthony delivers Shug with bawdy sexuality and selfishly immature attitude. Powerhouse vocalist Tracy Winborn brings to life the "don't mess with me" role of Sophia. Winborn gives mighty presence to the role along with a tender sweet side, if you act right. Cameron White as Harpo gives an impressive performance playing the role from a child to his ripe ol' age. The chemistry between Winborn and White is a joy to watch. You can tell they are having fun together. These scenes are comedy highlights in the show. Shronda Major as Squeak has a hilarious delivery and a spunky personality. Christopher Campbell gave life to several roles with precise character work. It was impressive to watch him flow seamlessly from one character to another without missing a beat. The audience was brought to tears laughing with the hilarious performances of Henry C. Mims as Grady and Juna Givhan, Delta Dickerson and Abijah Cunningham as the gossiping church ladies.
Costume designer Amy Rankin dressed the actors in both expressive period attire and vibrant tribal garb. Henry Scott's chorography is energetic, tight and well placed on the unique stage. The dancers work well together and were giving it their all. Wig Designer Tommy Thompson crafts several quality wigs as the characters progress in age. This is an area that often suffers, but not in this production.
There are so many things about "The Color Purple" that give people inspiration. For me the line "Nothing but death will keep me from her" is a perfect condensation of the heart and soul of this moving tale of resolve and redemption. This production of "The Color Purple" was riveting due to its top talent, high energy and high production quality in every aspect of the performance. Nothing but death should keep you from catching this show before it closes.
Red Mountain Theatre
The Color Purple
Book by Marsha Norman
Music and Lyrics - Brenda Russell, Allee Willis and Stephen Bray
Directed by Keith Cromwell
Musical Director - Regi Yarbrough
Choreography - Henry Scott
February 2 - 18, 2018 / Thurs-Sat, 7:30 pm / Sat-Sun, 2:00 pm
Red Mountain Theatre 301 19th St N, Birmingham, AL 35203
Tickets $19 to $55 Purchase online at redmountaintheatre.org or call
(205) 324-2424
Photo Credit - Stewart Edmonds