BWW Interview: Insights with Director David McMahon on his 1960's version of THE TAMING OF THE SHREW at Virginia Samford Theatre
If ever there was a time to challenge the ugly face of male chauvinism, it is now. Lets be honest, dating is rough these days. Courting in 2017 is far more complicated when compared to those in the 1500's. In today world, a line of cleverly arranged emoji's has replaced a heartfelt, handwritten sonnet composed on rose scented parchment paper. The thrilling anticipation once found from seeing a suitors initials imprinted over a wax seal is now applied to receiving a text message of "WYD?" Complexities found in matching personalities are still a difficult factor in any relationship. William Shakespeare's "The Taming of the Shrew" is one of the notable vintage comedy tropes about the fella trying to get the girl. But like wine, some comedy flavor becomes bitter with time. The core of "The Taming of the Shrew" holds a tone of accepted abuse and manipulation of women. The comedy structure of an arrogant wealthy man psychologically berating a woman into submission was in the past seen as a blueprint of male behavior. Thankfully, now it is viewed as a reminder of chauvinistic dynamics in society that must be challenged.
Director David McMahon took the challenge in his recent production of "The Taming of the Shrew" at the Virginia Samford Theatre. He assembled a vibrant cast of extremely talented actors and put up a riveting performance of "Shrew" set in the 1960's. Sadly, it was only for a limited run. Hopefully, these sold out shows will lead to a lengthier run for his next show. McMahon had already worked with many of the actors prior in his production of "Twelfth Night" last year, and directing his documentary film called "Skanks". McMahon reflects on his creative cast with much admiration. "I mostly felt like I had to stay out of their way! They brim with ideas and aren't afraid to try anything, but everything they do is in service to the play." The cast is filled out with actors delivering convincing, emotional and comedic depth to the characters. "Rehearsals were a delight, and I spent a lot of it with my jaw on the floor, watching in awe at what Nick, Murrell, Kelsey or the others would come up with. I'm so proud of the cast. I thought they took real ownership of the play and were astounding."
"The Taming of the Shrew" is a comedic tale of love, lies, and loathing. It has multiple storylines playing out at the same time. The wealthy and inebriated Signor Baptista (Chuck Duck) is father to two daughters; who are at each others throats. The youngest is the fair Bianca (Katie Mulligan) and the other is the headstrong Katherine (Kelsey Crawford). Baptista wont agree to a wedding until both his daughters are engaged. Enter Lucentio and his servant Tranio. They do a typical identity switch scheme for Lucentio convince Bianca to marry him. Enter the swinging ladies man Patruccio, who is on the hunt for a wife whose Fathers house holds wealth and power. His play to woo Katherine is fraught with her open disgust toward him. He parlays this and pursues her regardless of her sharp jabs. Senior Baptista agrees to the wedding of the oil and water couple. Patruccio proceeds to berate and condition Katherine as is she was an imbecile and free from all rational thought. He beats her down mentally and physically so she becomes an obedient wife to his every command. It is by far the feel good comedy of the year, but it used to be. There in lies the importance of this piece of Shakespeare, it's a window to a time where women were not equal and were expected to fall in line with what the "master of the house " demanded. Thank God these behaviors have been challenged over the years. The creative and stylized production sheds a bright light on the roughness of women's inequality and how it pertains to life in the modern era.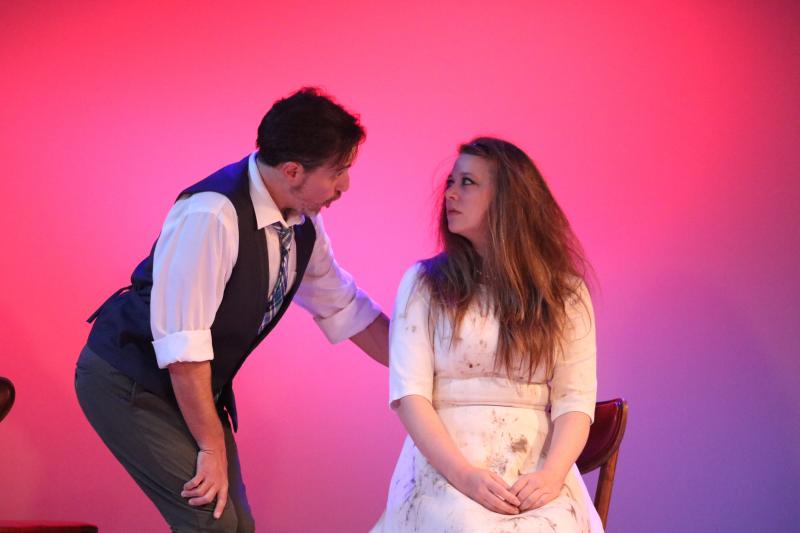 Actors Nick and Kelsey Crawford met while doing Shakespeare at the University of Montevallo. After they wed, their passion for Shakespeare plays continued. Nick plays the role of Pettrucio with an energetically racy and mischievous glee. He reflects on his passion for Shakespeare "For me it is a certain thrill out of taking something that has been done by people over generations, and doing it again, yet finding something new in it. Kelsey gives an emotional performance of the ill-fated Katherine. She finds the writing to be irresistible and alluring. "I do Shakespeare because I love the language. I love sinking my teeth into it and letting it take me on a journey. It's so fluid. The constantans and vowels all tell the story and the mood. There is no mistaking on where he puts words, to me its effortless. It's so juicy." Saxon Murrell is Pettrucio's right hand man, Grumio. Murrell has a long and distinguished acting career in Birmingham theater. Last year he returned to Shakespeare in McMahons production of "Twelfth Night". He reflects on his coming back to these plays, "It started last year with 12th night. I had not done Shakespeare in 30 years. It's the challenge of it. That's what its about for me. I've been this for almost forty years. I look for things that will be a challenge." Matt Whaley played the role of the neurotic Biondello. He found a challenge in his character development. "David really does help you figure out who the character is. He wanted to work with you on saying it right and thru that find the character. The cast was finding great things, and adding to the characters all the way up until tech rehearsal".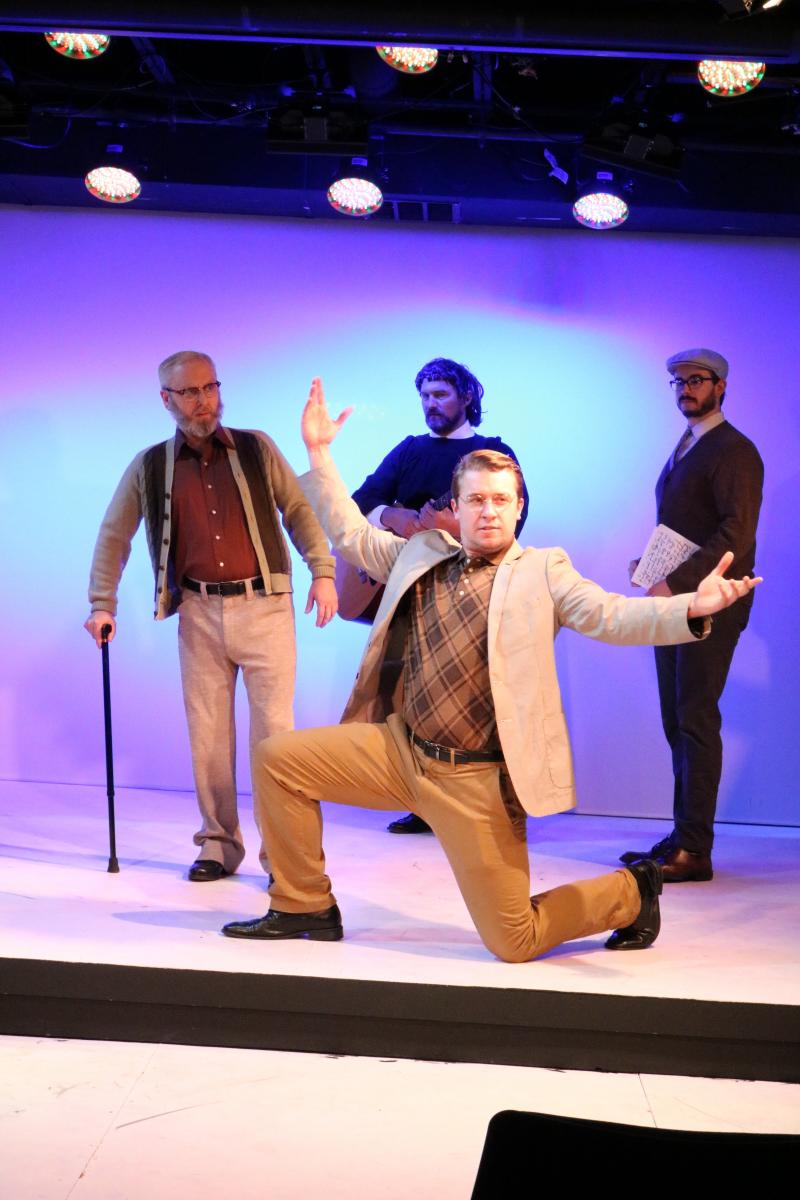 McMahon gave a great deal of insight to setting "The Taming of the Shrew" in a modern time period. He wanted an era that was alluring to an audience and also would enhance the context of the play. I asked him what led the production to be set in the 1960's "I had no idea how I wanted to do it, but I knew I wanted it to be sometime in the 20th century. I also didn't want to shy away from or undercut what was actually happening in the text. In the wake of the last year, particularly the political climate, the play felt relevant to me. The summer of 1963 felt like the right time for me. It was just on the cusp of the feminist movement, when the version of the patriarchy you see in the play or on "Mad Men" was having what seemed like its last gasp (which of course it wasn't.) And again, that felt very relevant to today's climate. Setting the play in the 60's gave way to a wave of creative inspiration from the actors. Nick Crawford found the new take to be fun. "Shakespeare is something done all over, but we took a new swing at it. We never messed with the original message. It's a new spin on the play. In today's climate, audiences are going to react to this play much differently then they would of 20 years ago. " Misogyny and female subjugation is heavy in "The Taming of the Shrew". Crawford reacts on how the production tackles it. "It's a scary and grotesque play at some points. Whereas 25 years ago it be deemed pure comedy. I am proud of this one in particular, its always there it never gets old. This is something right out of today's headlines.
McMahon's creativity shined with adding a chorus commonly used in Greek plays. In "Shrew" he made them into a 60's girl group, appropriately named the "Shrewettes." Karen Marie Black, Christina Robin, Rhonda Erbrick and musical director Flannery Miles performed as the sweet sounding quartet. The ladies gave smooth four part harmonies to the Erbricks soulful belting voice brought the house down. Erbrick found joy in getting to sing in such a profound role. "The song choices for the "Shrewettes" were great. We were the voice subconscious to the lead character Katherine." Musical director Flannery Miles gave care to specific song selections of the "Shrewettes". Hits like "You Don't Know Me", "I Will Follow Him", "These Boots Were Made for Walking". She found those songs "brought the audience into a comfortable and familiar zone. I think audiences, much like actors who are afraid of going into the works of Shakespeare, come in with an already preconceived notion that they are going to be sitting there watching something they don't understand. I think the decade its in, the look and atmosphere set up the audience to be comfortable and feel that they belong there." The ending of the play is capped with Katherine giving a torrid verbal shredding of the other women for not cowing down before their husbands. McMahon structured this pivotal moment with a different beat than originally intended. "I'm proud of the way Kelsey played that last speech. It was all her idea, to have Kate be knocking it back in order to cope, to have her say those lines to survive in that marriage. It felt very true, and I thought Kelsey was flabbergastingly great. And I'm proud of the ending- of the slide show which contained images of the revolutionary women that were about to burst onto the scene: Vivian Malone, Betty Friedan, Gloria Steinem, women of all types, nationalities, races and sexes joining together to fight for equality. Jane put together the video and did a great job. When the Shrewettes and Bianca joined Kate at the end, when they sang, "It Ain't Me, Babe," it gave me some hope, both for them and for our future. The talented cast gave memorable character work that made the show entertaining and engaging. Kudos to Bates Redwine, Katie Milligan, Tyler Splindler, Caleb Clark, David Seale, Cliff Spencer and Jonathan Sweatt. Set designer Jane Timberlake Copper and lighting designer Mandy Thomas created a stage that felt like a piece of art itself. Simple white walls, warm swashes of lights and video projection screens gave the stage a feel of an open art gallery.
This production of "Taming of the Show" gave striking symbolism and solid performances. David McMahon's vision of combining Shakespeare with the awakenings of the 60's delivered apiece of art that was wonderful. Actor Saxon Murrell summed up the production perfectly as "a show that Birmingham audiences don't get to see very often. I think the classics should be done in Birmingham more often, but made understandable for a contemporary audience." Birmingham deserves more productions of this caliber. I just hope the next run is longer so more of the city can enjoy it.
The Taming of the Shrew
Directed by David McMahon
Musical direction - Flannery Miles
Set Design - Jane Timberlake Cooper
Lighting designer - Mandy Thomas
Virginia Samford Theatre
1116 26th St S, Birmingham, Alabama 35205
November 3 - 12, 2017
Photo Credit - Mary Margaret Relfe
Related Articles View More Birmingham

Stories

Shows