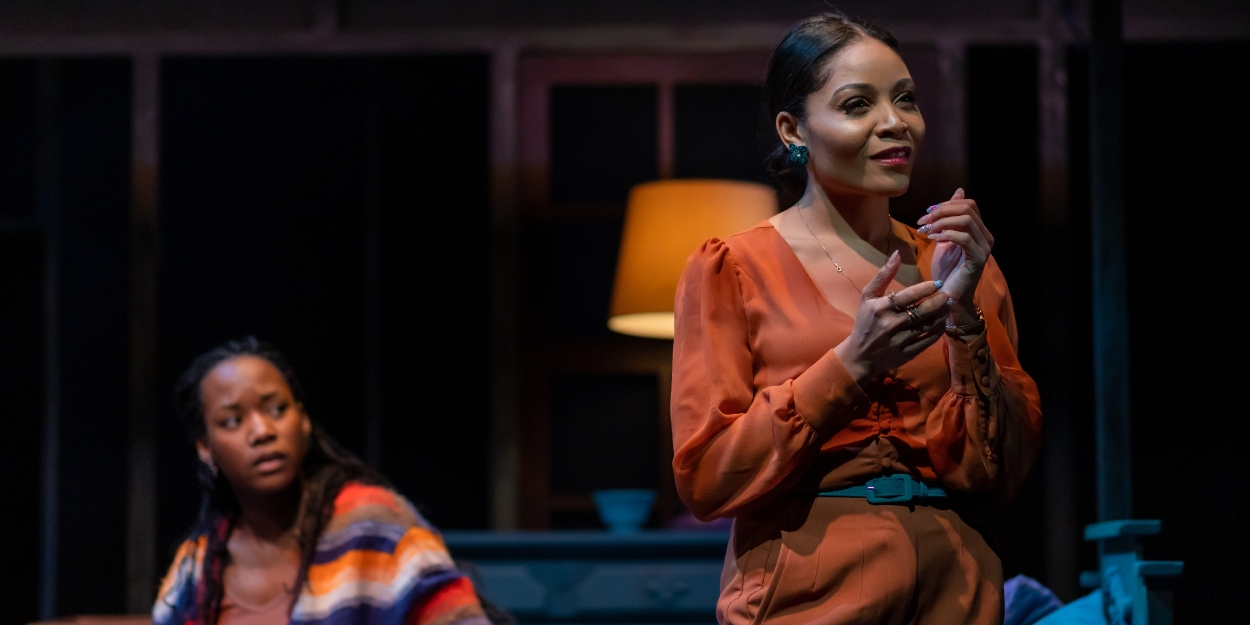 Review: Strange But Relatable JUMP at Everyman Theatre
Jump, by Charly Evon Simpson, directed by Summer L. Williams, through February 19 at Everyman Theatre.
You're not going to know entirely what Charly Evon Simpson's Jump is really about until close to the end, because the script goes to elaborate lengths to leave that unclear. Beyond that, the theatergoer at Everyman's production of Jump, directed by Summer L. Williams, will not even be certain in what genre the play belongs, partly because that too would tend to reveal not only the subject matter but the plot twists. So we ask ourselves: Are we looking at a family drama or a comedy or a work of magical realism or a play about social issues? The answers depend largely on whether the perceptions of our point-of-view character, Fay (Billie Krishawn) are reliable, and those perceptions are not assayable because they are not meaningfully compared with the perceptions of the other characters.
But this we know: Fay is perceiving some very strange things, starting at the outset, where she's vaping at the rail of a bridge, tosses the vape pen over the rail, and immediately another one slides down from the heavens to fill her hand. She shortly thereafter tosses the second pen over the rail and another one slides down to fill its place. And so on, several times. Other elements of scenes seem to repeat. Lights frequently flicker. There's a definite woo-woo factor at work here.
Down below, back on dry land, sits a home (situated with a view of the bridge) now inhabited by her recently-widowed father, identified only as Dad (Jefferson A. Russell), who is in the process of selling up and moving out. In light of which, Fay and her older sister Judy (Moran Danielle Day) are back on the premises, in their old shared bedroom, collaborating on triaging and packing up their teenaged stuff, like Fay's old boy band poster and Judy's old violin (which she reportedly played atrociously despite dutiful encouragement from the rest of the family). (Judy is pictured above with Fay in the background.) Fay's relations with each of these kinfolks leave much to be desired. Her mother's death from cancer a year earlier seems to have brought all the familial inadequacies into greater relief. These include Dad's heavy drinking and emotional withdrawal, and the tendency of Judy and Fay to come into conflict over Judy's more organized and outgoing nature and Fay's, which is less so. There seem to be, as well, ill-articulated issues relating to the deceased mother's hinted-at suicidality. (The mom would take the girls on long walks on the bridge, conceivably scouting out the scene of her own demise.)
The bridge is not only the scene of Fay's solitary vaping and her mom's earlier possible flirtations with oblivion; it is also the place where Fay meets Hopkins (Tony Nam), a troubled young man, another soul possibly contemplating a jump. They meet cute, dancing together to a song he was humming (Another One Bites the Dust), and the next step logically would seem to be romance, but whether they take that step never will never be clearly established. The closest evidences of mutual affection we witness are an agreement between them to go somewhere else unspecified together after one of their several bridge encounters and an unremarked clasping of hands atop the rail on one of those encounters. At one point Fay introduces Hopkins to Dad in a way a young woman might introduce the guy she's dating to her father, but Fay and Hopkins still don't come across as being quite on that level of intimacy, at least not yet. By contrast in the very same scene, a hopeful development in Fay's relationship with her father precipitates a long-extended embrace. So it's not as if Simpson can't denote emotional intimacy through gesture. She just doesn't do it much with Fay and Hopkins.
There's a third character (after we take account of the mother and Hopkins) who might be suicidal as well. And that's as descriptive as I can safely be about that without indulging in spoilers. Even though the show has been out there for five years, in at least four other productions of which I'm aware, I'm confident fuller discussion would diminish a lot of readers' enjoyment should they see the play. I'll simply observe that I'm not confident the playwright was playing fair with us in setting up the final surprises.
You know how, after seeing The Sixth Sense, moviegoers had to go back over what they'd seen and reassemble the information provided, in order to conclude that yes, what they'd seen (whether or not they'd fully taken it in) was consistent with what they knew at the end? I suspect a lot of us in the audience will try to perform the same operation afterwards with this play - but without being able to reach as definite a yea or nay on the same question. I'm likewise not sure, in retrospect, whether it would be possible to put together a timeline that fitted everything. There's an explanation (one character's dissociation) that might excuse that problem. But I don't know that dissociation can answer all these questions.
On that score, I'll add that, setting aside such readily-understood self-sacrifices as those in Death of a Salesman and Miss Saigon, suicide is hard to dramatize because it is usually hard to anticipate in advance and (as the characters themselves note here) hard for the deceased's survivors to explain fully. Dissociation, on the other hand, is most frequently a response to trauma, which is well-understood and thus easier to dramatize and easier for audiences to process.
In any case, I was pleased to see that Everyman has devoted a page of its program to listing and describing a number of local mental health resources. Not only that, but on the way out, audience members are handed a card with a QR code pointing to the same list. And on top of that, for those who would like to check in greater detail for possible emotional triggers, the Everyman website gives a full synopsis of the play (preceded by a warning that it contains spoilers). Given the subject-matter of this play, this is a timely and useful collection of ways to provide a valuable service to the audience.
This play has been presented as a Black drama. That is, it is conspicuously the product of a Black playwright, presented by a Black director, and features a mostly Black cast who do a fine job with the material. But it is not really racially specialized at its core. There's little in it that could not be put on as successfully by an ensemble with an entirely different background, or set of backgrounds. Families, sisterly conflicts, alienation from parents, suicidal tendencies, dissociation, nostalgia for childhood mingled with mature reevaluation of it: all these themes and tropes are universal. And audiences of all backgrounds should find this show about them quite relatable, not to mention intriguing.
I can only wish the play had been a little clearer as to what is going on at emotionally critical moments, especially Fay and Hopkins' encounters on the bridge, but also Fay's interactions with her father and sister. It's often said that an operative principle of drama is to show, not tell. A corollary is to show, not hint. At critical moments, this play tends to hint where it would better depict. And a strong production, like this one, leaves that tendency evident. It's still worth going to, however.
Jump, by Charly Evon Simpson, directed by Summer L. Williams, through February 19 at Everyman Theatre, 315 W. Fayette Street, Baltimore, MD 21201. Tickets $29 to $73, at https://cloud.broadwayworld.com/rec/ticketclick.cfm?fromlink=2221768®id=29&articlelink=https%3A%2F%2Feverymantheatre.org%2Fevent%2Fjump%2F?utm_source=BWW2022&utm_medium=referral&utm_campaign=article&utm_content=bottombuybutton1 or 410.752.2208. This play contains subject matter including depression, grief, loss, suicidal ideation, domestic violence, and resilience. It also features repeated cigarette smoking, vaping, and alcohol abuse.
Production photo by Kiirstn Pagan Photography.