First Lady Dawn Moore And Robyn Murphy To Co-Chair Baltimore Center Stage's 2023 Gala
The night will showcase exclusive performances, experiences, and adventures produced by BCS' staff of skilled and wildly creative artisans, producers, and craftspeople.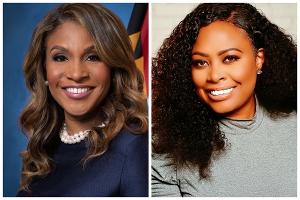 Baltimore Center Stage has announced that Maryland's First Lady, Dawn Moore, will join JRM Consultancy's Robyn Murphy to co-chair the 2023 Baltimore Center Stage Gala, which takes place on June 3 starting at 7PM.
Truly unlike any other gala in town, the night will showcase exclusive performances, experiences, and adventures produced by BCS' staff of skilled and wildly creative artisans, producers, and craftspeople. Tickets are now on sale for the event at centerstage.org.
"It's an honor to celebrate Center Stage, the state theater of Maryland, and the organization's incredible efforts to provide active and open accessibility for everyone," said First Lady Moore. "I am looking forward to welcoming those at this year's gala, what's become a special and very memorable event for those in the Baltimore community and for those who support BCS."
"I simply cannot put into words the impact that Baltimore Center Stage has had on my life as a professional, as a performing arts advocate, and mostly as a Baltimorean," adds Murphy. "It is the honor of a lifetime to co-chair this gala, especially alongside my fellow arts champion, and history-making friend, Dawn Moore."
The entire Baltimore Center Stage campus will be activated and converted into an immersive and interactive experience, featuring a cocktail hour, dinner served throughout the complex, "choose your own adventure" entertainment located in every inch of the historic building, specialty cocktail bars, silent auctions, dancing, and more. Along the way, patrons will have the opportunity to support BCS's Shared Space Initiative, a groundbreaking program that will provide community organizations the opportunity to use BCS' campus in new and exciting ways.
The event will be produced by greiBO, and catering will be provided by Blk Swan. Tickets and tables are currently on sale by visiting centerstage.org.
Dawn Flythe Moore is First Lady of the State of Maryland. With more than 20 years of leadership experience in government relations, non-profit work, building corporate partnerships, community organizing, campaign strategy, and fundraising, she is passionate about empowering women, fostering economic opportunity, and championing the arts.
She has held positions in the highest levels of state government and has served on the board of non-profit organizations including Maryland's State Theatre, Baltimore Center Stage, and iMentor, which partners with high schools in communities where the majority of students served will be first-generation college graduates.
She also served as chair of the Moore-Miller Inaugural Committee, whose inclusive efforts contributed to a reported 30 to 40 percent increase in business for Black-owned businesses during the week of Governor Moore's inauguration, supported 34 jobs with minority-, women- and locally owned businesses, and generated more than $1.5 million in labor income.
The First Lady and Governor Wes Moore together established the Moore Family Foundation to make impact grants to local nonprofits, to provide thought leadership and organizational support and to create partnership alliances with community stakeholders, government entities and other philanthropic partners that are committed to place-based initiatives in Baltimore City. Under her leadership, the Moore Family Foundation has invested strategically in education, community enrichment, health research and development, veterans organizations, and the arts.
A graduate of the University of Maryland College Park, Dawn holds a degree in Government and Politics and a certificate in Women's Studies. The First Lady and Governor have two children, Mia and James, and recently adopted Tucker Balti Moore, the family's dog.
Robyn Murphy is a Communications and Strategic Partnerships expert based in Maryland. As the owner of JRM Consultancy, she manages messaging and stewards relationships for organizations seeking to center diverse and inclusive partnerships and community upbuilding as pillars for global corporate success.
She established this business after a decade-long career in television, reporting and hosting for network affiliate stations and Black Entertainment Television, among others. Along the way she became the first female sports reporter for two NBC stations and the first woman to pen a sports column for the Baltimore Afro-American Newspaper. Over time, Robyn established herself as one of America's brightest personalities on the topics of sports-culture and the intersection of race, politics, and sports.
Robyn has been an on-air host of BETs election coverage and the moderator of nationally televised political and social justice panels for the network. She has written award-winning features and essays for national publications including a groundbreaking series in Vibe Magazine which explored the Kobe Bryant rape trial and its cultural impact; and a powerful Newsweek Magazine article on Raising Black Boys, which won the National Association of Black Journalists Excellence in Print Award. Robyn's essays have been reprinted in several editions of the university textbook, Models for Writers. She has served as a Communications and Strategic Partnerships consultant for several high-profile corporations, non-profits, political organizations, athletes and celebrities.
Robyn serves on the Board of Trustees of The Baltimore Leadership School for Young Women and on the Host Committee for Baltimore Homecoming. In 2020, she was named a Leader in Diversity by the Baltimore Business Journal, and was a 2018 Links, Incorporated Women in the Arts award recipient.
She has been appointed to the transition team for Maryland Governor Wes Moore in 2022, and Baltimore Mayor Brandon Scott in 2020. Robyn has been a member of the Greater Baltimore Chapter of Jack and Jill of America for 16 years.
Robyn and her husband Jason, a retired NFL offensive lineman, own and operate Murphy Enterprise, which has companies in logistics and construction. They reside in suburban Baltimore with their children.