BWW Review: SWEAT at Everyman Theatre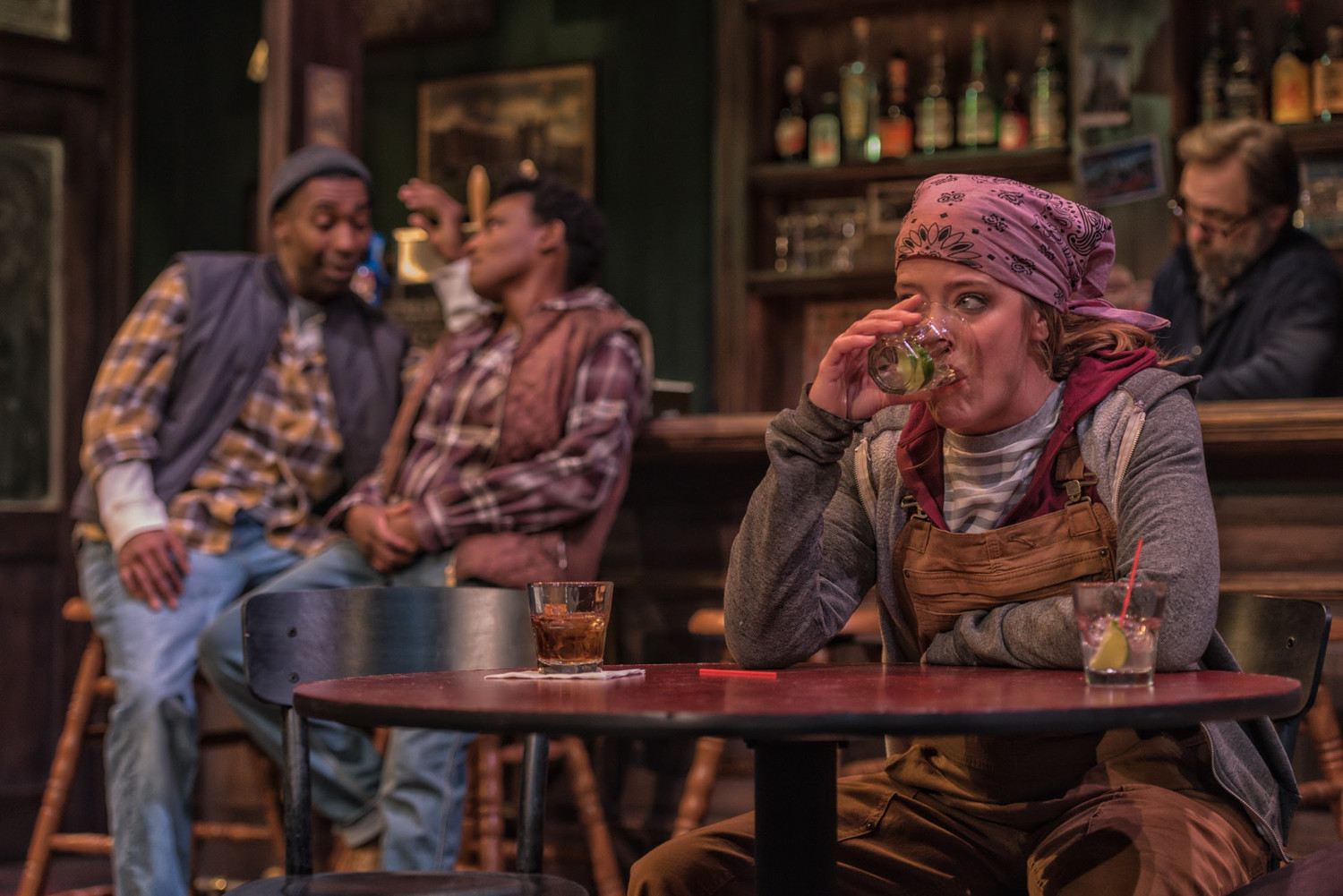 When the world you've known your whole life starts falling apart due to forces outside of your control, are you able to roll with the punches? When the bubble you've lived in for years starts imploding upon itself due to the choices made by others, are you able to move forward with compassion and understanding?
What if the impact of those choices is caused by your friend? Or even your own mother?
These are the questions audience members will ask themselves when they step into the world of Reading, Pennsylvania to see Sweat at Everyman Theatre. The fact that the Pulitzer Prize-winning play is making its Baltimore debut here is only fitting, as this is the fourth Lynn Nottage play to be produced at this space in the last four years. Based on the superb efforts of the cast, crew, and production staff, the company was clearly up for the challenge.
To start, Resident Set Designer Daniel Ettinger constructed an impressive environment for the actors to recreate the city of Reading. From the rotating stage that seamlessly transitioned between time periods and scenes to the incredible details in the local bar where much of the action took place, Ettinger's work shone through the intimacy of the set. And it was clear he did his homework: the Yuengling sign in the doorway and the old-school Philadelphia Eagles sign were two of the many embellishments that gave a proper nod to Pennsylvanian culture. To add to this effect, Resident Costume Designer David Burdick's costuming was spot on. The actors looked exactly like Reading inhabitants in the early 2000s.
Sound Designer C. Andrew Mayer also did a fantastic job bringing the audience back to the early 2000s with music selections that played in between scenes (such as Santana's "Smooth"). The sound bytes that opened each new scene gave additional context to the audience, listing facts such as the economic state of the nation, the local happenings in Reading, and the current weather forecast.
The show opens with a side-by-side look at how parole officer Evan (Jason B. McIntosh) talks to two men about a crime they committed eight years prior. McIntosh as Evan is firm, yet compassionate, and MATTHEW ALAN Ward's portrayal of Jason is extremely effective, complete with darting eyes and nervous ticks. The audience witnesses Jason's transformation from playful, to frustrated, to enraged, to remorseful throughout the course of the show, and Ward expertly depicts each complex emotion.
The other young man in Sweat is Chris, Jason's friend and fellow worker at Olstead Steel Factory. Vaughn Ryan Midder fully commits to the character, showing the audience an arc that grows in amazing intensity as the show progresses. At the start of the show, Chris is hopeful, with dreams of going to college. To everyone else in Reading, school is intimidating, but Chris has aspirations of leaving the steel factory. However, by Act II, Chris is determined to fight for the town and his family. He sacrifices his future in order to make a difference locally and by the show's end, the audience can witness the impact of this decision in Midder's performance.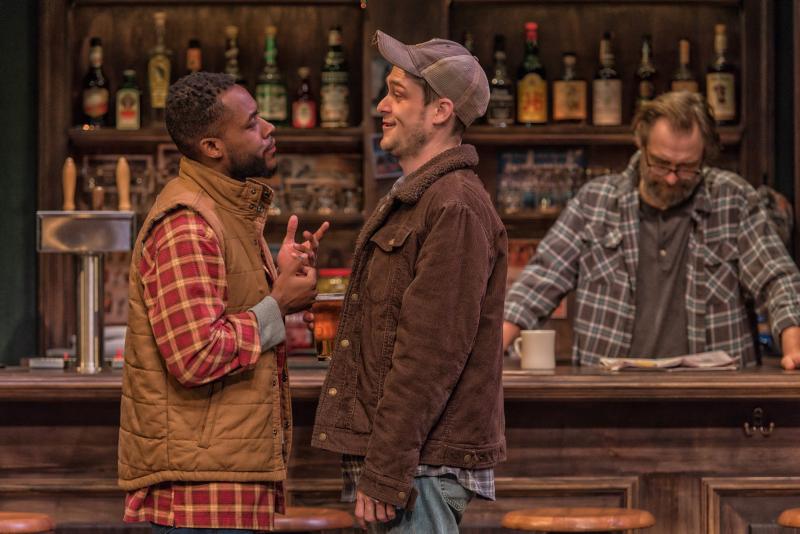 Audiences also meet Brucie (JaBen Early) and Cynthia (Resident Company Member Dawn Ursula), the parents of Chris, and get a sense of their rocky relationship from the start. Not being able to work has sparked Brucie's opioid addiction (in fact, Nottage based this character's 93-week lockout on an actual interview she conducted) and Early's take of the character causes the audience to both hate him and feel sorry for him at the same time. Audiences may find themselves frustrated with how he treats himself and his family, yet understand his own frustration with not being able to work at the mill. Cynthia, on the other hand, is a worker bee with a lot of spunk and spirit, and Ursula embodies this by the way she carries herself on stage. Throughout the show, the audience can witness her impressive acting range, which accurately depicts the internal and external conflicts that Cynthia faces throughout the show.
Kurt Rhoads is incredibly believable as Stan, a third-generation employee at Olstead who has worked there for 28 years. A work-related injury led to his current gig at the bar where much of the play's action takes place. Rhoads fully embodies the character of Stan, whose time in Vietnam and the mill leaves him with a rough exterior, but wise and humble interior. One of Stan's regulars at the bar is Tracey (Resident Company Member Deborah Hazlett), who represents the workers who feel ignored and justified in their resistance to change. As a legacy employee at Olstead, she is proud of her work and gets the most defensive when changes start occurring. Hazlett's portrayal of Tracey is raw, real, and committed. Her deeply embedded racism (that she is apparently unaware of) was especially poignant in a scene with Oscar (Alejandro Ruiz), a Columbian-American busboy who works for Stan.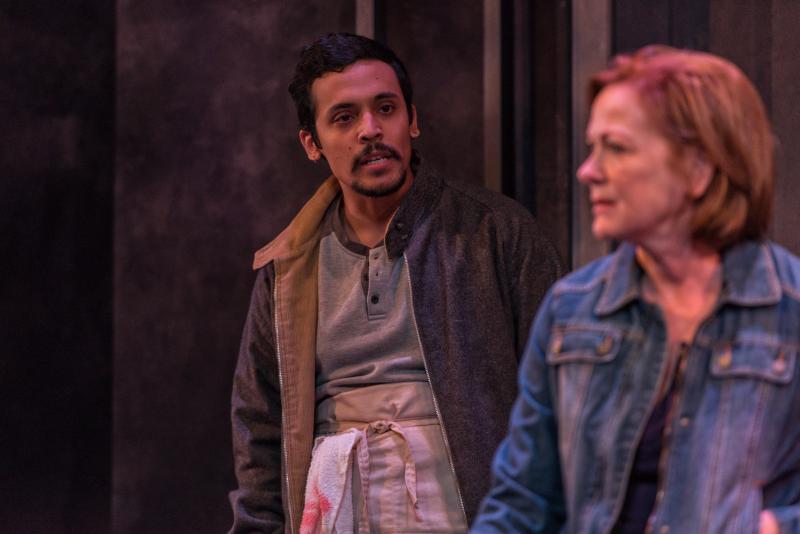 The characters in Sweat come to the bar for a number of reasons. They see it as a modern confessional of sorts, where they can air their grievances in a safe space and finally be heard in a time when no one cares about their voices. They used it as a celebration space, where they all gathered for birthdays until tensions grew too high between them. For Jessie (Resident Company Member Megan Anderson) the bar for her especially was seen as her mode of escape. For most of the play, she is a goofy drunk, but on her birthday Anderson shows another side of Jessie and becomes thoughtful and reflective, talking about her regrets in one thoughtful, sobering monologue.
Overall, all of the actors handled Nottage's smart and fast-paced dialogue well in their adaptations of the characters. They all captured the poignant moments of their characters flawlessly, drawing the audience into their stories and showing their vulnerability through their joys and pains. The way Nottage infuses humor into the script to cut through conversations about serious issues (e.g., depression, alcoholism) was expertly showcased by the actors. They were all committed and believable from the start by showing nuances that accurately capture the complexity of that time--and of human nature in general.
As Director and Everyman Theatre Founding Artistic Director Vincent M. Lancisi told the audience on opening night: "This is not a red and blue play, this is a red, white, and blue play." Sweat dives into the hope attached to The American Dream and what happens when that dream is shattered. At Everyman, the cast, crew, and production staff demonstrate how everyone is affected, and how this is not a singular problem. Nottage's text is told vividly through the stories of real people in desperate times, displayed by actors who show us that these issues span across gender, race, socioeconomic status, and education. By the show's end, audiences should realize that the "us vs. them" mentality can apply to your employer, your co-worker, and even your oldest friend. Today's political climate makes that message ring louder than ever. However, through Sweat, we learn that the only way to even entertain the possibility of understanding is to dig deep and try to connect with those who differ with compassion and love.
Sweat, by Lynn Nottage, directed by Vincent M. Lancisi, through November 25, at Everyman Theatre, 315 West Fayette Street, Baltimore, MD 21201. Tickets $10-$65 at http://everymantheatre.org/sweat or 410-752-2208. Adult language, smoking, drinking, graphic violence.
Photo Credit: Clinton Brandhagen