Review: LES MISERABLES at Hippodrome Theatre
Les Misérables is a "classic" many theatergoers have seen over and over again, with a reputation that comes with its own set of expectations. Because the show is practically timeless, new productions are faced with the challenge to come up with fresh ways to tell the story of Jean Valjean, while keeping the moments we've all grown to love intact.
The latest national tour that recently opened at the Hippodrome Theatre does just that and possibly more -- from the character choices executed by the actors, to the creative team that implemented parts of the production flawlessly. Audiences will leave the show mesmerized, recalling not only what they love about the show but also recounting the originality this US tour brings to the stage.
Nick Cartell as Jean Valjean was perfect for the leading role. Throughout the show, the audience witnessed his transformation from an angry, erratic prisoner on parole to a gentle, loving father trying to do good to make amends. Cartell sang effortlessly, displaying his impressive range in the powerful swells of the music, as well as in the more intimate moments such as "Bring Him Home." He plays the complexity of Valjean with impeccable talent by harnessing the power, conviction, and humility needed to tell this man's story effectively.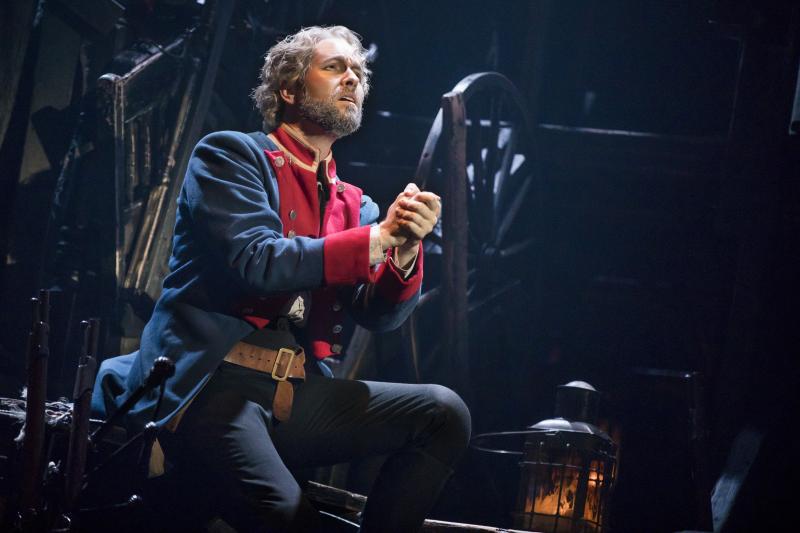 Equal in talent, Josh Davis is a commanding presence as soon as he steps onto the stage as Inspector Javert. Every movement from Davis is intentional, even methodical: the way he snaps his baton, how he curls his lip into a snarl when he sings (and sneers). Through these movements and facial expressions, audiences could easily sense the motivations behind Javert's actions throughout the show; for example, in "Stars" Davis ensured the audience understood his rationale with every musical phrase he sung. His impressive emotional arc continued throughout the show into Act II, when his obsession with Valjean became his ultimate downfall, ending in a brilliantly staged suicide scene that would leave anyone wondering how Davis and the creative team pulled it off.
Tech-wise, the various projections by 59 Productions were a definite highlight and added a unique, immersive element to the theater experience. With set pieces and backdrops by Set and Image Designer Matt Kinley that appeared to glide on and off stage, the projections used in tandem added a depth and context to display what world -- and what time of Valjean's life -- audiences were about to discover. One of the more notable scenes took place in the sewers when the projections zoomed toward Thénardier (who was well played by J. Anthony Crane) as he sings "Dog Eats Dog" -- an impressive effect that was further amplified by Sound Designer Mick Potter's use of ambient sound and an echo mic effect. Later in the scene, the projections seamlessly transitioned to emulate the "passage" of time as Valjean carried Marius through the sewers in an attempt to save his life. Additional effects by Lighting Designer Paule Constable would flood beams of light through windows or cast shadows on the actors throughout the show, which, in addition to the projections and set pieces, made scenes much more believable.
In terms of believability, Paige Smallwood as Éponine left a lot to be desired. Her vocals in the more recitative moments had a nasal quality that at times sounded offputting, and her acting at times felt contrived. Parts of the famous "On My Own" ballad were very powerful and well sung, but compared to her castmates, Smallwood's performance fell short. Similarly, Mary Kate Moore's rendition of "I Dreamed A Dream" did not quite do the song justice; her voice was beautiful but the emotions needed to tell Fantine's story were lacking. In the following scenes leading up to her death, Moore was more believable and eventually did show the emotionality and power the audience was looking for.
And then there was Joshua Grosso, who rose to the occasion as Marius. Grosso perfectly embodies the naiveté of the schoolboy who falls in love for the very first time; this was especially notable in the way he sang "A Heart Full of Love," interspersing moments where he couldn't even get the words out because he was so nervous around his new beloved. In Act II, you got a sense of Grosso's range during the heartwrenching "Empty Chairs at Empty Tables" -- the use of candles held by his fallen comrades amplified the almost chilling effect of his sadness and grief.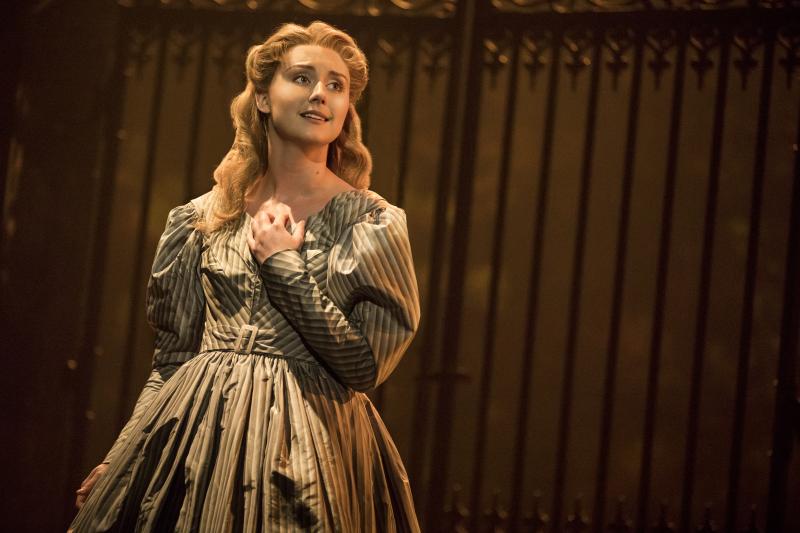 As Cosette, Jillian Butler was the perfect counterpart to Grosso's Marius -- she matched his almost childlike enthusiasm and could sing the high register of the role without sounding shrill. Her radiance shined on stage, and her love for both Marius and Valjean was readily apparent. Another standout was Allison Guinn as Madame Thénardier, who stole the spotlight every time she was onstage by inserting hilarious quips and gestures throughout the show. Sam Middleton, who played Gavroche in this performance (he shares the role with Parker Dzuba), showed off his range in moments such as boldly flipping off Javert after "Little People," or tenderly giving Éponine's hat to Marius after "A Little Fall of Rain." And Matt Shingledecker immediately evoked the passion and drive needed to embody Enjolras -- his vocals and presence made his role as the leader of the revolution very believable, and his death falling over the barricade was even more heartbreaking due to his outstanding performance.
A final nod should be given to Laurence Connor and James Powell for their direction. Though the staging appeared simple at first glance, there were several nuanced moments that were integral to the show's poignant storytelling. Some examples include the way Gavroche hugs Grantaire after "Drink With Me"; how Marius and Cosette did not even touch until the very end of "A Heart Full of Love" when they finally embrace and kiss; and the reoccurring theme of an outstretched hand before a character dies, followed by the use of warm, white light.
Overall, this production of Les Misérables lives up to its standard. With stunning visuals, impressive vocals, and heartfelt acting, audiences will be reminded of the fragility of life and the power of human connection as they follow one man's transformative journey toward redemption, one step (and song) at a time.
Photo Credit: Matthew Murphy