BWW Review: A BRONX TALE Is a Trip To A Very Familiar 'Hood at the SHN Golden Gate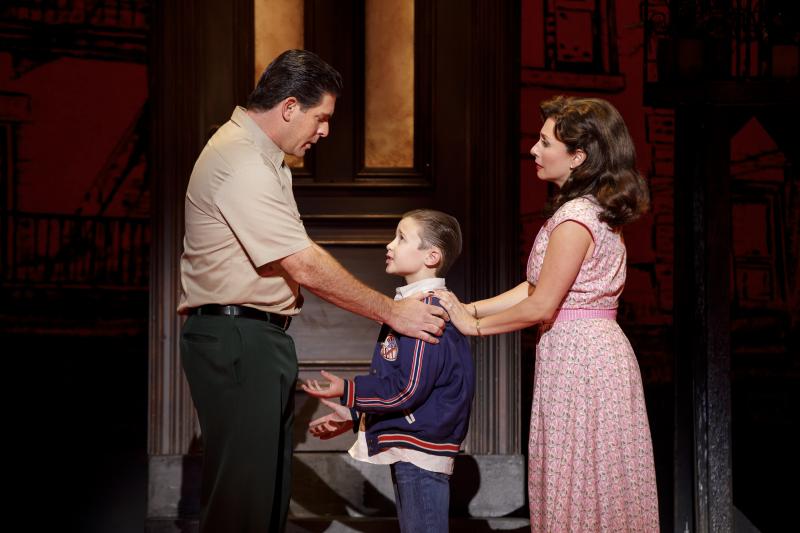 As several of the characters tell you several times, "This is a Bronx tale." It's also a bit of a West Side Story, with a toke of Jersey Boys, but that comes later. Whatever it is, it's at the Golden Gate Theatre through December 23.
A Bronx Tale has been a "family" affair for decades. This musical adaptation is its next evolutionary step following the 1993 non-musical film, which was drawn from an earlier autobiographical one-man Off-Broadway and later Broadway play written by and starring by Chazz Palminteri. Fielding much Hollywood interest at the time, the actor-author held out for a movie deal that allowed him screenwriting and co-starring credits opposite Robert DeNiro, who would act in it and make his directing debut. Continuing the trend, Palminteri adapted his work for the Broadway musical book, DeNiro co-directed with musical expert Jerry Zaks, and Bronx newcomers Alan Menken and Glenn Slater provided the music and lyrics.
This is really the tale of Calogero, whose name means "nice old man" in its Greek etymological roots, and who could well have missed achieving his appellation's status. As a ten-year-old in the hard-scrabble Italian-American neighborhood of Belmont Avenue in the Bronx, he witnesses a murder and made a calculated decision that changes the trajectory of his life.
From that moment on you can pretty easily anticipate the plot points that flow logically into conflicts between the family that bore him and the family that Calogero - or "C" as his new patron Sonny dubs him - chooses to embrace. Does he follow the sober advice of his hardworking bus-driver father or succumb to Sonny's flashier path of easy money.
The are no Sharks or Jets, that's the West Side Story, but we do have a Culture Clash between Italian Americans and African Americans living just blocks apart. Does Calogero go "Out of Your Head" to pursue the girl who is a cultural mismatch for his life? Is there, somewhere, a place for them? Does everything work out by the end of the evening? No spoilers here, but you can probably guess.
If the production breaks no new ground dramatically, at least it does not break anything else. The score is a pleasant doo-wop-y pastiche of Little Shop of Horrors beats (another Menken composition) with a Grease overlay. Slater's lyrics have bounce and charm, making them the stronger half of the work. (It's worth a spin of the original cast recording to really appreciate them since the sound in the theater can get muddy.) The one take-home-tune is "One of the Great Ones," Sonny's ode to memorable relationships that swings like a Sinatra standard. The rest have a good beat and the cast can dance to them, courtesy of lively Sergio Trujillo choreography.
Richard H. Blake is the highlight of the engaging company, reprising his Broadway role of Lorenzo, Calogero's hard-working father, who gave up his ambitions to raise an unexpected family. Blake radiates integrity, singing with warmth and conviction when encouraging his young son to "Look to Your Heart" for the answers to important questions.
Michelle Aravena, a swing from the Broadway edition, is now Rosina, Lorenzo's wife, and brings a gentle strength to the role, particularly when extolling her husband's selfless and unseen past in a reprise of "Look to Your Heart." Another Broadway cast member, Joe Barbara, from the original ensemble, has graduated to the leading role of Sonny, and while Barbara delivers a suitably fuggedaboutit aura, his singing doesn't make the most of the material he's given.
As the fulcrum of the piece, Joey Barriero is earnest and brash, youthfully naïve and canny for his years, as Calogero, most often wearing his heart on his sleeve to be blessed or bruised by those swirling around him. His scenes courting Brianna-Marie Bell, the knockout singer playing Jane, the first of his "great ones," are sweet.
The tale ends where it began, in a Jersey Boys pose under a streetlight on Belmont Avenue. That may, on one hand, unintentionally point out that it hasn't gone very far or, perhaps, very deep. On the other hand, a walk around the block in a familiar neighborhood can be comforting. Your mileage may vary.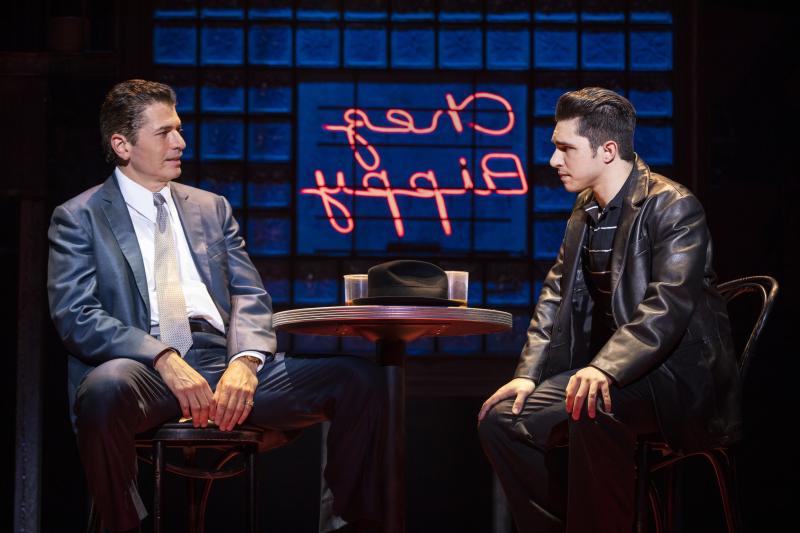 A Bronx Tale runs through December 23, 2018
Golden Gate Theatre, 1 Taylor Street, San Francisco
Tickets: shnsf.com or (888) 746-1799
Photos: Joan Marcus
---
BROADWAY RUN FUN FACTS: Bay Area native Bobby Conte Thornton (soon to be performing at Feinstein's at the Nikko) originated the role of Calogero, Chazz Palminteri had a brief stint as Sonny, marking his fourth playing the character, and Christiani Pitts, who played Jane during the run is back on Broadway fending off a different kind of gorilla, as Ann Darrow in King Kong.
Related Articles View More San Francisco

Stories

Shows
Robert Sokol is the editor-publisher of BAYSTAGES, the creative director at VIA MEDIA, serves on the executive committee of the American Theatre Critics Association (ATCA), (read more...)