Lauren Gienow - Page 2

Based out of Stratford, Ontario, Lauren is an Occupational Therapist working in mental health by day and a BWW Contributor by night (or by matinee). Lauren enjoys daring new productions, classic plays, and everything in between. She is particularly fond of Musical Theatre but also has a soft spot for Shakespeare - which she studied at the University level. Lauren holds a BA in Psychology and an MSc. in Occupational Therapy. She is a strong advocate for the benefits the Arts have on Mental Health. As much as she loves to perform (she is an alto sax player, and spent her youth working as a mascot), she takes great pleasure in sitting back and enjoying a good performance. Lauren has been a contributor for Broadwayworld since 2012, mainly covering the works performed at the prestigious Stratford Festival. She is very excited to share a variety of reviews and features with BWW readers. Follow her on Twitter and Instagram at @whatlaurenthinx
MOST POPULAR ARTICLES
LAST 365 DAYS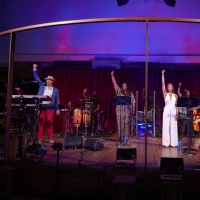 BWW Review: The FREEDOM CABARET at the Stratford Festival is a Stunning and Poignant Celebration of Black Music
Posted: Aug. 24, 2021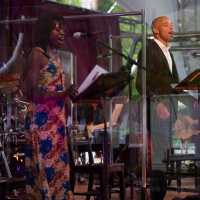 BWW Review: The Stratford Festival Explores WHY WE TELL THE STORY on its Instantly Classic Opening Night
Posted: Jul. 14, 2021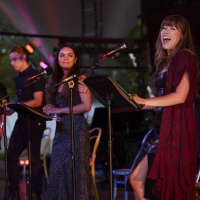 BWW Review: The Stratford Festival's PLAY ON! Cabaret is an Exhilarating Rock Concert with the Bard
Posted: Aug. 1, 2021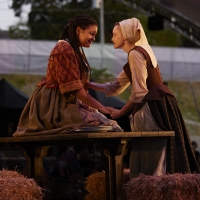 BWW Review: I AM WILLIAM at the Stratford Festival is a Thoughtful, Funny, and Important Re-Telling of History
Posted: Aug. 17, 2021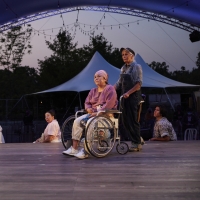 BWW Review: The Stratford Festival's THE REZ SISTERS Is a Poignant Exploration of Humanity and Grief
Posted: Jul. 30, 2021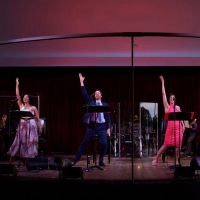 BWW Review: The Stratford Festival's YOU CAN'T STOP THE BEAT Cabaret Celebrates the Joy of Musical Theatre
Posted: Jul. 20, 2021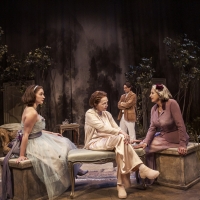 BWW Review: THREE TALL WOMEN at The Stratford Festival Offers a Memorable and Introspective day at the Theatre
Posted: Sep. 2, 2021


BWW Review: WHY WE TELL THE STORY: A Celebration of African-American Musical Theatre at the Stratford Festival

August 13, 2019

As I took my seat in the lobby of Stratford's Festival Theatre on Monday night, the eager patron next to me leaned in and proclaimed a?oeThere is quite the buzz in here!a?? She was absolutely right. We had both arrived early enough to grab seats for WHY WE TELL THE STORY: A CELEBRATION OF AFRICAN-AMERICAN MUSICAL THEATRE--A much anticipated cabaret event conceived by Festival actor Marcus Nance who can currently be seen in LITTLE SHOP OF HORRORS and BILLY ELLIOT. After initially selling out months before the Festival season even began, the high demand of this show led to more chairs being added and eventually to 'standing room only' tickets being sold so that as many people as possible could witness what indeed turned out to be a magical night of words and song.
---
BWW Exclusive: Powerful New Musical EVERY SILVER LINING Coming to Stratford City Hall for One Night Only

August 11, 2019

Fresh off an acclaimed run at the Toronto Fringe Festival, new musical EVERY SILVER LINING is coming to Stratford City Hall for what is sure to be a moving and memorable performance on Sunday August 25th. BWW had the opportunity to chat with Producer, Playwright, and star, Laura Piccinin about how this musical came to be, the deep and moving themes it explores, and the journey it has taken to get to this point.
---
BWW Review: Drayton Entertainment's Captivating Production of 12 ANGRY MEN Touts a Stellar Company and a Frighteningly Relevant Story

July 28, 2019

If you are looking for a master class in acting, look no further than Drayton Entertainment's production of 12 ANGRY MEN currently playing at the Huron Country Playhouse II in Grand Bend. Not only are the performances stellar, but there is also something equal parts thrilling and horrifying about how much this play resonates with today's audience. It is horrifying that so little has changed when it comes to the risk of the influence of prejudice and racism in the criminal justice system, but it is also thrilling that this exceptional piece of theatre still has the ability to reflect the good the bad and the ugly of the world back onto the audience in a way that challenges us to be better.
---
BWW REVIEW: Drayton Entertainment's ROCKY: THE MUSICAL Is the Heavyweight Champion of Grand Bend

July 26, 2019

The Italian Stallion himself is currently tearing up the stage at Drayton Entertainment's Huron Country Playhouse in Grand Bend. ROCKY: THE MUSICAL premiered last week and audiences appear to be loving it. Based on the classic movie, with Book by Thomas Meehan and Sylvester Stallone, Music by Stephen Flaherty and Lyrics by Lynn Ahren; this Alex Mustakas directed beast of a show is sure to be thoroughly entertaining for the entire family.
---
BWW Review: The Stratford Festival's NATHAN THE WISE is A Thought Provoking Exploration of Faith and Humanity

June 24, 2019

On June 15, a moving, and at times very funny production of NATHAN THE WISE opened at the Stratford Festival's Studio Theatre. Directed by Birgit Schreyer Duarte, this production of Gotthold Ephraim Lessing's 1779 play is a thought-provoking exploration into humanity, the concept of "the other," and the meaning of tolerance.
---
BWW Review: THE NEVERENDING STORY at The Stratford Festival is a Magical Adventure for the Whole Family

June 23, 2019

This season at the Stratford Festival, a new generation of imaginative dreamers now has the opportunity to be introduced to Michael Ende's THE NEVERENDING STORY. In partnership with Canada's National Arts Centre and presented by Schulich Children's Plays, this play is the perfect out for a family looking to immerse themselves in the arts while visiting Stratford.
---
BWW Review: The Stratford Festival's MOTHER'S DAUGHTER Brilliantly Brings a Beloved New Trilogy to a Fine Close

June 20, 2019

MOTHER'S DAUGHTER, the third and final installment of playwright Kate Hennig's 'Queenmaker Trilogy' had its world premiere at the Stratford Festival's Studio Theatre Friday night. The play follows the reign of Mary I Queen of England and like the two previous instalments, it is reimagined (or perhaps 'restored') to be told from the perspective of the women at the centre of the story. Directed by Alan Dilworth, this production provides a fitting end to the intimate story of tradition, family, faith, imperfection and sisterhood that audiences first became immersed in 4 years ago.
---
BWW Review: Stratford's THE MERRY WIVES OF WINDSOR Will Leave you with a Smile on your Face and an Ache in your side from Laughing

June 3, 2019

Opening week at the Stratford Festival came to a close on Saturday evening with director Antoni Cimolino's production of Shakespeare's THE MERRY WIVES OF WINDSOR. Reimagined to take place in the early 1950's, this production is outrageously funny, with charming and distinctive performances by all involved.
---
BWW Review: Two Green Thumbs Up for the Stratford Festival's LITTLE SHOP OF HORRORS

June 1, 2019

If you are in Stratford, Ontario and are looking for a good time, look no further than this season's production of horror comedy rock musical LITTLE SHOP OF HORRORS. There aren't a whole lot of shows that can call themselves a horror comedy rock musical, but if you frequent these parts…or, you know, have a pulse, chances are you saw one last year too. The success of last season's THE ROCKY HORROR SHOW has sent the message that audiences get a kick out of the subversive escape that this kind of show can offer, and so, Director/Choreographer Donna Feore is serving up another delicious hit in the same vein as ROCKY HORROR (puns intended).
---
BWW Review: PRIVATE LIVES at the Stratford Festival Offers a Fun Night Out for Audiences

June 1, 2019

PRIVATE LIVES is one of Noel Coward's greatest works. It is timeless in its humour and with the right cast, it is a delightfully hilarious exploration of all sides of love and passion. The cast assembled in the Stratford Festival's production does justice to Coward's clever use of words and wit, all but guaranteeing the audience a fun night out at the theatre.
---
BWW Review: The Stratford Festival 's HENRY VIII Dazzles at the Studio Theatre

May 31, 2019

The Stratford Festival of Ontario may be known first and foremost for mounting productions of Shakespeare's plays, but there are certain plays by the bard that only seem to come around once in a while. For example, HENRY VIII, a play written by William Shakespeare and John Fletcher, has only been performed three other times in the history of the Stratford Festival--the last one being in 2004. This season, director Martha Henry has created a production of this play that feels relevant and exciting. Stunning performances by Jonathan Goad and Irene Poole elevate it event further.
---
BWW Review: BILLY ELLIOT 'Shines' at the Stratford Festival

May 30, 2019

For the past several seasons, Stratford's Festival Theatre stage has been home to classic musical theatre productions with catchy tunes that audiences might find themselves humming long after the company had taken its final bow. This season, the musical living on that stage is a little different. It is not a classic from the golden age of broadway, the music, while moving, is likely not that familiar ear worm that you will wake up singing, and the story is as gritty and high stakes as many of the Shakespearean productions we have seen on that stage in recent years. BILLY ELLIOT officially opened to a raucous standing ovation on Tuesday evening, making it clear that Stratford audiences are more than happy to branch out to something a little different.
---
BWW Review: The Stratford Festival's OTHELLO Offers Strong Performances and a Tragic Social Commentary

May 29, 2019

The 67th season at the Stratford Festival is officially underway, and off to an exciting start after Monday's opening night performance of OTHELLO. Directed by Nigel Shawn Williams and starring Michael Blake in the titular role, this production is thought provoking and electrifying from start to finish.
---
BWW Exclusive: An Interview with Mamie Zwettler About the Upcoming Nationwide film Release of Stratford Festival's THE TEMPEST

April 12, 2019

Did you not get a chance to see the Stratford Festival's magical production of THE TEMPEST last season? Or maybe you did see it and are eager to get a taste of that magic again! You are in luck because the production was filmed and will be available for all to see through the Stratford Festival's Stage to Screen Series! With it's theatrical release set for Saturday, BroadwayWorld chatted with the production's Miranda, Mamie Zwettler about the experience of journeying to the magical island over and over again last season.
---
BWW Exclusive: SINGular Sensation is Back and Better than Ever at 120 Diner

March 18, 2019

It's not a secret that there is a vibrant musical theatre community in Toronto. From popular, award winning Mirvish productions to new musicals being developed, to up and coming musical theatre performers honing their craft at the Sheridan College Music Theatre program, there is no shortage of talent or entertainment in the GTA. For the past 7 years, SINGular Sensation has been providing music theatre performers (professional or amateur) with an opportunity to display their talent and work on their performance skills at a musical theatre open mic night. The evening, which now takes place on the third Monday of every month, is the brainchild of host Jeni Walls, a musical theatre performer and producer who was inspired to create an evening of live performances from music theatre artists of all experience levels.
---
BWW Recap: GREY'S ANATOMY Offers Up a Heartbreaking Episode that Explores the Current Opioid Crisis and Urges us to Decide to Live

February 22, 2019

Based on the promos that have been airing all week, it was evident that Thursday's episode of GREY'S ANATOMY was going to be an emotional one. Although the promos were (characteristically) misleading, the episode did not disappoint. The devastating effects of addiction, as well as the complicated ways in which different people view addiction, took center stage as the doctors fought to save the lives of over 50 patients who had overdosed, including Betty/Britney.
---
BWW Recap: A Compelling Episode of GREY'S ANATOMY...And There Are Also Bagpipes!

February 18, 2019

If you're a fan of fun cameos, you'll be a fan of this week's Grey's Anatomy! We get 'Baby' from 'Dirty Dancing' AND we get a Hobbit! More than that though, we also get a really compelling episode that explores complicated family matters, gun violence, and having to operate on someone you hate.
---
BWW Recap: GREY'S ANATOMY offers up a Big Twist a Blossoming Romance, and a Heartfelt Wedding Under the Stars. Grab the Kleenex!

February 10, 2019

After spending last week's fabulous standalone episode fully invested in Catherine Fox's surgery and Meredith's closure with her dying dad, GREY'S ANATOMY viewers had the chance to dive back into all the other storylines that have been playing out in the hallways of Grey Sloan memorial. This week's episode, entitled "Girlfriend in a Coma" delivered some delightful romance, a heartbreaking love story, and a mind blowing bombshell of a reveal. 
---
BWW Exclusive: George Krissa Discusses his upcoming Concert at Corks Playhouse Theatre in NOTL

January 28, 2019

Looking for some live entertainment in Niagara-on-the-Lake during these winter months as you await the new season at the Shaw Festival? Look no further than Corks Playhouse Theatre on February 9th when the fantastic George Krissa takes the stage for his 'eclectic but cohesive' concert produced by Something-Something Productions.
---
BWW Exclusive: Let's Do The Time Warp Again...and Again...and Again. The Cast of Stratford's THE ROCKY HORROR SHOW on its Record-Breaking Run

November 11, 2018

And then there was one... The curtain has fallen on the other 11 productions of the Stratford Festival's 66th season, but THE ROCKY HORROR SHOW is still going strong. Originally set to close on Halloween, the show has been so popular with audiences that it has been extended three times throughout its run and will now close on Sunday December 2. It is officially the longest running show in the history of The Stratford Festival. BWW chatted with several cast members via email and they all expressed gratitude and excitement about the show being extended yet again.
---